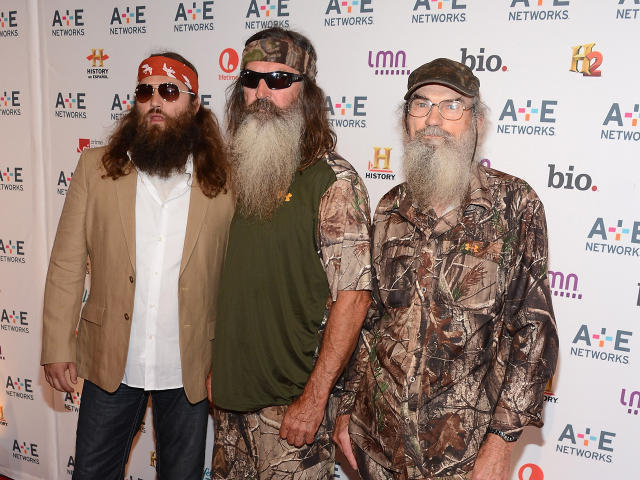 Huckabee weighs in on "Duck Dynasty" controversy
Former Arkansas Gov. Mike Huckabee has become the latest Republican politician to speak out in support of Phil Robertson, one of the stars of A&E's "Duck Dynasty" show who was put on hiatus after his comments about gay people in a GQ magazine profile that ran last week drew widespread criticism.
"What we've seen is that there is a new level of bullying of the part of these militant activist groups," said Huckabee, a former pastor and 2008 presidential candidate, said on "Fox News Sunday". "I think it has come to a point in our culture where political correctness has made it so that if you want to take a point of view that is traditional, that holds to steadfast, old fashioned biblical Christian values, which are also, by the way, values of traditional Judaism, and even Islam, that somehow you're supposed to just shut up and keep that to yourself. But if you want to advocate for same-sex marriage, we're supposed to be very tolerant."
Huckabee noted that President Obama cited his Christian faith as the basis for a belief that marriage was between a man and a woman during a 2008 campaign forum at the Saddleback Church. Four years later, the president said his position had "evolved" and said same-sex couples should be able to get married.
"Well, if that position was OK in 2008, how isn't it OK in 2013 or 2014?" Huckabee asked.
He's not the only politician to come to Robertson's defense since he was put on hiatus. Former vice presidential candidate Sarah Palin posted a picture with Robertson and his family on her Facebook page with the message, "Free speech is an endangered species. Those 'intolerants' hatin' and taking on the Duck Dynasty patriarch for voicing his personal opinion are taking on all of us."
Bobby Jindal, the governor of Louisiana – where the show is filmed – issued a statement last week , saying, "It's a messed-up situation when Miley Cyrus gets a laugh, and Phil Robertson gets suspended."
The controversy has extended well beyond politics. The restaurant chain Cracker Barrel reversed a decision to remove certain "Duck Dynasty" retail items from its shelves after a backlash from customers.
"When we made the decision to remove and evaluate certain Duck Dynasty items, we offended many of our loyal customers. Our intent was to avoid offending, but that's just what we've done," the company wrote in a statement on its Facebook page. "You told us we made a mistake. And, you weren't shy about it. You wrote, you called and you took to social media to express your thoughts and feelings. You flat out told us we were wrong."
Thanks for reading CBS NEWS.
Create your free account or log in
for more features.