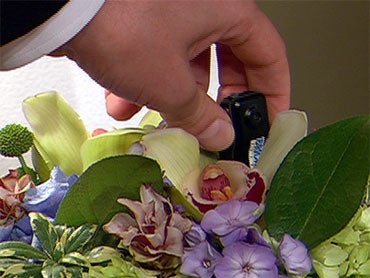 How to Surveillance-Proof Your Hotel Room
Would you know if your hotel room had hidden cameras?
On "The Early Show" Thursday, the president of Insite Security, Chris Falkenberg, showed how easy it is for cameras, like the one suspected to have taped sportscaster Erin Andrews, to be concealed -- and how people can be proactive in protecting their privacy.
Several devices may be used to secrete cameras. In a hotel set-up, Falkenberg showed "Early Show" co-anchor Maggie Rodriguez how clocks and alarm clocks, smoke detectors cameras and mini cameras may be hidden.
"You would never know," Falkenberg said. "Cameras have become so miniaturized that it's easy to secret them into small, everyday objects."
Clocks, Falkenberg said, may carry cameras inside. If you look closely, Falkenberg said, you can see the camera. And these cameras aren't rigged this way. You can buy them online, and they have nightvision capabilities and motion detection. To avoid being taped with an electronic device like this, Falkenberg suggested bringing your own electronics to hotels and removing as many as you can that you don't need.
Also, if there are two smoke detectors in a room Falkenberg said something may be very wrong. A smoke detector, he explained, can give a 360 degree view of the room, and more than one camera may be stashed away inside.
Mini-cameras, Falkenberg said, need a hole, so you should look for holes that don't belong in your room. You should look for wires, Falkenberg said. These cameras, he said, aren't that high quality, and will be somewhere that has a good view, probably anywhere from eye- to hip-level.
Mini-cameras, also known as pinhole cameras, Falkenberg said, are the type of camera someone used to tape Andrews. He said the camera has a very small aperture and requires only a small hole to shoot video, and may be used anywhere, including flower bouquets.
Falkenberg suggested when you go into a hotel room, you should make sure it's consistent with what a normal hotel room looks like.
He said, "Be cognizant of how many devices are in there -- devices which can be rigged with cameras."
But what should you do if you think you are under surveillance?
If you believe that you are being taped, Falkenberg told Rodriguez, you should change your room immediately. Listen to your inner voice, Falkenberg said, and take action.
Modern Clock DVR Nightvision Hidden Camera
This hidden camera with nightvision doubles as digital alarm clock and radio with built in DVR. The intelligent motion detection captures all the action, even in total darkness up to 30 feet away.
Smoke Detector
Every house, apartment, or business has a smoke detector. That's why no one will question the presence of a Smoke Detector Hidden Camera with DVR for high quality home security or office security.
This fully functional smoke detector has no giveaway signs that it's also a full color CCD Hidden Camera and DVR. Boasting a high quality Sony CCD image sensor, The Smoke Detector Hidden Camera with DVR will capture professional grade security video, perfect for anybody hoping to catch criminals, vandals, or simply keep an eye on their assets and property.
Mega Mini Pro
High Resolution Video Quality Captures Audio/Video Even In Low Light
About the size of a pack of gum, this miniature camcorder is perfect for covert operations on-the-move. Completely battery powered and self-contained, this camera with a built-in DVR can capture up to 3.2 (8gb) hours of video. One touch or sound activated recording makes it easy to capture any important moments, on-the-fly. What makes this camera different is the high resolution 640 x 480 resolution at a full 30 fps. With such high resolution video, you can be sure to capture every detail even in low light situations.
Camera Finder Hidden Camera Detector
Use the Camera Finder Hidden Camera Detector to quickly scan a room and locate all hidden cameras, no matter how covert they are. The Hidden Camera Finder locates all cameras, wired or wireless, to help you protect your privacy. Perfect for dressing rooms.
Thanks for reading CBS NEWS.
Create your free account or log in
for more features.