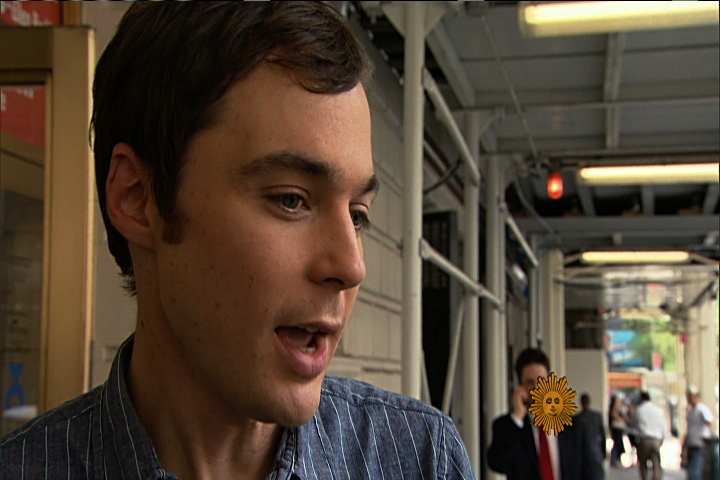 How "The Big Bang Theory" star got his big break
Jim Parsons has been getting lots of laughs on the TV series "The Big Bang Theory." But right now, he's also performing a very different sort of role in a play that's been nominated for five awards at tonight's Tony Awards, to be broadcast here on CBS. Our Seth Doane tracked Parsons down on Broadway.
He's the geeky star of CBS' "The Big Bang Theory" - one of the most successful comedies on television - but this summer something else entirely has got actor Jim Parsons excited.
"I'm literally on Broadway," says Parsons. "This street has tons of Broadway shows up and down it. And I'm in one of them. And there's nothing like it, you know? There's no experience like doing a play."
The play is "The Normal Heart," a searing revival of the 1985 drama about the beginning of the AIDS epidemic.
"It's very hard-hitting," says Parsons, of the play. "I think it's a real slap in the face. I think it's a real slug in the gut."
Parsons plays Tommy Boatwright, a gay activist giving comfort where he can.
"We've been blessed with beautiful reviews," Parsons says. "We've been blessed with five Tony nominations. And suddenly, it's a real event."
And right now, Parsons can't get enough of Broadway.
"It's an absolute addiction right now," he tells Sunday Morning's Seth Doane. "Right now, I'm quite swimming in it."
"It sounds a little Sheldon Cooper-esque," says Doane.
"You're right," Parsons says. "It's obsessive."
And obsessive is surely one way to describe Sheldon Cooper, the role that's made the 38 year old actor famous. Though Parsons says in real life, "shy" was the best way to describe him as a child growing up in Houston.
"My first role ever was in first grade," he says. "The Elephant's Child was the play. And, I was the Kolokolo Bird."
"What is a Kolokolo Bird?" asks Doane.
"Hell if I know," Parsons says. "For me, it was something with wings and yellow tights and a black mask on my head that my mother built. You don't forget your first experience in pantyhose."
"Was there a point that you thought, 'I wanna be an actor'?" asks Doane.
"Yeah. I had been in plays through elementary school. I had been in plays through high school. And, I had a very torn relationship with it," he explains. "My own realistic side thought, 'this is a fool's errand.'"
Still, he took the plunge, earning a theater degree and then taking work wherever he could find it - like a Quiznos commercial.
"The main thrust of the audition, 50 of us lining in and out to do this, was, 'what do you look like suckling at the teat?'" Parson laughs, of the commercial, in which he is featured breastfeeding from a wolf. "That's literally how I got this."
"I nailed it," Parsons jokes.
"I mean, who knew?" he continues. "I don't think it was a talent. I think it was a willingness."
"Did this Quiznos commercial break you into the acting stratosphere?" Doane asks.
"Well, no," says Parsons. "But, it broke me into the rent stratosphere. It did get some attention. It certainly gave me a conversation piece."
"Half the battle, and I'm not kidding, in certain casting sessions and everything, are -- well, you have something interesting to say," he adds. "And then if you've suckled at the teat of a Siberian Husky, you have something interesting to say. Maybe not good, but it's interesting."
It's at one of those casting sessions five years ago that Parsons landed the role of a lifetime, Sheldon, a brilliant if awkward physicist.
"It's always exciting to me," says Parsons. "It's always a stretch."
"Why is it a stretch to play?" asks Doane.
"He's a genius, which - I'm just not," says Parsons. "His mind works in these ways that I don't even have the first way of understanding."
Complete with great gusts of geek speak - dialogue that Parsons says he can barely comprehend.
"How do you memorize Sheldon's lines?" asks Doane. "Some of the words that you're saying ..."
"They're terrible," says Parsons. "They're terrible. One of these days they're going to break me, I'm positive. But in the meantime, I'm a big note card fiend. I have little cue on the first side. And on the next one will be my entire line I'll have written out. And I will pace around my house... That's what I do for hours on end. And I'm telling you, it's like memorizing the symbols on the periodic table."
"You have won a Golden Globe, you've won an Emmy for your portrayal of Sheldon. You are so well-known for this character. Is there a danger in that?"
"I'm sure there is," Parsons says. "I'm sure there is. And here's why I don't worry. I will find a way to work, whether it's back in my mother's backyard, making my sister put on in a show with me - although she probably wouldn't be willing now. She has two kids. Anyway, I'm going to keep doing it. In what form I'll be had in-- whatever project they'll allow me to work. That's where I'll end up being."
"Even if it's your mother's backyard," says Doane.
"That sounds sad," laughs Parsons. "So, maybe not that far. But, something'll happen."
For Jim Parsons, it's safe to say something probably will.
Thanks for reading CBS NEWS.
Create your free account or log in
for more features.