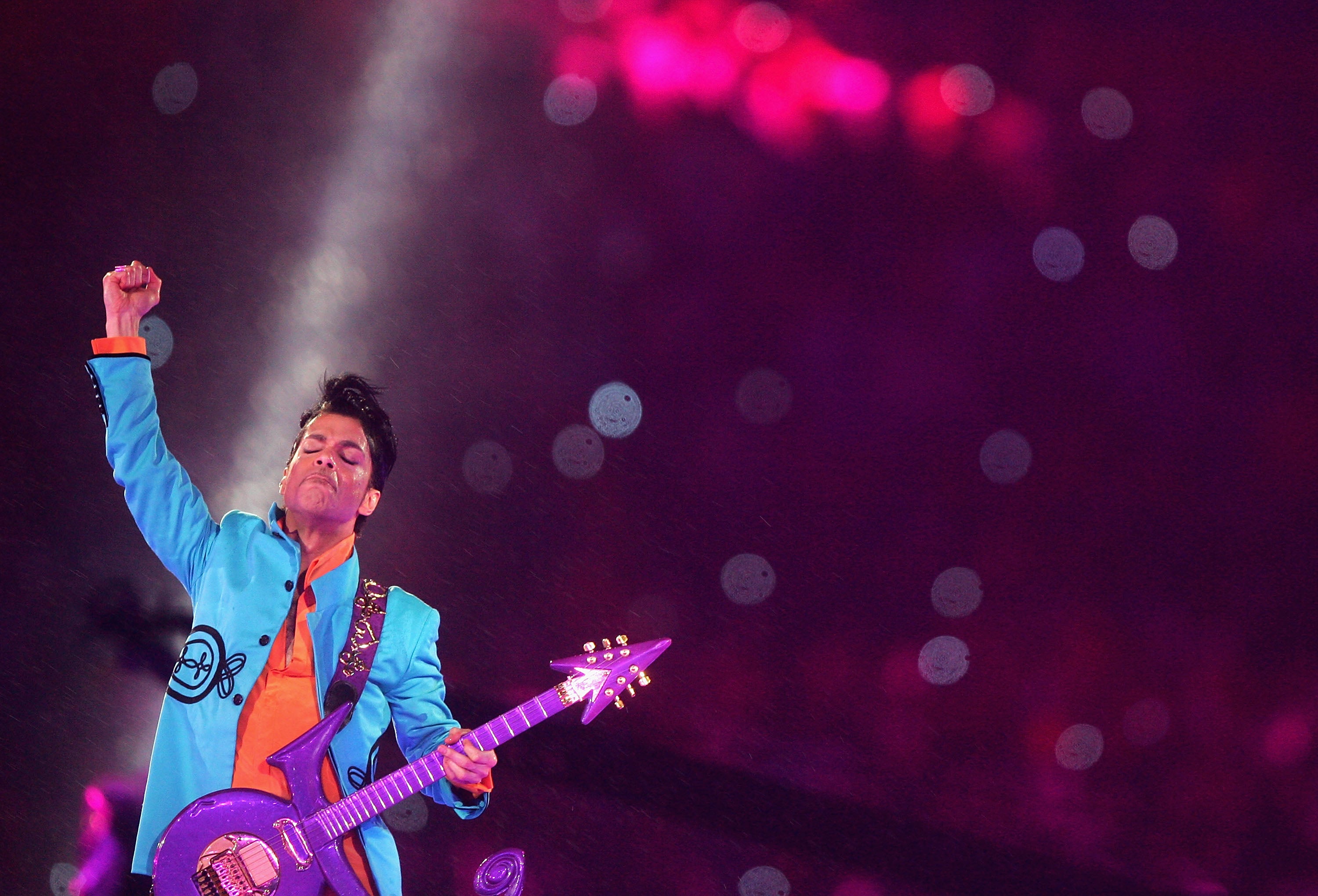 How Prince's Super Bowl performance changed the game
On the morning of February 4, 2007, when producers awoke and looked out their windows, they feared the worst. A torrential rainstorm had overtaken Miami in the middle of Florida's dry season and, not only were the Chicago Bears set to face off against the Indianapolis Colts a few hours later, one of the greatest performers on Earth was scheduled to take the stage at halftime.
Prince, a music icon who had literally never appeared onstage without high heels on, was set to perform on a slippery tile surface -- with not one, but four electric guitars -- in the middle of a subtropical downpour. How would he react?
Sitting in a production truck outside the stadium, Super Bowl XLI halftime show producer Don Mischer called Prince to gauge the situation. "I want you to know it's raining," he told the star. "Are you okay?"
Then after a moment, to the surprise and excitement of everyone in the vehicle, Prince responded, "Can you make it rain harder?"
Bringing sexy back
Rising up from the ground, out of the unpronounceable "Love Symbol" that had replaced his name in 1993 amid a spat with Warner Bros., Prince appeared in a bell-bottomed aqua suit with a halfway unbuttoned orange blouse underneath.
He was fully clothed, of course. But he was Prince. So, the sexuality in his performance was palpable, and that was an important turning point for the Super Bowl. Ever since Janet Jackson's infamous wardrobe malfunction in 2004, people were scared and the program's producers had been trying to play it safe by choosing legacy acts from an older era.
In 2005, they asked Paul McCartney. In 2006, they asked the Rolling Stones. Then in 2007, by refusing to simply perform tame versions of his 1980s hits (and even projecting a phallic silhouette with his guitar at one point), Prince singlehandedly made it okay to be sexy, unpredictable and inventive at the Super Bowl again.
Visual spectacle
At the end of Prince's set, when he finally played "Purple Rain," a billowing tarp rose from the ground and created a larger than life silhouette of the artist performing one of the most beloved guitar solos in music history.
That visual spectacle set the stage for future halftime performers to impress and shock audiences with striking visual moments. So, whether it was Beyonce's silhouette lit on fire during Super Bowl XLVII, or Katy Perry riding in on a gigantic, airborne robotic lion, nearly every Super Bowl since 2007 has owed its jaw-dropping halftime moment to Prince's legacy.
Perhaps that's why, in 2015, Billboard named Prince's 2007 performance the best Super Bowl halftime show of all time.
Covers
As if that weren't enough, Prince's very setlist has had a lasting impact as well.
Rather than rattling off a long list of his tried and true hits or seizing the opportunity of such a huge national audience to promote a new single, Prince surprised people everywhere by covering a number of other artists' songs.
So, in addition to "Let's Go Crazy," "Baby I'm a Star," a "1999" interlude, and "Purple Rain," he performed renditions of Bob Dylan's "All Along the Watchtower," Creedance Clearwater Revival's "Proud Mary," Queen's "We Will Rock You," and Foo Fighters' "Best of You."
In doing so, he reached music lovers across genres and generations. He showcased his almost unrivaled musicianship. And he paved the way for unlikely duets, mashups and covers at future Super Bowls.
So, if you loved Lenny Kravitz's cameo on "I Kissed A Girl," Missy Elliott's comeback guest spot with Katy Perry, or Coldplay's cover of "Uptown Funk" with Beyonce and Bruno Mars, you likely have Prince to thank.
And we will be hard-pressed to find a Super Bowl performance as dramatic or breathtaking, as the night the man known for "Purple Rain" used a whole lot of Florida rain to his advantage.
Thanks for reading CBS NEWS.
Create your free account or log in
for more features.