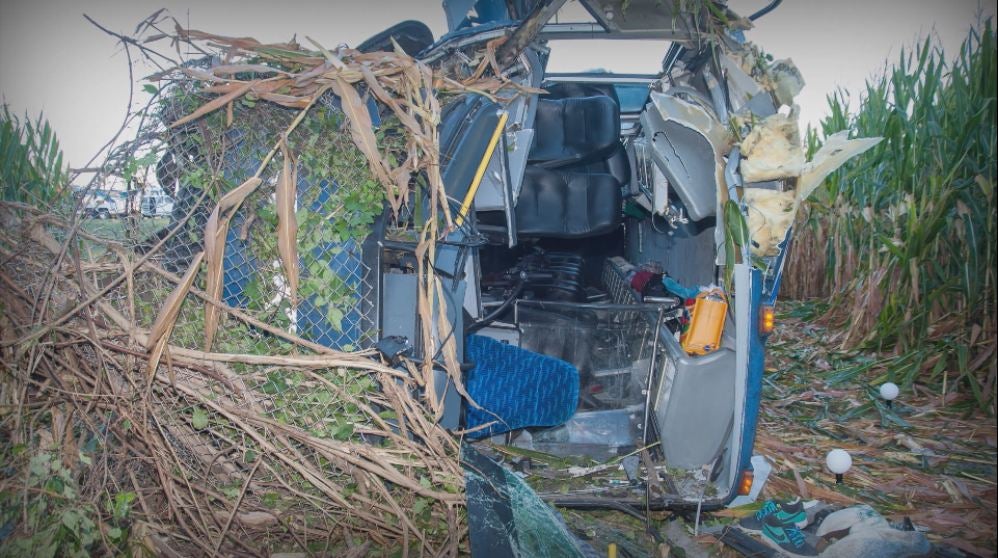 What commercial drivers conceal could have dangerous consequences
Commercial drivers are required to pass a health screening in order to drive. Regulators overhauled the system in 2014 and have disqualified roughly 70,000 truckers since then, out of some 8.5 million.
But even the government admits at its core, the process requires a trucker to be honest about something that could cost him his job. A "CBS This Morning" investigation reveals drivers can hide medical conditions that should keep them off the road, reports CBS News correspondent Kris Van Cleave.
Ruthie Allen was one of 35 passengers injured when a Detroit bound Greyhound bus drove off an Ohio interstate. The driver allegedly blacked out.
"I started yelling at the driver but I didn't get a response. The bus started to tumble," Allen recalled. "I looked down and I saw the bone in my thigh protruding through my clothing."
While the crash is still being investigated, the accident report says the driver - Dwayne Garrett - told police he was drinking coffee, started coughing and lost consciousness. No coughing is heard on the dash camera video.
But just a few weeks before the crash, a Department of Transportation medical examiner suspected Garrett might have sleep apnea - a breathing condition that disrupts sleep and leads to fatigue. If untreated, it disqualifies a driver from operating a commercial vehicle like a bus. Garrett got a 90-day waiver and was told to get tested.
"What did the DOT doctor say? He claimed that I had one of the markers for sleep apnea, which was he could not see the back of my throat," Garrett said.
Instead, two days before the wreck, Garrett went to his personal physician, Dr. Robert Kunkel - also a DOT examiner. He acknowledged the DOT's suspicion about sleep apnea, but Kunkel claims Garret failed to disclose some key symptoms and a referral to get a sleep test, which he says prevented further evaluation.
A court-ordered sleep test ultimately diagnosed Garrett with sleep apnea. He is now disqualified from driving commercially.
Our investigation found cases where drivers left off dangerous medical conditions from the DOT medical form, which the driver is expected to fill out truthfully.
After being involved in an accident, trucker Daniel Scott's medical records show he failed to properly disclose to the DOT disqualifying conditions like alcoholic hepatitis and deteriorating vision.
A dashcam video shows Greyhound driver Curtis Woods slamming into a pickup, killing the driver. He later admitted he stopped using the machine to treat his sleep apnea and even hid his condition.
Federal regulators don't track accidents caused by commercial drivers with medical conditions and states do not either. CBS News reached out to 24 states, but only four had detailed medical information on commercial vehicle crashes.
A review of those reports found there were nearly 400 commercial vehicle accidents involving medical conditions in 2013 and 2014 alone.
"There is a temptation to not fully disclose your illness for fear that you might not pass the exam," said Rose McMurray, the former chief safety officer at the Federal Motor Carrier Safety Administration or FMCSA - the agency that regulates interstate commercial vehicles. "American people deserve to have a safe transportation they deserve to know that the drivers are medically fit around them."
Two years after the accident in Ohio, Ruthie Allen is still dealing with devastating injuries.
"You are allowing this person who could possibly kill people, drive a weapon on the highway. It is just not right," Ruthie said.
The DOT says safety is its top priority and fraudulently obtaining a medical certificate is illegal. The American Trucking Association has called aspects of the DOT program troubling and in need of further reform.
Thanks for reading CBS NEWS.
Create your free account or log in
for more features.