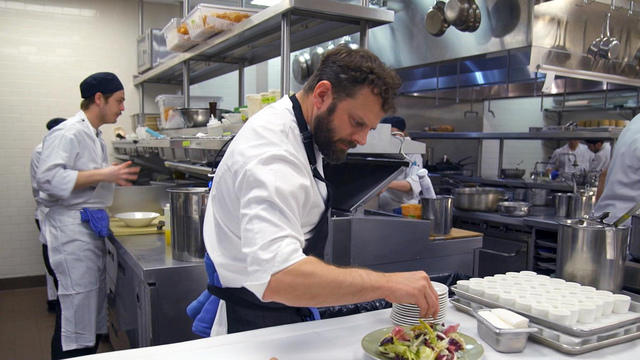 How data analytics is becoming a "moneyball" for restaurants
In this information age, data analysis has transformed everything from business to sports to politics. Now, the nation's restaurants are getting a taste for the new technology. It can point out hidden trends and opportunities and also reveal dangerous blind spots.
In his new book, "The Underground Culinary Tour," Damian Mogavero details this developing trend, reports "CBS This Morning: Saturday" co-host Alex Wagner.
"In developing this, you noticed that restaurants were largely run on gut. How hard was it to convince people this is something they needed?" Wagner asked.
"The restaurant industry, there's a lot of artistry in it. And one of the things that I noticed when I was in the restaurant industry is I would ask very simple questions to my chefs and managers, you know, 'Why do your food costs go up? Why do your labor costs go up? Who are your top and bottom servers?'" said Mogavero, founder of the software company Avero. "And I would get blank stares and wrong answers."
Mogavero's technology is helping the country's top restaurants stay at the top.
"How many times have you gone into a restaurant and you're like, 'Oh my gosh, I can't find the server. I want to pay for the check,' or, 'I need to order another drink?' All those things are actually buried in the data. And the data actually can help the restaurateur really understand what the strengths and weaknesses of a server (are) so they can provide that training, so they can provide a consistent guest experience," Mogavero said.
Restaurants generate a lot of information. The problem is many of them just don't use it. With Avero, a waiter enters an order into a computer. Mogavero's software sends the information straight to the cloud and then makes sense of it.
"So the restaurant is generating all this data. You're giving them a way to comb through it," Wagner said.
"Exactly. It really is like 'Moneyball' for restaurants," Mogavero said. "And it's like a baseball card. So on a baseball card you would have runs batted in, on-base percentage. But in the service scorecard, it has things like, how many times have you sold an appetizer, what the table turn time is."
Tom Colicchio, restaurateur and founder of Crafted Hospitality, was one of Mogavero's first clients.
"It's helped your business?" Wagner asked.
"Absolutely. We use it in all of our restaurants," Colicchio said. "It's something we rely on now."
"Are you making menu decisions based on it?" Wagner asked.
"Yes. Our highest selling item is also our highest food cost item. That's a mistake. And by gut, you can tell that. But now you have real data. Now multiply that over, you know, eight restaurants," Colicchio said.
The data can be used to see how everything, from the weather to a server's performance, can impact business. But Mogavero said while data analysis is vital, it's not everything. The ingredients to success are in food trends as well as atmosphere and aesthetics.
To educate owners, Mogavero takes them into the field on a 15-stop restaurant excursion called The Underground Culinary Tour.
"It sounds like an odyssey. It's 25 hours, 15 restaurants?" Wagner asked.
"Yes, and we give them a six-hour nap, which is very important, you know, hydrate, a little sleep," Mogavero said, laughing. "And then, you know, back... on the road. It's using New York City as a restaurant laboratory. And it's really to... give a glimpse in... the future of how people are going to eat because what used to happen in New York used to take 20 or 30 years. But because of technology and social media, now happens six to 12 months from the rest of the country."
As American tastes evolve, the dining landscape is changing rapidly -- so quickly it may deserve data analysis of its own.
"When you have so many new restaurants and so many new young chefs -- many have worked under me -- are coming up to make their mark, how do you stay relevant?" Colocchio said. "And I think that that's where -- I think the next phase of data is going to lead us. I think right now it's helping us make business decisions. I think eventually it's going to help us make marketing decisions. We need a Cambridge Analytics for the restaurant industry."
"The Underground Culinary Tour" is available now.
Thanks for reading CBS NEWS.
Create your free account or log in
for more features.