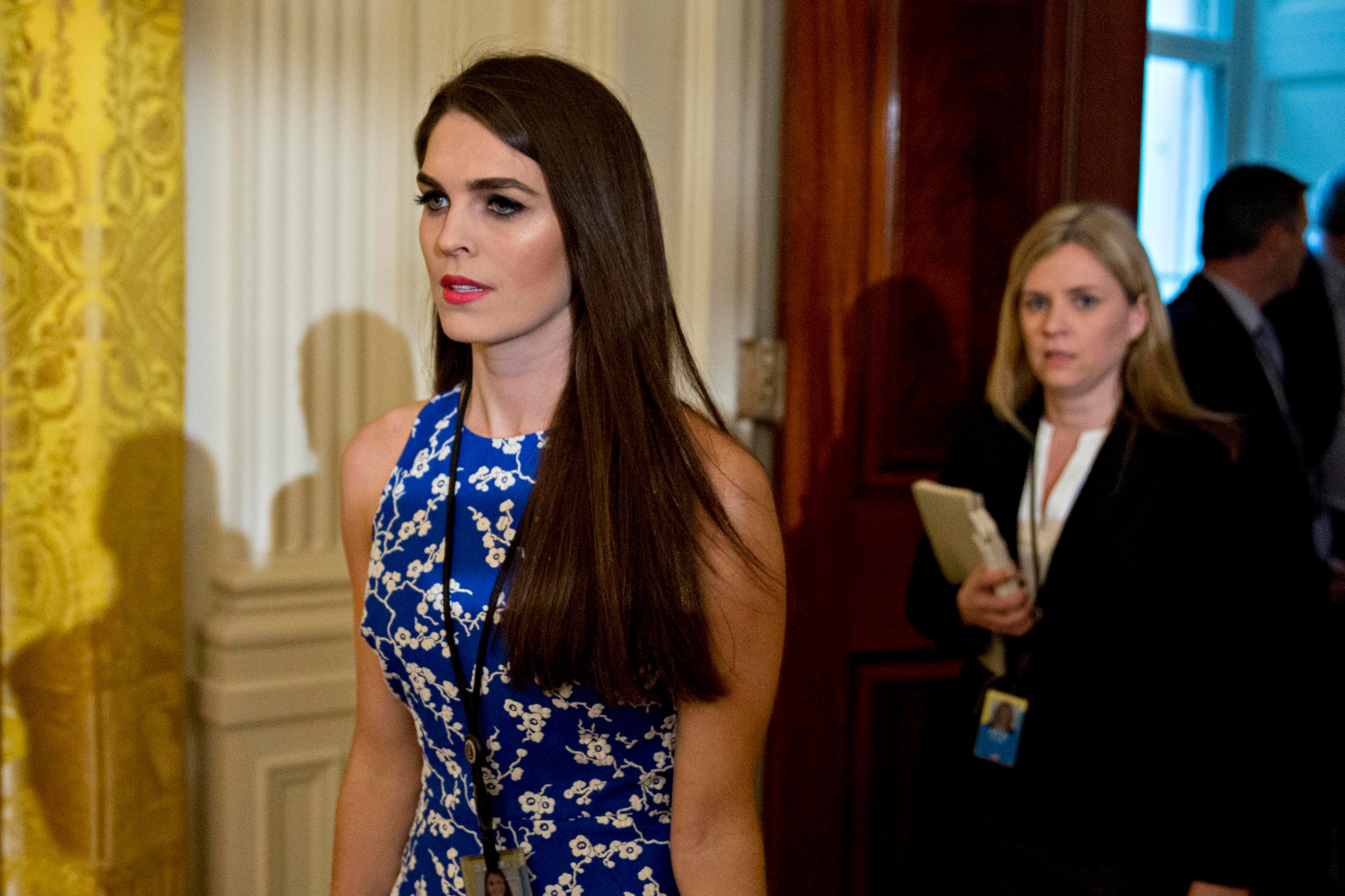 Hope Hicks set to appear before House Intel Committee after month-long delay
One of President Trump's closest political aides is slated to appear before the House Intelligence Committee to testify behind closed doors in its ongoing investigation into Russia's interference in the 2016 election, multiple sources say. White House communications director Hope Hicks was supposed to appear before the committee in January, but her interview was abruptly postponed while counsel for the White House and committee sorted out the scope of her testimony.
Hicks' uniquely close and longstanding relationship with President Trump makes her an essential witness to many key moments in the Trump campaign, the transition period, and the presidency. Before she joined his campaign in 2015, Hicks handled public relations for Ivanka Trump at the Trump Organization.
The committee will want to question Hicks about any and all contact Trump campaign members might have had with Russian intermediaries. However, one of the most charged issues likely to be addressed is Hicks' knowledge of the White House's initial statement, drafted aboard Air Force One, in response to press reports of a June 2016 Trump Tower meeting between Russians and Trump campaign officials. Committee members will presumably want to probe what role the president himself had in the process – which is also an area said to be of special interest to special counsel Robert Mueller.
Hicks' own role in responding to reports of the meeting may also be scrutinized. According to a report in the New York Times, a former spokesman for President Trump's legal team, Mark Corallo, planned to tell Mueller's team that Hicks said on a conference call that emails written by the President's son, Donald Trump, Jr., about the Trump Tower meeting, "will never get out."
In a statement at the time, Hicks' lawyer, Robert P. Trout, strongly denied Corallo's allegation. "She never said that," Trout said, "And the idea that Hope Hicks ever suggested that emails or other documents would be concealed or destroyed is completely false."
Hicks has already been questioned by the special counsel and the Senate Intelligence Committee as part of their respective investigations, according to multiple sources.
It is still unclear what, if any, limitations the White House may have placed on Hicks' testimony. But the White House and the committee have been at loggerheads on the scope of witness questioning before, with the White House cordoning off any events or topics that took place after the conclusion of the campaign.
When former Trump campaign manager Corey Lewandowski appeared before the committee in January, he exasperated committee Democrats by saying he was not prepared to answer questions about the time following his departure from the Trump campaign. Though Lewandowski did not assert executive privilege, and though he has expressed a willingness to return before the committee, his return has not been scheduled, let alone compelled.
In the case of former White House chief strategist Steve Bannon, who appeared before the committee once in January and again on February 15, the White House presented the committee with a series of yes-or-no questions that ranking member Adam Schiff, D-California, said were "literally scripted," in such a way that any attempts by the committee to move beyond them drew an unresponsive answer.
Bannon told the committee in February that he had been instructed by the White House to invoke executive privilege.
"That is not how executive privilege works – that's how stonewalling works," Schiff said at the time, adding that the only course forward for Congress was to initiate contempt proceedings.
As the House makes its return from a week-long recess, it is unclear what, if any, contempt proceedings have begun.
While the Republican leading the committee's Russia probe, Rep. Mike Conaway, R-Texas, did not rule out holding Bannon in contempt, he made clear the decision was not entirely in his hands. Following Bannon's appearance on February 15, Conaway said he believed Bannon should answer the committee's questions, but "contempt is a big deal and I don't have unilateral control over that conversation."
He indicated he would be consulting with House Speaker Paul Ryan, R-Wisconsin, and "an awful lot of lawyers" on next steps.
Thanks for reading CBS NEWS.
Create your free account or log in
for more features.