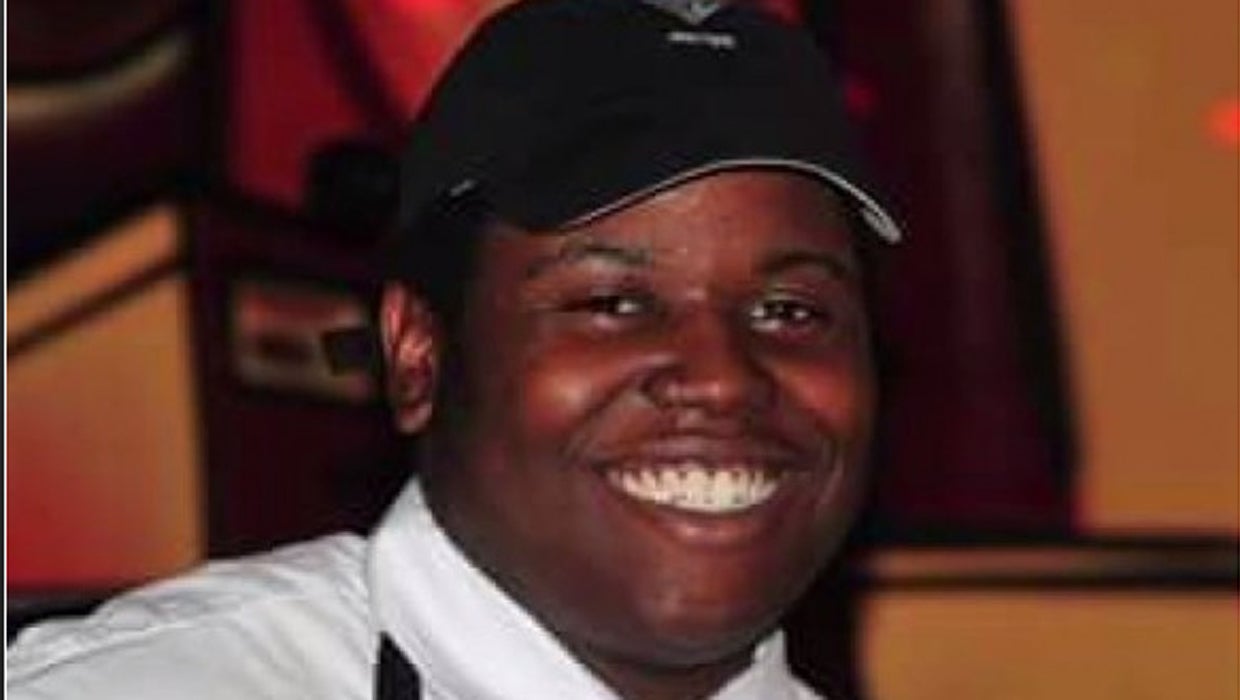 Black man shot dead in N.C. after 911 calls about "hoodlums"
RALEIGH, N.C. -- A white man has been charged with murder after he allegedly shot and killed a black man outside his North Carolina home, moments after a 911 call that reported "hoodlums," according to authorities and 911 tapes.
The shooting happened early Sunday morning when 39-year-old Chad Cameron Copley fired a shotgun from inside his garage and hit the victim, according to a Raleigh Police Department news release. He was arrested hours later, and jail records show the suspect was being held on a murder charge.
Kouren-Rodney Bernard Thomas, 20, suffered a gunshot wound and was pronounced dead at a hospital. Police spokeswoman Laura Hourigan said Thomas was black.
Thomas was leaving a house party when he was fatally struck, said the victim's mother, Simone Butler-Thomas.
"This man took my baby's life," Butler-Thomas said in a phone interview with the Associated Press from her home in Louisburg.
Thomas, 20, was walking with a friend, David Walker, to their car parked down the street early Sunday when the shot came from the suspect's house, said Butler-Thomas, who talked with friends and witnesses to find out what happened.
She said the young men had arrived at the house party to find it had spilled outside, and decided to leave after about 15 minutes because the friend heard there were no girls there.
"He didn't deserve this. No child deserves it," she said while stifling sobs. "These people with guns, they just figure that when there's a bunch of black kids, they're hoodlums. These kids were not hoodlums. They were raised in families with mothers and fathers. They went to school. They were young."
Raleigh Police said Copley, 39, was arrested hours after the shooting. Copley's lawyer, Raymond Tarlton, asked that his client not be judged until more facts are available.
"It's under investigation. We'd caution restraint and ask folks not to rush to judgment," he said by phone, declining to discuss any details.
During a 911 call from Copley's house shortly before 1 a.m. Sunday, a man said "we've got a bunch of hoodlums out here racing," and told the dispatcher he was taking action.
"I am locked and loaded. I'm going outside to secure my neighborhood," the man said. He asked for officers to come, but refused to give his address and hung up.
Police spokesman Laura Hourigan said state law prevents authorities from confirming the caller's identity.
The caller told the dispatcher he was on the neighborhood watch.
On a second call from the Copley home about seven minutes later, the man said he fired a shot, and that someone was hit.
"We have a lot of people outside of our house yelling and shouting profanity. I yelled at them 'please leave the premises.' They were showing firearms so I fired a warning shot. And, uh, we got somebody that got hit."
Asked who was outside, the caller says: "There's black males outside my freaking house with firearms."
Walker denied this.
"It was silent," he told The News & Observer in Raleigh. "No fighting and no arguing and no one waving guns."
The party's host, Jalen Lewis, also denied seeing anyone with a gun among the 50 or so people at his party. He told WTVD that Thomas was near Copley's mailbox when he was fatally shot.
No one answered the door Tuesday at Copley's tree-shaded, two-story home in a northern subdivision of Raleigh. In the door of the attached garage, cardboard replaced a shattered glass window pane whose shards remained on the driveway, which runs roughly 40 feet to the mailbox at the street.
A GoFundMe page seeking donations for funeral expenses shows Thomas smiling widely in a dress shirt and black apron after a 2015 event he worked as a caterer.
His mother said she had moved with her three sons to North Carolina in 2001 for their safety.
"I brought my kids down here when they were babies because I didn't want to have my children raised in New York. I wanted them to have a life and be safe," she said, her voice cracking.
"He's a loving, loving boy. He was funny," she said. "We called him 'Safety 101' because he ... wouldn't start the car unless everybody had their seatbelts on and their cell phones away."
Thomas had a job at McDonald's, a girlfriend attending East Carolina University, and was weeks away from moving into his first apartment, she said.
"He loved life," she said. "He loved his family. He loved his friends. He was not a street boy."
Thanks for reading CBS NEWS.
Create your free account or log in
for more features.