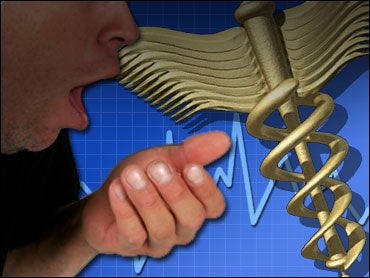 Holiday Glitter Of A Different Sort
This week John Leonard reviews Proof of Life, starring Russell Crowe and Meg Ryan, and Holiday Heart, a cable movie starring Ving Rhames as a church choir director who moonlights as a drag queen.
---
I know you want the inside skinny on Meg Ryan and Russell Crowe. But first a word about dams.

In Proof of Life, David Morse is building a dam in a Latin American country that looks like Ecuador, when he is kidnapped by the usual hairy guerrillas. He thinks dams are good things even if this one is paid for by oil pipeline people. But dams in Third World countries are almost always bad for the indigenous poor, who lose their villages and livelihoods. Still, if David hadn't been bulldozing the neighborhood, Sleepless in Ecuador would never have met the Gladiator.

We first meet Russell, an insurance-company hostage negotiator, in bucolic Chechnya, where things get messy. Little does he know that Meg, who is wandering around a colorful market with a cell phone, will need him almost immediately when her husband David is snatched. Russell flies in to reassure Meg and David's sister, Pamela Reed, who have issues. But Russell learns that the oil company stopped paying insurance premiums; he's outta there.



He will, of course, return because, of course, she's Meg. But things get almost as messy as Chechnya when her husband is dead. So Russell and his mad-dog mercenary buddy, David Caruso, will decide to do things their way. Which means a body count bigger than the Bay of Pigs.

The coke-dealing guerrillas are no better and no worse than the Texas oil types, which can't be what Che Guevera had in mind. Morse steals the movie, though Caruso and Reed are also fine. Russell and Meg simmer instead of sizzle, but they are stars we can't stop looking at. Proof of Life proves in fact that Hollywood can still make an action picture with some heart. There is more heart, however, in a cable movie on Showtime that Hollywood would never make.

Holiday Heart is the name of the cable movie and of its principal character. By day, Ving Rhames is a choir director in a church. By night, he is a drag queen in a Chicago glitterdome.

Not quite recovered rom the death of his policeman lover, at whose funeral he managed to embarrass everybody, he still assumes responsibility for a makeshift family that includes Alfre Woodard, a writer-junkie, and Jessika Quynn Reynolds, her needy daughter. Even a drug dealer determined to ruin their provisional lives, Mykelti Williamson, has his fair share of humanity. And Ving Rhames, if not Diana Ross, is supreme.

Directed by Robert Townsend from Cheryl West's adaptation of her own play, Holiday Heart is an open wound, but also funny. Nor will you see better acting anywhere.

And maybe it's time to ask how come an immense talent like Ving Rhames finds his most demanding roles on cable TV, where he has played Don King, the boxing promoter, and on network TV, where he has played Johnnie Cochran at the O.J. trial? Why is television more interesting than Hollywood?
Thanks for reading CBS NEWS.
Create your free account or log in
for more features.