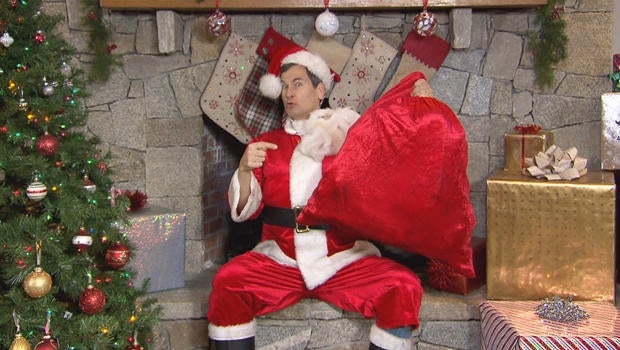 Holiday gift ideas from Techno Claus
It's that time of year! David Pogue, disguised as a jolly man in red, emerges from the fireplace to deliver some gift suggestions for those on your list who love gadgets:

Hello there! I'm Techno Claus, bringing good cheer
If ever we needed some, this was the year!
The scandals, the weather, political rifts --
You people could probably use some cool gifts.

Hot Logic Mini 3-in-1 Electric Lunchbox, $35
My elves are unhappy with bringing their lunch
And you might be, too, or so I have a hunch.
A sandwich, or leftovers, dried up and cold?
What you need's a crock pot-slash-lunchbox -- behold!
Your leftovers here, plug in, wander away --
By noontime, it's hot -- it can stay there all day!
It's conduction, they tell me; it can't overcook
Even frozen things thaw and heat perfectly -- look!

MoviePass $10 per month
I love to see movies in theaters, but
The prices these days! They're a pain in the ... gut!
Believe it or not, with this card in your hand,
For 10 bucks a month, all the flix you can stand!
Go on, see a movie a day! They don't care.
A ten-dollar flat fee? Seems almost unfair!
Enchroma Color-Blindness Sunglasses, $350
Like 1 in 12 men, I see less red and green.
I'm color-blind, thanks to one obstinate gene.
Well, thank you to science for what's in my sack:
Sunglasses that can bring most of it back!
The first time I tried 'em -- oh wow, what a lift!
There isn't a more unforgettable gift.

Sonos One Speaker with Alexa, $200

For multi-room music, the Sonos is choice --
And now, you can call up your tunes with your voice!
This thing has an Amazon Echo built in!
Behold -- for the demo's about to begin!
"Alexa: Play 'Winter Wonderland.'"
Alexa Dash Wand $20

That self-same Alexa, of whom I'm so fond,
Can now be commanded right here in a wand!
It's made for the kitchen, for ordering stuff,
By barcode, or speaking: "Buy marshmallow fluff."
You pay 20 bucks -- it's refunded, you see,
Upon your first order. Essentially FREE!

DJI Spark Drone, $380
Now, usually drones take their flying commands
From phones or remotes -- this one watches your hands!
Guide it upward or down, or leftward or right,
Do like this for a selfie -- then wrap up the flight.
The video footage looks lovely, and hey --
The whole thing takes almost no space in my sleigh.

So there's some ideas for you; have a good night!
Merry Christmas to all -- and to me, a safe flight!
Thanks for reading CBS NEWS.
Create your free account or log in
for more features.