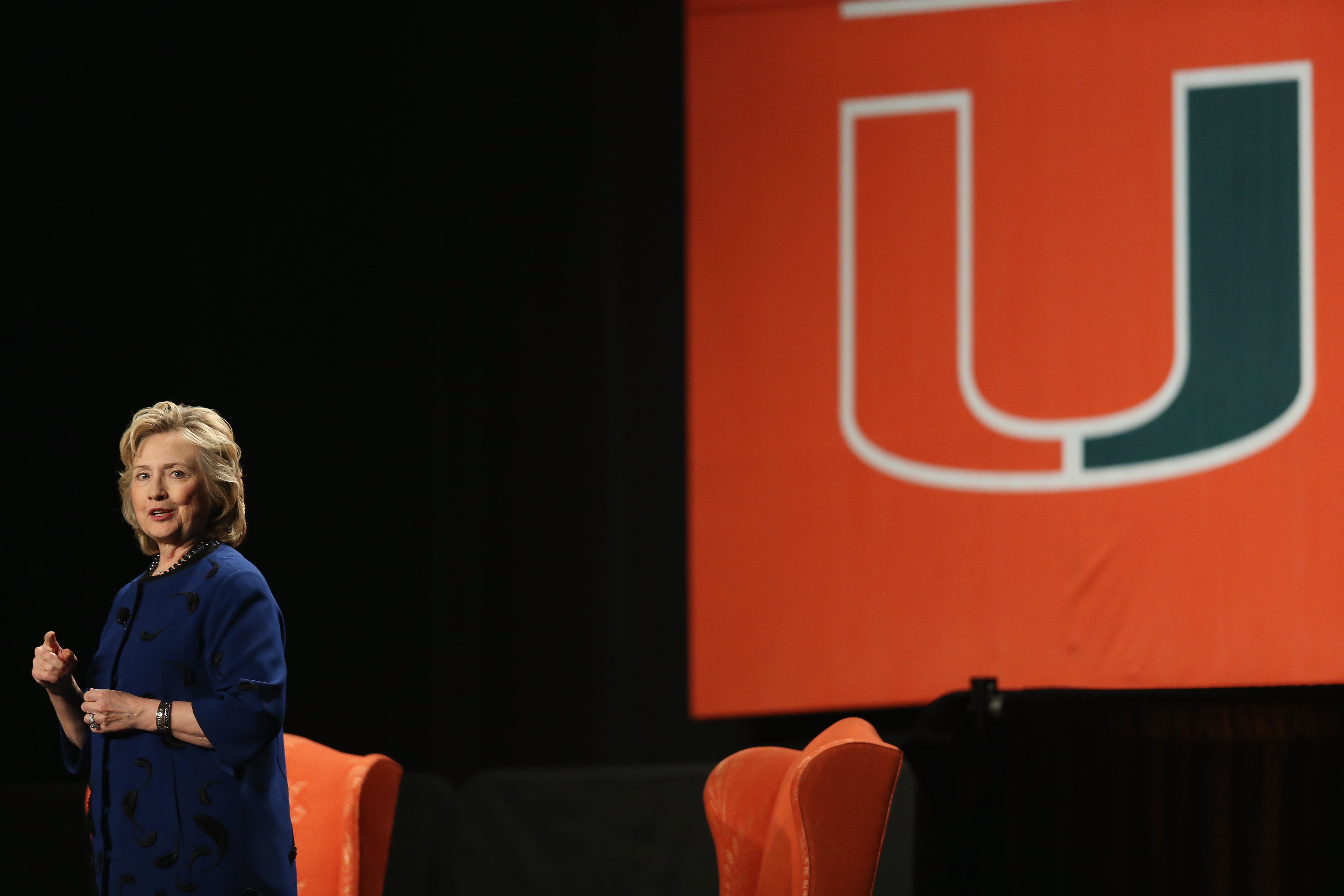 Hillary Clinton: All my college speaking fees go to charity
Facing criticism from some quarters about her expensive speeches, Hillary Clinton said Friday that every dollar she's earned speaking at universities since stepping down as secretary of state last year has gone into the philanthropic work of her family's foundation.
"All of the fees have been donated to the Clinton Foundation for it to continue its life-changing and life-saving work," she told ABC News. "So it goes from a foundation at a university to another foundation."
The issue was thrown into the spotlight when students at the University of Nevada at Las Vegas (UNLV) demanded last week that Clinton return the $225,000 the university paid her for a speech scheduled for October, citing planned tuition hikes.
"The students are outraged about this," Elias Benjelloun, UNLV's student body president, told the Washington Post. "When you see reckless spending, it just belittles the sacrifices students are consistently asked to make. I'm not an accountant or economist, so I can't put a price tag on how much we should be paying her, but I think she should come for free."
Benjelloun and other student leaders sent Clinton a letter last week asking her to return the money. They've said they plan to protest her visit if she refuses.
UNLV trustee Brian Greenspun, a Las Vegas media mogul and friend of the Clinton family, defended the scheduled speech, saying the proceeds from the fundraising gala Clinton is headlining should more than cover her fee.
"If you bring the right speakers in, people will come listen to them," he told the Post. "If you bring the wrong speakers in, no one will show up. The right speakers, in today's capitalistic world, cost more money."
Despite the debate it's generated, Clinton's upcoming speech at UNLV is hardly unique: according to the Post, She's received hundreds of thousands of dollars to speak at least eight universities in the last year.
The focus on Clinton's expensive speeches comes amid a media tour promoting her memoir that was marked, in part, by a few awkward answers about her personal wealth.
She was criticized for saying she and her husband, former President Bill Clinton, were "dead broke" when they left the White House in 2001, and for later saying she and Bill are unlike the "truly well-off" because they pay "ordinary income tax" and earn their money through "dint of hard work."
She's since walked those comments back, emphasizing how fortunate her family has been. And though Clinton's political opponents have tried to stir up controversy as she mulls a presidential bid in 2016, she said Friday that most Americans are less concerned about her finances than they are about their own.
"It's been my experience that they're not worried about my speaking or my household, they're worried about their own," she told ABC. "And that's the kind of debate I think I'm furthering as I go around the country speaking."
Thanks for reading CBS NEWS.
Create your free account or log in
for more features.