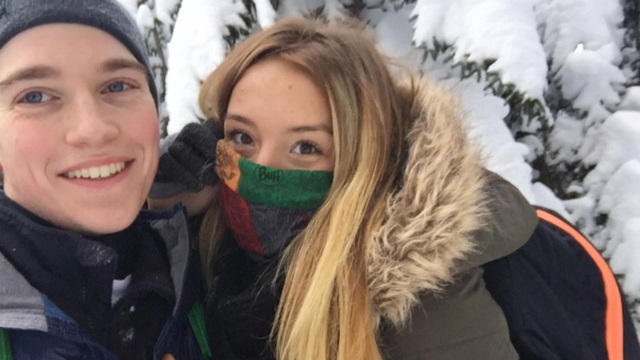 "Death wasn't an option": Hiker recounts remarkable story of survival
A college student who was lost for days with her boyfriend in blizzard conditions is telling their remarkable story of survival. They survived 48 hours trapped in a snow bank, near the top of Algonquin Peak. At more than 5,000 feet, it's the second highest mountain in New York.
In an interview only on "CBS This Morning," Michelle Miller spoke to the student about how the couple stayed alive long enough for rescuers to find them.

The couple set out for a day hike on Sunday. But all of a sudden, a heavy fog rolled in and they couldn't see even five feet in front of them. That's when they took a wrong step and started falling down the side of the mountain.
"I was freezing. The fall pushed all of the snow up my jacket, into my gloves, in my boots," Madison Popolizio told Miller. "I was covered in snow."
Popolizio said she owes her life to Blake Alois.
"I told him I can't really feel my legs anymore, I can't feel my feet, and his first instinct... I'm sorry," she paused as she began to choke back tears." "[I] was to take his bag that was full of our supplies and our food and to dump it out and to pull it around my legs so I could stay warm."
"Without him…" Michelle said.
"Oh, without him I never would have made it," Popolizio said.
"What did he say to you to keep you going?" Miller asked.
"He told me how much he loved me and what our lives were going to be like when we got out," Popolizio said.
For two freezing days and nights, rescue crews searched almost around the clock in four feet of snow, including Ranger Scott Van Laer.
"There was a lot worse weather coming, a lot colder weather," Van Laer said.
By that time, Popolizio said she and Alois were hallucinating, seeing and hearing things that weren't there -- until they heard the choppers.
"And I looked at him, and I was like, 'Did you hear that one?' And he was like, 'Yeah, I heard that one,'" Popolizio said. "And we just both started screaming."
"We couldn't' see them. We heard their voice, especially we heard her voice. It was just -- it just shot right through the air," Laer said.
"It was like an angel coming for us," Popolizio said. "The first thing I can remember was him saying that, 'We're going to make it out of here.'"
Alois is still in the hospital and could lose toes to frostbite.
"How are your toes? How are you feeling? Are you in pain?" Popolizio asked him over the phone.
"We accepted we might lose things -- some toes, fingers. I asked him if he would still think I was pretty if didn't have any feet. And he said you could lose both your legs, both your arms and you would still be the prettiest girl in the world," Popolizio said.
But she said they never considered the worst.
"We made an agreement early on when we got trapped that neither one of us could die," Popolizio said. "Because we couldn't leave the other one alone. And after that death wasn't an option for us. It just wasn't."
Popolizio is still struggling to walk because of the frostbite on her feet, and her teeth may be fractured from days of violently chattering from the cold. But she said she and Blake plan to get back in touch with the people who risked their lives to save them.
Thanks for reading CBS NEWS.
Create your free account or log in
for more features.