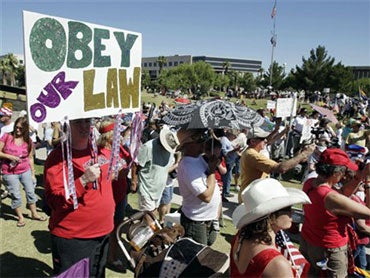 High Court Wades into Arizona Immigration Debate
The Supreme Court is entering the nation's charged debate over immigration, agreeing to hear a challenge from business and civil liberties groups to an Arizona law that cracks down on employers who hire undocumented workers.
The justices on Monday accepted an appeal from the Chamber of Commerce, American Civil Liberties Union and others to a lower court ruling that upheld Arizona's law. The measure requires employers to verify the eligibility of prospective employees through a federal database called E-Verify and imposes sanctions on companies that knowingly hire undocumented workers.
Then-Arizona Gov. Janet Napolitano signed the measure into law in 2007. Napolitano now is Homeland Security secretary.
CBSNews.com Special Report: Elena Kagan
The law is separate from the recently adopted Arizona immigration law that is intended to drive illegal immigrants out of Arizona and also is being challenged as unconstitutional.
In the case under high court review, the chamber and ACLU argued that Arizona and other states that have imposed similar laws are overstepping their authority. Only Congress, they said, may legislate about immigration.
The Obama administration weighed in last month on the side of the chamber and ACLU, also arguing that federal immigration law trumps state efforts.
The San Francisco-based 9th U.S. Circuit Court of Appeals upheld the law.
The federal law that created the E-Verify system in 1996 made it voluntary and sought to balance efforts to discourage illegal immigration with concerns about discrimination against all immigrants.
Argument will take place in the court term that begins in October.
The case is Chamber of Commerce v. Candelaria, 09-115.
In related news:
• The Supreme Court ruled Monday that the Constitution's "right to keep and bear arms" applies nationwide as a restraint on the ability of federal, state and local governments to limit its reach substantially.
In doing so, the justices, by a narrow 5-4 margin, signaled that less severe restrictions could survive legal challenges.
The phrase has been debated for decades, because it was mentioned in the same amendment as the edict that maintaining "a well-regulated militia" is necessary in the United States.
Justice Samuel Alito, writing for the court, said the Second Amendment right "applies equally to the federal government and the states."
The court was split along familiar ideological lines, with five conservative-moderate justices in favor of gun rights and the four liberals, opposed.
• The Supreme Court also rejected appeals by the Obama administration and the nation's largest tobacco companies to get involved in a legal fight about the dangers of cigarette smoking that has stretched more than 10 years.
The court's action, issued without comment Monday, leaves in place court rulings that the tobacco industry illegally concealed the dangers of smoking for decades. But it also prevents the administration from trying to extract billions of dollars from the industry either in past profits or to fund a national campaign to curb smoking.
• An ideologically split court ruled that .
The Christian Legal Society had sued to get funding and recognition from the University of California's Hastings College of the Law, whose policy said no recognized campus group may exclude people due to religious belief or sexual orientation.
The court on a 5-4 judgment upheld lower court rulings that CLS's First Amendment rights of association, free speech and free exercise were not violated by the college's decision to deny recognition and funding.
Justice Ruth Bader Ginsburg wrote that CLS "seeks not parity with other organizations, but a preferential exemption from Hastings' policy."
In his dissent. Justice Samuel Alito wrote that the college's decision was aimed at preventing any freedom of expression "that offends prevailing standards of political correctness."
• The court refused to hear an appeal from the Holy See to stop a lawsuit that accuses the Vatican of transferring a priest from city to city despite repeated accusations of sexual abuse.
Sovereign immunity laws hold that a sovereign state - including the Vatican - generally is immune from lawsuits. But a judge had ruled that there was enough of a connection between the Vatican and the Rev. Andrew Ronan (who was transferred from Ireland to Chicago to Portland, Ore.) for him to be considered a Vatican employee under Oregon law; that ruling was upheld by the 9th U.S. Circuit Court of Appeals in California.
According to court documents, Ronan began abusing boys in the mid-1950s as a priest in the Archdiocese of Armagh, Ireland. He was transferred to Chicago, where he admitted to abusing three boys at St. Philip's High School. Ronan later was moved to St. Albert's Church in Portland, where he was accused of abusing the person who filed the lawsuit now under appeal. Ronan died in 1992.
• The court struck down part of the anti-fraud law enacted in response to Enron and other corporate scandals, but said its decision has limited consequences.
Under the 2002 the Sarbanes-Oxley law, Congress created the Public Company Accounting Oversight Board to replace the accounting industry's own regulators amid scandals at Enron Corp., WorldCom Inc., Tyco International Ltd. and other corporations. The board has power to compel documents and testimony from accounting firms, and the authority to discipline accountants.
The justices voted 5-4 that a provision of the law violates the Constitution's separation of powers mandate. Sarbanes-Oxley will remain in effect, but the Securities and Exchange Commission now will be able to remove board members at will.
• The court rejected an appeal by the publisher of a financial newsletter found guilty of securities fraud. Pirate Investor LLC (now known as Stansberry and Associates Investment
Research) and Frank Porter Stansberry had sold a report purporting to offer a "Super Insider Tip" relating to a still-unannounced deal between USEC, an American company that enriches uranium and the Russian government.
In 2002 Stansberry wrote a newsletter saying he had interviewed a company executive who told him to watch their stock on May 22; the executive later denied saying that, but the e-mail solicitation predicted USEC's stock price would more than double. Stansberry's company made hundreds of thousands of dollars from selling reports. Within two weeks trading in shares of USEC rose from 189,000 shares a day to an average of 3.3 million.
News organizations, including The Associated Press, said the prosecution is in violation of the First Amendment. But federal judges have upheld the conviction.
Thanks for reading CBS NEWS.
Create your free account or log in
for more features.