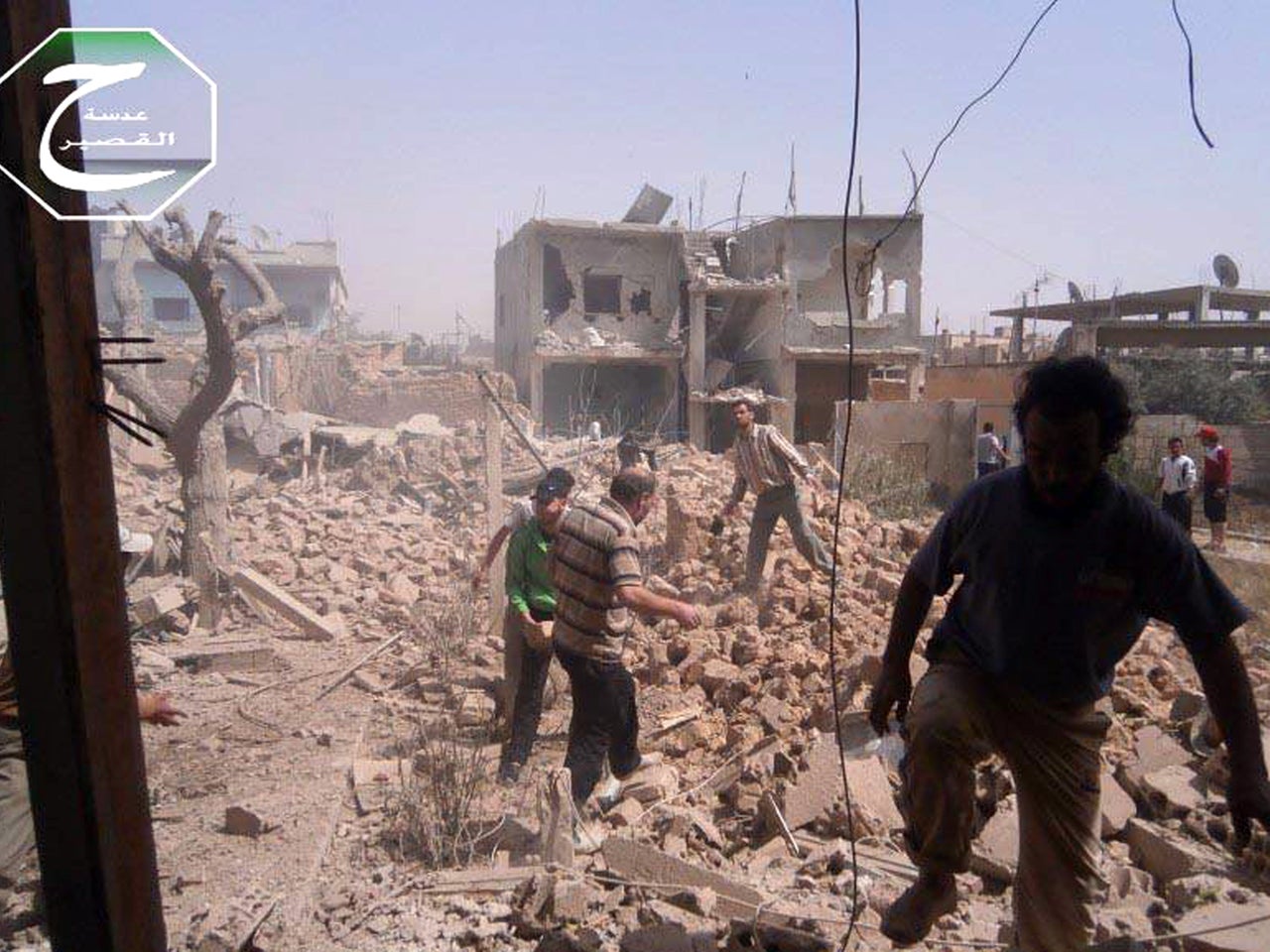 Hezbollah suffers heavy losses fighting inside Syria
BEIRUTIn what may be a first for the Syrian civil war, numerous reports claim Hezbollah suffered heavy losses aggressively fighting alongside the Assad regime's forces in a major battle outside of their home country of Lebanon.
It is no secret the Lebanese militant group -- labeled terrorists by many in the West -- has been a strong backer of President Bashar Assad, along with Iran. They have allegedly provided at least tacit support for some time in the two-year-old conflict. Now, however, it appears several, and as many as 30, have died as the result of active combat against Syrian rebels forces.
The fight is in the town of Qusair, near the Lebanese border, and both sides consider the once-rebel-held town a key to controlling the conflict at large. One activist group said at least 23 elite Hezbollah fighters have died so far in the battle, while other put the number of those killed above 30 with 100 wounded, according to the Jerusalem Post.
So far, rebels appear to be losing their grip on the town. Syrian government forces pushed deeper into Qusair on Monday, battling rebels in fierce street fighting, state-media reported.
The Britain-based Syrian Observatory for Human Rights, which tracks Syria's civil war, also said that more than 100 Hezbollah members also have been wounded in the fighting. If confirmed, the casualties would be a significant blow to the Shiite group, which has come under harsh criticism at home in Lebanon for its involvement in the war next door.
A staunch ally of Syrian President Bashar Assad, Hezbollah is heavily invested in the survival of the Damascus regime and is known to have previously sent fighters to aid government forces. The Lebanese group's growing role in the conflict also points to the deeply sectarian nature of the war in Syria, in which a rebellion driven by the country's Sunni majority seeks to overthrow a regime dominated by the president's Alawite sect, an offshoot of Shiite Islam.
The Observatory, which relies on a wide network of activists in the ground in Syria, cited "sources close to the militant group" for the death toll but declined to reveal their identity. It said at least 50 Syrian rebels were also killed in the battle for Qusair on Sunday, including two commanders.
Qusair has been the target of a withering government offensive in recent weeks, and the countryside around the town has been engulfed in fighting as regime troops backed by Hezbollah fighters seized villages as they closed in on Qusair itself. The opposition estimates that some 40,000 civilians are currently in the town.
The intensity of the fighting reflects the importance that both sides attach to the area. In the regime's calculations, Qusair lies along a strategic land corridor linking Damascus with the Mediterranean coast, the Alawite heartland. For the rebels, overwhelmingly Sunni Qusair has served as a conduit for shipments of weapons and supplies smuggled from Lebanon to opposition fighters inside Syria.
Regime troops and Hezbollah fighters, who laid siege to Qusair weeks ago, launched an offensive to regain control of the town, with Hezbollah's elite fighters advancing from the east and south, an opposition figure said.
He added that Hezbollah troops took control of the main square and the municipal building in the center of the town in a few hours. By the end of the day Sunday, they pushed out rebel units, including the al Qaeda-affiliated Jabhat al-Nusra, from most of Qusair, he added Monday on condition of anonymity, for fear of retaliation by both sides.
He said fighting was focused in the northern part of the town on Monday.
The account matched that of Syria's state news media, which said President Bashar Assad's troops took control of most of Qusair on Monday. State-run TV said forces restored stability to the entire eastern front of the town, killing scores of terrorists there.
An official in the Homs governor's office told the AP on Monday that more than 60 percent of the city is in government hands after scores of gunmen were killed or surrendered Sunday. The official, who spoke on condition of anonymity because he was not allowed to give information to the media during an ongoing military operation, more than 1,500 resident fled the city due to intensified fighting.
Qusair-based opposition activist Hadi Abdullah denied official reports that the army was advancing in the town, saying they were still trying to storm it.
"They go in and out, until now I can say with confidence that they have not been able to enter the town and stay there," Abdullah said.
Hezbollah members have made use of their expertise in guerrilla tactics to significantly boost regime forces in the fight for Qusair. Their presence, along with that of Hezbollah-backed Shiite fighters, is meant to shore up overstretched troops fighting on several other fronts.
Residents on the Lebanese side of the border just across from Qusair reported seeing more than 30 plumes of smoke billowing from inside Syria and hearing the heavy thud of artillery and airstrikes late into the night Sunday and on Monday morning.
"Nobody could sleep last night from the sounds of battle," said Ali Jaafar, deputy mayor of the Lebanese border town of Hermel, adding that residents did not send children to school Monday for fear of fighting spilling over into Lebanon.
Lebanese security officials confirmed at least four funerals were being held Monday morning for Hezbollah fighters or their supporters killed in Syria. They spoke on condition of anonymity in line with military regulations.
Army units "restored security and stability" to most of the city on Monday and killed "many terrorists," the majority of them foreign fighters who have been fighting alongside opposition forces, the state news agency said. The military also destroyed rebel hideouts and seized "large amounts of weapons and ammunition," it said, adding that government troops are fighting pockets of resistance in southern and northern districts of Qusair Monday.
The Syrian regime claims there is no civil war in the country but that the army is fighting foreign-backed terrorists trying to topple Assad's government.
More than 70,000 people have been killed in Syria since March 2011.
At least 1.5 million Syrian who fled civil war have sought shelter in neighboring countries such as Lebanon, Jordan and Turkey, while millions more have been displaced inside Syria and are in urgent need of basic aid, according to the United Nations.
The international aid organization Oxfam appealed for more funds to help Syrian refugees, saying warmer weather will increase health risks due to lack of shelter, water and basic sanitation in Lebanon and Jordan. The Britain-based group said in a statement Monday that diarrhea and skin infections have already been noted among refugees in Jordan and Lebanon. The two countries host the bulk of 1.5 million Syrian refugees.
In addition to funds, aid organizations have also complained of a lack of access to civilians in areas most affected by fighting, saying that government bureaucracy often delays convoys for weeks from reaching civilians in dire need of basic supplies.
In a statement Monday, the International Committee of the Red Cross condemned the killing of a driver for the group's affiliate branch in northern Syria. The ICRC said Abdo Darwish, a driver for the Red Crescent Society in Hassakeh was killed May 14 on his way to work. He was wearing his Syrian Red Crescent uniform, "clearly indicating his affiliation with the Movement, when he was targeted by snipers," the ICRC said.
Syrian civil war has claimed the lives of 20 Red Crescent volunteers, the statement said, adding that all of those who died had been killed while carrying out their humanitarian duties.
Thanks for reading CBS NEWS.
Create your free account or log in
for more features.