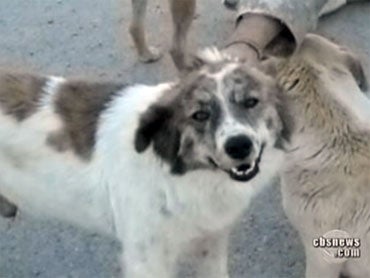 Heroic Afghan Dog Reunited with U.S. Soldier
When Georgia National Guardsman Chris Duke was serving in Afghanistan, he made friends with the locals - stray dogs Sasha, Target and Rufus.
"A lot of us used the three of them as an escape when you're homesick," Duke said.
But, as CBS News national correspondent Jeff Glor reports, the dogs did much more than keep him company.
"I firmly believe I wouldn't be here today if it weren't for him," Duke said.
On a February night, a suicide bomber tried to get into Duke's barracks. But the dogs began barking and biting the intruder. The attacker blew himself up before he could kill 50 soldiers inside.
Sasha was severely injured and had to be put down. But Rufus and Target were both nursed back to health. Duke returned home a month later - the dogs had to stay behind.
As another soldier kept an eye on the dogs, Duke wrote a letter to a veterans assistance group called "Hope for the Warriors." In the letter, Duke requested bringing the dogs home to him.
"This was going to mean a lot to him," said Robin Kelleher, President of Hope for the Warriors. "So whatever we needed to do to get this wish done we were going to do that."
Other organizations heard about the story, too. A Facebook page went up, and raised $21,000 in less than 3 months - enough for the dogs to leave Afghanistan.
This week, Rufus and Target finally arrived in the U.S. Today, in Atlanta, they were reunited for the first time with Duke and his wife.
Target will live in Arizona with another soldier, while Rufus will stay with the Dukes.
"To think that I'm going to have him for the rest of my life - it's exciting," Duke said.
Exciting because he knows he wouldn't be here if it wasn't for the dogs. Now they wouldn't be here if it wasn't for Duke.
More Information
Hope for the Warriors
Puppy Rescue Mission
Robert's Cause
Thanks for reading CBS NEWS.
Create your free account or log in
for more features.