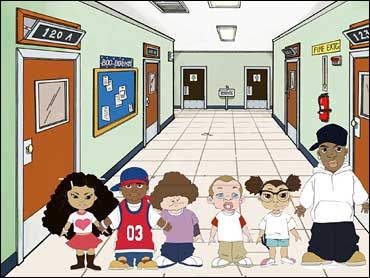 Call it Charlie Brown with a twist. Brothers Keenen Ivory, Shawn and Marlon Wayans, of "Scary Movie" and "In Living Color" fame, have created a series of animated children's shows, with books and toys to follow.
Its name: "Thugaboo."
The series of three specials will premiere on Nickelodeon, then air on the network's all-animation channel, Nicktoons, a network spokeswoman said.
Inspired by the Wayans brothers' favorite childhood cartoons, "Thugaboo" follows the misadventures of nine kids growing up in the inner city.
"It's like hard meets soft," Shawn Wayans told The Associated Press. "The thug is how they dress, kind of street, but they're good kids and they make the right decisions."
Three specials are planned - an hourlong show and two half-hour programs - centered on important times in children's lives.
The first episode, set to air in August, will have a back-to-school theme, said Nickelodeon spokeswoman Marianne Romano. The second will focus on the holidays, she said. The third, called "Don't Judge a Boo by its Cover," addresses how appearances can be misleading, Shawn Wayans said.
The aim of the specials, Marlon Wayans said in a statement, is to get kids laughing "by creating characters they can relate to while entertaining their parents at the same time."
The Wayans brothers are all parents, Shawn Wayans said. "I wanted to make the show that I want my kids to watch," he said.
Known for their irreverent comedy, the Wayans brothers' most-recent film, "White Chicks," featured co-writers Shawn and Marlon as race-swapping, cross-dressing FBI agents. Keenen Ivory directed and co-wrote the film.
"As a parent, I think it's important for kids to have a source of entertainment that deals with life in positive and comedic ways," said Keenen Ivory Wayans.
MMVI The Associated Press. All Rights Reserved. This material may not be published, broadcast, rewritten, or redistributed
Thanks for reading CBS NEWS.
Create your free account or log in
for more features.