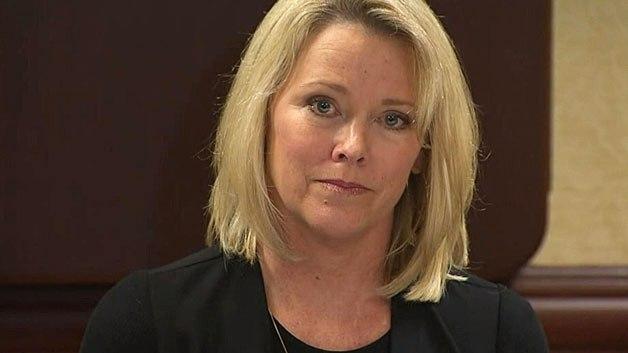 Former Boston TV news anchor says Kevin Spacey sexually assaulted her son
BOSTON -- Former television news anchor Heather Unruh claims actor Kevin Spacey sexually assaulted her teenage son, CBS Boston reports.
During a news conference on Wednesday morning, with attorney Mitchell Garabedian, Unruh alleged the assault happened in July 2016 on Nantucket when her son was drunk at the Club Car restaurant.
Fighting back tears, she said her son was a "star-struck, straight, 18-year-old young man who had no idea that the famous actor was an alleged sexual predator, or that he was about to become his next victim."
"To Kevin Spacey, I want to say this," Unruh told reporters. "Shame on you for what you did to my son."
The former anchor claims Spacey bought her son several drinks, and eventually stuck his hand in his pants and grabbed the teen's genitals without consent in the crowded, dimly lit club.
When Spacey went to the men's room, Unruh said a "concerned woman" approached her son and asked him if he was okay.
Her son left the restaurant and ran to his grandmother's home. He woke his sister, and the two of them called their mother who came to Nantucket the next day.
"It harmed him, and it cannot be undone," Unruh said.
Her son didn't report the incident to police at the time because of "embarrassment and fear," but she did call the sheriff on Nantucket.
"We had a long conversation so that he knew about the incident, and he very much wanted my son to come forward and report it," Unruh said.
"Last week, my son filed a police report and handed over evidence to the Nantucket Police, and now a criminal investigation has begun," she added. "He's committed to doing what he can to stop Kevin Spacey from victimizing anyone else."
Nantucket Police issued a written statement to CBS Boston that reads in part: "We cannot confirm nor deny any such report was filed. Reports of sexual assaults are confidential under Mass. General Law."
Unruh said her son, now 19, is currently a sophomore in college and is a "very strong young man" living his life.
"I've wanted to say something for a very long time," Unruh told reporters. "Now, the climate in this country is changing. There's a shift. The timing was everything. I think a lot of us felt a lot less fear of how my son would be treated."
On Oct. 13, she tweeted that the Harvey Weinstein sexual assault scandal "has emboldened me– #truth time. I was a Kevin Spacey fan until he assaulted a loved one. Time the dominoes fell."
More than two weeks later, after other allegations against Spacey became public, Unruh tweeted, "The dominoes are falling. My loved one will speak when ready. The headline is #KevinSpacey the #predator- this is not about him being gay."
Spacey is also accused of attacking the son of actor Richard Dreyfuss. Harry Dreyfuss was 18 years old at the time of the alleged assault in 2008.
Unruh says she's been in contact with the Dreyfuss family. Several of Spacey's other alleged victims have reached out to her and her family.
"Some of them have been suffering this for decades and haven't told anyone, until they told me," she said. "They've got a long way to go."
Thanks for reading CBS NEWS.
Create your free account or log in
for more features.