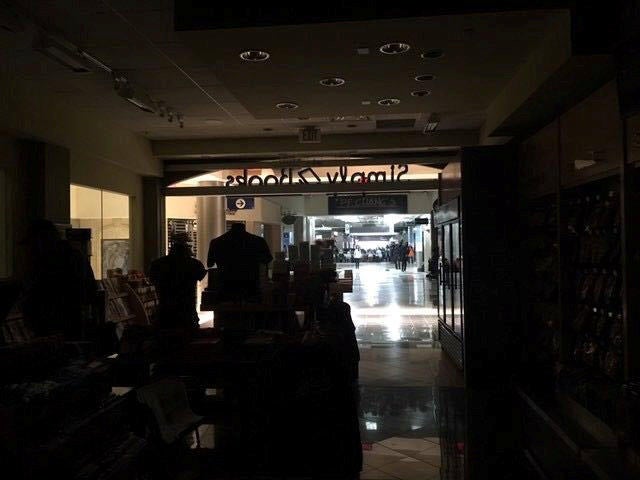 Atlanta airport blackout snarls air travel a week before Christmas
ATLANTA -- The nation's air-travel system struggled to get back on schedule Monday after a weekend fire and blackout at the world's busiest airport forced the cancellation of over 1,500 flights just days before the start of the Christmas rush.
Stranded travelers sat on the floor, slumped in chairs or stood in long lines at ticket counters a day after the underground blaze knocked out electricity and crippled Hartsfield-Jackson Atlanta International Airport for about 11 hours.
A spokesman for Delta Air Lines, which has its hub in Atlanta and is by far the biggest carrier at the airport, said most of its delayed passengers were booked on other flights scheduled to leave Monday.
Spokesman Michael Thomas said the airline should be "largely if not completely" back to normal by Tuesday, well before the big travel weekend ahead of Christmas Day. The fire broke out Sunday afternoon next to equipment for a backup system, causing that to fail, too. Power wasn't fully restored until about midnight.
During the blackout, thousands of travelers waited on planes or in the terminals. Disabled people had to be carried down stairs and escalators in the chaos. The control tower did not lose power because it has a separate electrical feed, and planes that were in the air and close to Atlanta were allowed to land. But other inbound flights were diverted to other cities, and outgoing flights were halted.
Anthony Foxx, who served as U.S. transportation secretary under President Barack Obama, was among the many travelers stuck for hours on a plane on the tarmac. He blasted airport officials, saying the problem was "compounded by confusion and poor communication."
"Total and abject failure here at ATL Airport today," he tweeted, adding that there was "no excuse for lack of workable redundant power source. NONE!"
Georgia Power CEO Paul Bowers issued an apology and blamed the fire on a failure in a switch gear.
Around noon Monday, stranded travelers who couldn't find chairs sat on the floor, charging their cellphones at the electrical outlets. An Atlanta city employee in a Santa hat gave out candy, and Delta employees handed out free doughnuts to people making their way to the parking lots.
Delta customers flying to or from Atlanta were allowed to change their travel plans without being hit with a $200 penalty. The airline encouraged travelers not to pick up their bags Monday because of congestion at the airport.
Amanda Davis, a morning anchor for CBS Atlanta affiliate WGCL-TV, was traveling from Texas to Atlanta when her flight was diverted to Little Rock, Arkansas, due to the power outage. "At this point all we can do is wait," Davis said in a Facebook video. "We have no idea how long its going to take."
Juan Rivera, 46, arrived in Atlanta on Sunday on his way from Huntsville, Alabama, to Newark, New Jersey. He waited on the plane on the tarmac for more than two hours until passengers were allowed to get off and go into a dark airport.
After staying in a hotel Sunday night, he returned to the airport in the morning. Unable to get on a flight to Newark, he arranged to fly to Philadelphia on Monday evening. Despite the 10 hours ahead of him at the airport, he had a smile on his face.
"I come from Puerto Rico," he said, noting that many there have been without power since Hurricane Maria pounded the island in September. "This is nothing compared to what's happening over there."
College student Joe Ryan had planned to fly home to Chicago with his fiancee on Sunday after a four-day seminar in Atlanta. They spent Sunday night on a carpeted floor outside an elevator and hoped to get standby status on a Monday afternoon flight. But he said he was told it could be Tuesday before he gets a flight home.
When Delta flights were grounded last spring because of a storm in the South, it took the airline five days -- and about 4,000 canceled flights -- before it fully recovered. At the time, CEO Ed Bastian vowed Delta would make "significant improvements" in order to rebound more quickly from disruptions.
Delta said they canceled approximately 1,400 flights over the nearly 24-hour period. They promised to reimburse customers who needed to make hotel accommodations Sunday in Atlanta. American Airlines had canceled around 50 but said it was back on a normal schedule by late morning. Southwest, United and JetBlue also reported scores of cancellations and delays.
Some passengers complained about a lack of information from airport officials and little help from emergency workers to get the disabled and the elderly through the airport without the use of escalators and elevators.
Hartsfield-Jackson serves an average of 275,000 passengers a day. Nearly 2,500 planes arrive and depart each day.
Thanks for reading CBS NEWS.
Create your free account or log in
for more features.