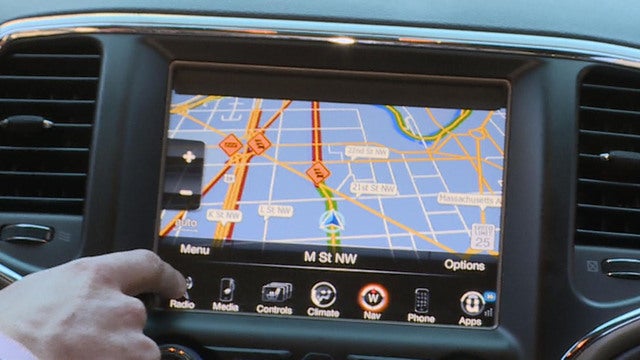 Hackers disable brakes on Jeep from miles away
An online video showing two computer experts hacking into a Wi-Fi equipped Jeep has rocked the automotive world and grabbed the attention of Congress, reports CBS News correspondent Kris Van Cleave.
Cybersecurity experts Charlie Miller and Chris Valasek showed they can remotely take control of a Jeep driven by a Wired reporter, who produced the video and posted it on its website Tuesday.
"We were able to access the Jeep Cherokee over its 3G connection," Valasek said.
The two, who work as ethical hackers, were miles away using the Internet to get inside the Jeep's "info-tainment" system, which controls its radio and navigation systems.
"From there, we were able to move to a different processor that was involved in in-vehicle communication -- things like braking, steering, transmission," Valasek said.
The Wired video shows the hackers disabling the Jeep's brakes, leaving it to slide into a ditch.
Miller and Valasek estimate as many as 471,000 vehicles, including Jeeps using Fiat-Chrysler's Uconnect system, could be vulnerable.
CNET editor at large Brian Cooley said it could be a huge wake-up call.
"We're starting to see the world's biggest game of cops and robbers play out not just in the virtual world, but now with things that weigh a couple of tons and have a trajectory," Cooley said.
In February, "60 Minutes" showed the Defense Advanced Research Projects Agency (DARPA) was able to use a laptop to take over a car.
DARPA is trying to develop hack-proof vehicles and provided funding for Miller and Valasek's three-year effort.
A report from Massachusetts Sen. Ed Markey found earlier this year, "Security measures to prevent remote access to vehicle electronics are inconsistent and haphazard."
According to Markey, motorists should anticipate that hackers will target vehicles.
The senator is now introducing legislation to require cybersecurity and privacy protections be applied to vehicles.
"We have to begin to build the protections in now, give the warnings now to American families that they could in fact have a dangerous vehicle without protection against hacking," Markey said.
The hackers kept the automaker informed on their findings, and a software fix is now available.
In a statement, Fiat Chrysler Automobiles told "CBS This Morning": "FCA has a dedicated team...focused on identifying and implementing software best practices across FCA globally."
Thanks for reading CBS NEWS.
Create your free account or log in
for more features.