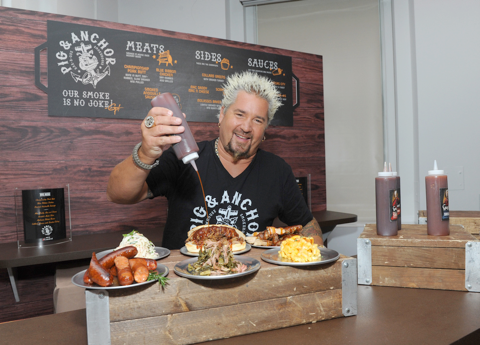 Guy Fieri on kale salads, barbecue and if he'll change his signature look
Food Network personality Guy Fieri is bringing his signature style out to sea again with Carnival Cruises to debut his new restaurant, Pig & Anchor Bar-B-Que Smokehouse. He talked to CBS News about what it takes to barbecue on a ship, the biggest misconception about "Diners, Drive-ins and Dives" and why he hasn't changed his frosted tips since his TV debut.
I see you're wearing the t-shirt for Pig & Anchor.
My manager and I designed the logo. Whenever we're designing a concept, that includes the brand, name, logo everything -- food is not just what's on the plate. It's the experience, where you're at and what you're feeling and so forth, so developing a concept for Carnival is quite an undertaking. I had quite a bit of success with Guy's Burger Joint [on Carnival] that I didn't want to mess up a good thing.
We started talking about a barbecue concept and I said you can't put a smoker on the ship. But we started talking and I said we use Ole Hickory smokers and that was it -- three months later they said, "They're going to build us a smoker." They said they're feeding anywhere from 1,000 to 1,500 people, and I said, "Do you know how many pounds of barbecue that is?"
How many is it?
Hundreds and hundreds. If you told me this could happen ... I didn't even think the burger concept would work. There's no cutting corners with barbecue. You can't smoke it half as long. That's the great thing -- the kitchen on the ship runs like a restaurant kitchen.
What are the biggest mistakes people make when they barbecue at home?
Well there are two different things: there's grilling and there's barbecue. Grilling is when people say, "We're going to turn up the heat, make it really hot and sear a steak, sear a burger, cook a chicken."
Barbecue is going low and slow. People can use their gas or charcoal grill at home to barbecue and set it at 200 to 225 degrees, add some soaked wood chips. The problem is that people too often don't manage their temperature. You can't believe the gauge outside the barbecue. That's as much you can count on as a ripoff watch. Get a good digital thermometer and take consistent temperature. Low and slow -- can't beat it.
You eat a lot of greasy food on "Diners, Drive-ins and Dives," so what --
That's wrong. That's wrong. That's where I tell people they're wrong. It's not greasy food. That's the funniest misnomer about the show is that people want to say, "Oh you're on that show. You eat that pizza and chili dogs and hamburgers." And get this straight -- I'm the one who picks the locations. My research team finds them, but I OK them and pick the menu.
When you really look at the menu, one out of 10 locations will be a stacked greasy burger but it can't be a stacked greasy burger without integrity, like "we get the meat local" or "we bake our own buns." I'm not a greasy food guy. I don't eat like that. I personally don't eat like that. I don't eat burgers outside of the burgers at my restaurants.
What do you usually eat then? Kale salad?
I eat a lot of kale salad! Farro. I came in last night from California and went to a deli -- in New York you can get a salad made to order anywhere -- and I had every bean that they had with artichoke hearts and beets. I eat a lot more pure and clean than people imagine and I'm not saying I do something different on the show. I eat ethnic food. I love spicy food. I'm on a big Indian kick. I'm a huge Asian fan. I love sushi -- I make sushi all the time. I used to have a sushi restaurant. I've been doing sushi for 20 years.
And you were just talking about designing your own logo. Everyone knows you for your signature look. Do you ever get tired of it? Like, "Ugh, I want to dye my hair black. I want to not spike it today. I want to shave my facial hair. I want a change."
I don't do anything that I "have" to do. I really don't buy into that. I know we're doing a photo shoot today and I didn't bleach my hair so I won't have roots. I don't really give a s***. Well, I shouldn't say that, but I don't get too tied up. I'm wearing a t-shirt, jeans and tennis shoes today.
I didn't do the look to be on TV and I don't keep the look because I'm on TV. It's just the way that I like to look. It's just how I like to flow. I wear baseball caps a lot. There's been quite a few conversations between me and my wife; she'd like to see my hair brown again. So who knows what will happen. I used to have long hair. Right now we don't want to interrupt the shooting of "Diners, Drive-ins and Dives" because there's so many shows that have to meld together. I know people want there to be more sensationalism behind the look, but there's no design. Trust me.
You'll change when you want.
I'm not doing anything for anybody. I'm doing what I do.
Thanks for reading CBS NEWS.
Create your free account or log in
for more features.