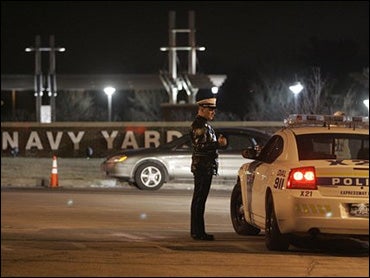 Gunman Kills 3, Self At Philly Office Park
A man who killed three people and himself at a marketing company was upset about losing money in a failed real-estate venture and told his victims to "say your prayers" before he opened fire, police said Tuesday.
Vincent Dortch, 44, took an assault rifle and a .40-caliber handgun to an investors meeting he had organized Monday night, authorities said.
Minutes after the meeting started, he told the group, "You have a minute or two to say your prayers," police inspector Joseph Fox said. Another man who was shot during the attack was in critical condition Tuesday.
Police found a scene of "utter chaos" in the offices of Zigzag Net Inc., Deputy Police Commissioner Richard Ross said.
Two victims were found on the floor, and another was in a chair, all with "wounds to various parts of the body," Ross said. "The officer mentioned to me that he had to take a knife out to cut this person loose." None of the police officers was hurt.
Dortch, 44, of Newark, Del., and two other men at the meeting had lost money on the failed deal, perhaps as much as $500,000 combined, police said.
Those two other investors were bound with duct tape, but they were not shot, Ross said. Police said the survivors told them they had talked Dortsch out of driving to New York state, where he planned to shoot another person.
Police identified the victims as Robert Norris, 41, of Newark, Del.; Mark Norris, 46, of Pilesgrove, N.J.; and James Reif, 42, of Endicott, N.Y. Zigzag's Web site lists Mark Norris as president and CEO.
The injured man, Patrick Sweeney of Maple Shade, N.J., was taken to Thomas Jefferson Hospital, where he was listed in critical condition Tuesday. He is listed as Zigzag's human resources manager.
Despite being bound and shot several times, Sweeney had broken free and managed to call police. Officers entered the office building behind Dortch, and exchanged gunfire with him in a second-floor hallway.
Dortch, who may have been shot by police, then ducked behind a door and fatally shot himself in the head, Fox said.
Dortch had invested in an apparent startup company called Watson International, to which at least two of the victims had ties. The site lists Robert Norris as vice president of business development. His wife, Patricia, on Tuesday declined to answer questions about the meeting or comment on the shootings.
Mark Norris and Robert Norris are brothers, said Aaron Haydn McLean, Zigzag's senior art director. Reif was also affiliated with Watson International, McLean said.
Both Robert Norris and Reif were retired law enforcement officers, police said.
Zigzag has about 15 employees, said McLean, who has worked there for about five years.
Meanwhile, across the country in Salt Lake City, a historic mall's winding hallways became a shooting gallery for a gunman in a trench coat who fired a shotgun randomly at customers, slaying five before being killed by police, authorities and witnesses said.
The old Philadelphia Navy Yard was one of the Navy's busiest shipbuilders during World War II but closed in 1995. Two years later, a private company, Kvaerner, resumed commercial shipbuilding in a portion of the shipyard, which is now known as Aker Shipyard. Other areas of the Navy facility have been converted to business and office use.
Thanks for reading CBS NEWS.
Create your free account or log in
for more features.