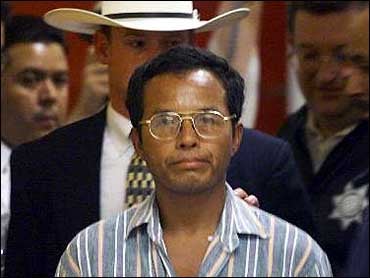 Guilty Verdict For Railroad Killer
Rejecting his insanity plea, a jury has found confessed serial killer Angel Maturino Resendiz guilty of capital murder. The Mexican drifter admitted to killing nine people as he traveled the United States on trains.
The 12-person jury deliberated 10 hours over two days before reaching its unanimous verdict and must next decide whether Resendiz, 40, goes to prison for life or dies by injection for the December 1998 murder of Houston physician Claudia Benton.
The chubby and bespectacled Maturino Resendiz, who was on the FBI's 10 Most Wanted list when he surrendered to the Texas Rangers in July, showed no emotion when state District Judge Bill Harmon read the verdict to a hushed courtroom .
Attorneys for Maturino Resendiz, 40, admitted at the trial's opening last week that he had murdered nine people in a two-year killing spree across Texas, Kentucky and Illinois. But they said he was too insane to be convicted of the crimes.
"The defendant...was totally out of touch with reality," defense attorney Allen Tanner said in closing arguments on Wednesday.
Maturino Resendiz was on trial only for the Benton murder, but had been the prime suspect in the eight other killings to which he confessed. He has a long criminal history and had served time in U.S. jails for violent assaults.
Prosecutors argued that Maturino Resendiz was a "cold- blooded killer" who feigned insanity in hopes of escaping the Texas death chamber.
"The defendant does suffer from one delusion. The delusion he has is that he will be able to convince one of you he's insane," prosecutor Lyn McClellan said.
In testimony last week, Bruce Cohen, a psychiatrist hired by the defense, said Maturino Resendiz was a paranoid schizophrenic who believed he was an avenging angel directed by god to kill evil people. He hated homosexuals and abortionists and may have thought the victims had links to those groups, Cohen said.
But psychiatrists called by the prosecution said Maturino Resendiz was only mentally disturbed, not insane. They said he knew he was breaking the law when he committed the murders.
"He was not motivated by the will of god. He was motivated by anger, by power, by the desire for sex, by the desire for control and domination...if you know it's illegal, you know it's wrong," McClellan said.
Under the law in Texas, which has one of the nation's toughest penal codes and executes more people than any other state, a defendant is not considered insane if he or she knew right from wrong at the time of the crime.
Maturino Resendiz is a native of Mexico who crossed illegally into the United States for years, hopping on trains to get around the country. All the murders took place near railroad tracks, which earned him the nickname "railway killer."
The killings to which he confessed were brutal beatings and stabbings that took place in the victims' homes and ere sometimes followed by a sexual assault on the dead or dying people.
Benton was raped, beaten and stabbed to death in her Houston home. Her head was covered with a plastic bag and her body left sprawled on the floor, a bloody butcher knife nearby.
Maturino Resendiz was the object of an international manhunt when he surrendered to the Texas Rangers on July 13 in El Paso, Texas in a deal negotiated by his family.
CBS Worldwide Inc. All Rights Reserved. This material may not be published, broadcast, rewritten, or redistributed. The Associated Press and Reuters contributed to this report
Thanks for reading CBS NEWS.
Create your free account or log in
for more features.