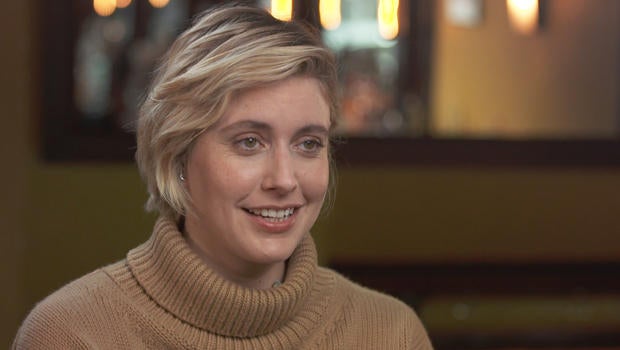 Greta Gerwig on directing: "It's the best feeling in the world"
We have questions-and-answers this morning for movie star Great Gerwig, who's now taken a commanding role OFF-camera. She's been talking to our Tony Dokoupil:
Enter a Sacramento coffee shop with Greta Gerwig and you might be surprised what happens.
"Nothing. Nothing will happen," she laughed.
In her hometown, Gerwig doesn't yet get mobbed in public -- and she helpfully spells her name for the barista.
Until this year, the 34-year-old was probably best known as an actor, with roles opposite Ben Stiller ("Greenberg"), Annette Bening ("20th Century Women"), and Natalie Portman ("Jackie").
But now, she's written and directed "Lady Bird," starring Saoirse Ronan, a movie praised as "perfect" by some critics and celebrated as the best-reviewed movie of all time on the sometimes surly film website Rotten Tomatoes.
"I don't typically read reviews while it's going on," she said.
"You must be aware," Dokoupil said.
"I'm aware. I'm definitely aware!"
Ronan plays an artsy Sacramento teenager -- much as Gerwig once was. But don't mistake "Lady Bird" for an autobiography.
Dokoupil asked, "Why do you think it bothers you when people assume that it is?"
"Because I spent so long writing it, and I worked so hard on the script to get it just right," she replied. "And I don't like the implication that it's not an act of imagination, because it is 100 percent an act of imagination."
You could say Gerwig's first role was as a pint-sized director. When she was five years old, she tried to organize everybody in her kindergarten to do a production of "Starlight Express."
With support from her parents, she went on to pursue ballet, theater and playwriting. But when it came to college …
"I've been rejected from every formal training program I've ever applied to," Gerwig said. "I remember at the UCLA audition they didn't even look at me, and I thought, 'That can't be a good sign. They don't let people in who they don't look at!'"
Gerwig found her way to New York City's Barnard College instead, and into a hazy, improvisational film movement known as "mumblecore."
Greta Gerwig in the 2012 comedy "Lola Versus":
These days, she bristles at the very word.
"I hate the word! I hate the word 'mumblecore,'" she said.
"It didn't feel like a compliment to be the 'Meryl Streep of mumblecore'?"
"Did not feel like, no, it felt not like a compliment!"
And yet …
"What was wonderful about it was, it allowed me to understand how films are built, because we were doing everything. Everybody was doing everything. I held the boom!"
"You're tall."
"I'm so tall. I've got really long arms and I'm sturdy."
For years, Gerwig focused on acting, but used her time to study the work of her directors, among them Woody Allen, Rebecca Miller, and her now-fiancé Noah Baumbach.
"He said, 'Do you have any ideas?' And it was like one of those, 'Funny you should ask!' moments. And then it was like, 'Here's my tome.'"
Together, they wrote two movies with starring roles for Gerwig: "Frances Ha" and "Mistress America."
To watch a clip from "Frances Ha" click on the video player below:
But "Lady Bird" is the first film she's written and directed alone.
Dokoupil asked, "Was it widely known [in the film industry] that you were working on this?"
"No, no," Gerwig replied. "I tried to keep it, not under wraps, but I feel like movies are delicate, and I don't like to talk about them too much until I'm actually making it. I guess I'm self-conscious about saying, like, 'I got a movie I'm workin' on, that I'm gonna direct!'"
Gerwig's silence was also a kind of strategy: "I realized -- pretty young -- that being quite ambitious was considered unattractive in a girl. And I remember when I was in around 7th or 8th grade it clicked in. And I remember consciously thinking like, 'Oh, people don't like this.'"
"So is that sad, that memory or that realization?"
"It is now. At the time, it felt like survivalism. I remember I had an acting teacher who was watching me when I was in college. He was like, 'You're doing something, but you have a trick and I will figure it out.' And he finally said, 'I got it, I know what you're doing: You're pretending to be vulnerable, but it's hiding your total ambition.' And I was like, 'Oh my God, he's right!'"
On a recent morning, Gerwig's ambition was to show Dokoupil around her old neighborhood in Sacramento. He asked, "Do you feel like you were unfair to the town as a kid?"
"Yeah, definitely. I also feel like perhaps I should move back!" she laughed.
And in "Lady Bird," Gerwig hoped to capture her hometown's underappreciated beauty, and tell a classic coming-of-age story from a perhaps not-so-classic perspective.
"There are great movies about women, and there are great movies about mothers and daughters, but there's not as many as there are about men. That's just statistically true," she said.
And here's another statistic: In 89 years, only one woman -- Kathryn Bigelow -- had won an Oscar for Best Director, for "The Hurt Locker."
"What pisses me off any given year is that I could think of five films directed by a woman that deserve to be there, that deserve to be talked about like that," she said. "Every year I can tell you the women where I'm, like, 'Why aren't they there?'"
No matter what happens on Oscar night this year, Greta Gerwig plans to direct again. "It's the best feeling in the world," she said. "It's the best. It's my favorite, hands-down."
But she still likes to keep her work a secret … even now that her ambition is no secret any more.
"I guess all that's over?" Dokoupil asked
"Yeah, all that's over."
"You're never going to surprise someone again?"
"No, I can kind of, just, I can be the maniac I am openly!" Gerwig laughed.
To watch a trailer for "Lady Bird" click on the video player below.

For more info:
Thanks for reading CBS NEWS.
Create your free account or log in
for more features.