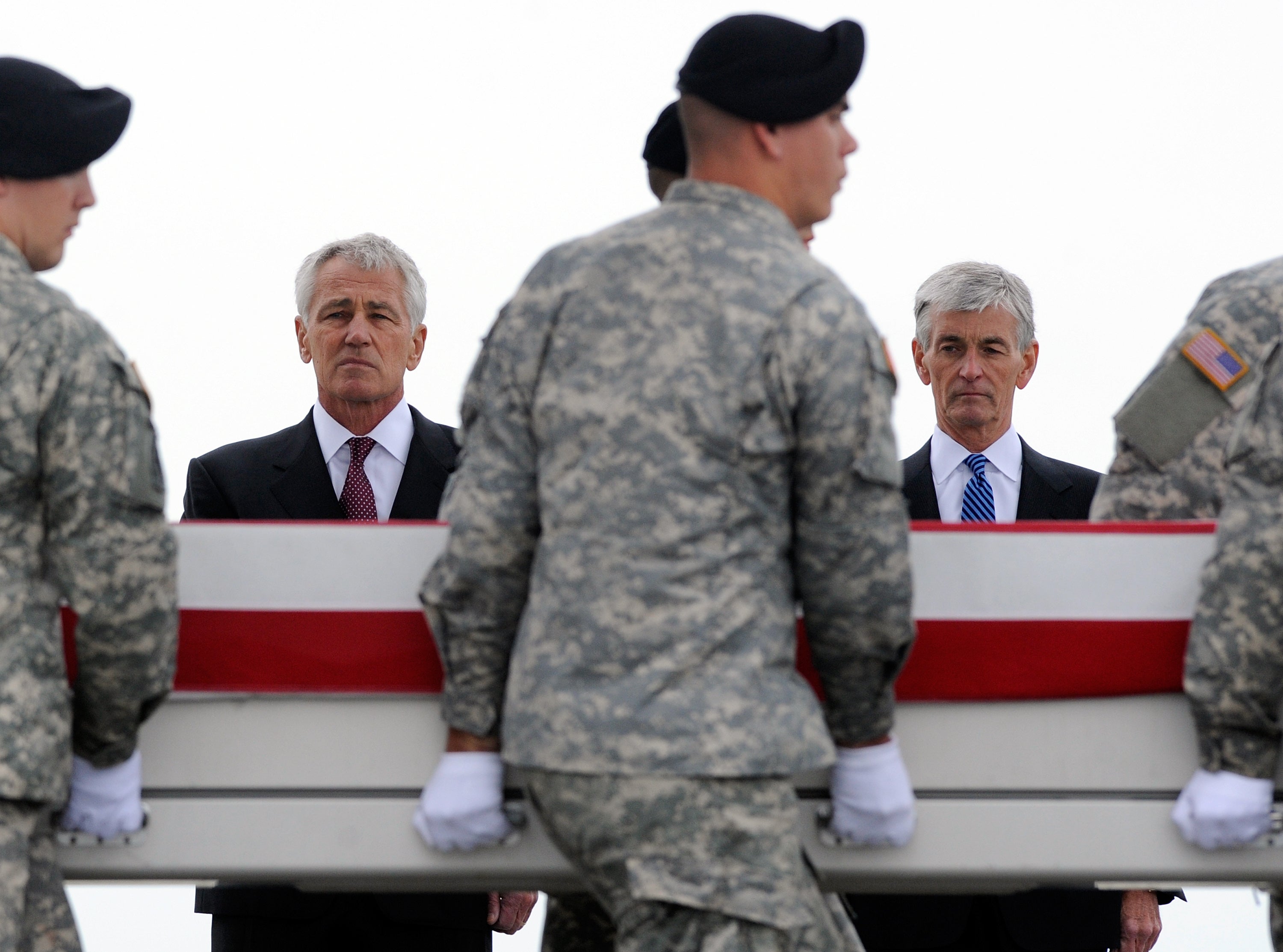 Government shutdown hitting veterans, military families hard
Updated at 2:45 p.m. ET
The government shutdown, now in its ninth day, has impacted government services and the Americans who rely on them to varying degrees. This week, members of Congress are wincing at the toll their dysfunction is taking on services for veterans and military families.
If the shutdown doesn't end soon, the Veterans Affairs (VA) Department won't be able to ensure that checks go out on Nov. 1 for 5.18 million beneficiaries, Veterans Affairs Secretary Eric Shinseki told House Veterans' Affairs Committee. That amounts to $6.25 billion in payments that VA beneficiaries are expecting.
Already the VA has furloughed more than 7,800 employees, Shinseki, half of whom are veterans. While the VA has in the last six months made progress on reducing its disability claims backlog, the shutdown has reversed that progress, with the number of backlogged claims increasing by 2,000 since Oct. 1.
"We've lost ground we fought hard to take," said Shinseki, who at multiple points in his testimony to Congress used military analogies to explain the challenges his department is facing.
The Republican-led House last week passed a bill to exempt the VA from the shutdown, but the Democratic-led Senate has rejected the House's piecemeal approach to restoring federal funding. Additionally, Rep. Jeff Miller, R-Fla., noted in Wednesday's hearing that the House back in June approved a VA funding bill.
Shinseki, however, noted that restoring funding for just the VA won't necessarily help clear the backlog of disability claims, since the VA has to clear those claims with other agencies like the IRS and Social Security.
"I would say that what is best for veterans and for all of us right now is a budget for the entire federal government, let us get back to work," he said. "The sooner we do it, the faster I get back up to full speed."
Referring to the previously passed legislation that was ignored in the Senate, Rep. Tim Huelskamp, R-Texas, asked Shinseki a loaded question about the Senate leader: "Do you think Senator Reid doesn't like our veterans, or the VA in particular?
Shinseki answered that Reid "very highly values veterans," adding: "As to why we are unable, Congress is unable, to do its business, I will leave that to the members to discuss." Later in the hearing Huelskamp said he apologized "if anyone was offended" by his question.
At a press conference with other Senate Democrats decrying the VA's siphoned off funding, Sen. Richard Blumenthal, D-Conn., held up the VA's "Veterans Field Guide to Government Shutdown," and called it a "field guide to failure."
The guide, Blumenthal added, is "exhibit A in the evidence of dysfunction and failure of the United States to keep faith with its veterans."
While the VA furloughed those 7,800 employees earlier this week, the Defense Department brought most civilian employees back to work. However, military families are still hurting because of the funding being withheld to the department. The Pentagon says it no longer has authority to pay death gratuities -- which is typically a cash payment of $100,000 -- to the survivors of servicemembers killed in action.
The House on Wednesday unanimously passed a bill to restore the death benefits.
A number of senators decried the cut off payments on the Senate floor Tuesday, including Senate Majority Leader Harry Reid, D-Nev., who called the shutdown "an embarrassment to our nation."
"The families of five U.S. servicemembers who were killed over the weekend in Afghanistan have been notified that they won't receive their benefits," Reid said. "The families who lost five loved ones, it's an unbearable loss, but now they're being denied death benefits because of this senseless shutdown. It's shameful and embarrassing, there are no words to describe this situation."
Sen. John McCain, R-Ariz., said, "Shouldn't we as a body -- Republican, Democrat, no matter who we are -- shouldn't we be embarrasse about this? Shouldn't we be ashamed? What do the American people think when they see that death benefit for those who served and sacrificed in the most honorable way are not, their families are not even eligible for death benefits."
Senate Chaplain Barry Black on Wednesday opened the Senate with a prayer slamming the withheld payments.
"Lord, when our federal shutdown delays payments of death benefits to the families of children dying on far-away battlefields, it's time for our lawmakers to say enough is enough," he said. "Cover our shame with the robe of your righteousness. Forgive us, reform us, and make us whole."
Meanwhile, a bipartisan group of senators sent a letter to Defense Secretary Chuck Hagel Tuesday, urging him to "use whatever legal discretion" he has to provide immediate death gratuity payments to military families during the shutdown.
"Any delay in providing families with this essential benefit is absolutely unacceptable," the letter said. It was signed by Sens. John Boozman, R-Ariz.; Roy Blunt, R-Mo.; Tom Carper, D-Del.; Chris Coons, D-Del.; Jerry Moran, R-Ks.; Joe Manchin, D-W.Va.; and Claire McCaskill, D-Mo.
On Tuesday, the Fisher House Foundation, a Maryland-based nonprofit, agreed to offer the impacted military families an advance grant to cover expenses like travel and funeral costs until the government can make reimbursements.
"After losing a loved one in service to our nation, these families should not have to endure more pain as the result of political squabbling," Fisher House Foundation CEO Ken Fisher said in a statement.
Without any formal announcement, Hagel on Wednesday went to Dover Air Force Base in Delaware to attend the arrival of the remains of four U.S. soldiers killed Sunday in Afghanistan, the Associated Press reports. Family members of the fallen servicemen typically attend the Dover arrivals, but the defense secretary usually does not. Hagel planned to meet privately with the families there Wednesday, according to the AP.
White House spokesman Jay Carney said Wednesday that President Obama "was very disturbed to learn of this problem" and has directed the Office of Management and Budget and White House lawyers to find a solution. "He expects to have one today," Carney said.
"Unfortunately, this issue was not addressed as part of the Pay our Military Act," Carney added, referring to the bill Congress passed when the shutdown began and that Mr. Obama signed on Oct. 1.
Thanks for reading CBS NEWS.
Create your free account or log in
for more features.