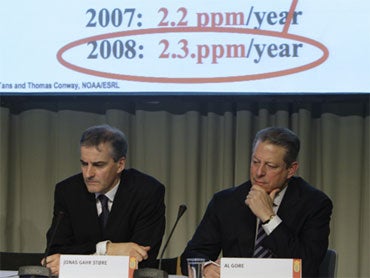 Gore: Arctic Ice May Soon Vanish in Summer
Al Gore has told the U.N. climate conference that new data suggests the Arctic polar ice cap may disappear in the summertime as soon as five to seven years from now.
Clicking through a slide show Monday in a packed side event, the former U.S. vice-president joined the foreign ministers of Norway and Denmark in presenting two new reports on melting Arctic ice.
The Arctic Ocean sea ice has shrunk dramatically, to record low levels, the past several summers. Scientists blame global warming, which has raised temperatures twice as fast in the far north as elsewhere.
Gore said polar scientists told him Sunday that the latest data "suggest a 75 percent chance the entire polar ice cap will melt in summer within the next five to seven years."
Gore won a Nobel Peace prize for his climate change efforts.
Also, a new report released today by the Arctic Monitoring and Assessment Program says that by 2100 ocean levels are expected to rise by 0.5 to 1.5 meters.
That is more than double the amount predicted in the 2007 report published by the U.N.'s Intergovernmental Panel on Climate Change (IPCC).
"The Greenland Ice Sheet in a Changing Climate: Snow, Water, Ice and Permafrost in the Arctic"
The report calls "alarming" its finding that the discharge of icebergs from the Greenland Ice Sheet into the sea has increased by 30% over the past decade.
"We know that the Arctic has warmed enormously over the past 50 years and that the temperatures over Greenland have increased by more than twice the global average," says the report's lead author, Professor Dorthe Dahl-Jensen of the University of Copenhagen. "Despite these observations, it is deeply surprising and worrying to see the pace of the changes in the Greenland Ice Sheet."
Recent measurements show that both surface melting and iceberg discharge have increased considerably. Estimates indicate that between 1995 and 2000 the Greenland Ice Sheet lost on average 50 billion tons of ice each year; in 2003-2006, the loss increased dramatically, to an average of 160 billion tons annually.
That amount, say the report's authors, is the equivalent of providing every person on Earth with nearly 17 gallons of fresh water daily for an entire year.
For more info:
United Nations Climate Conference (COP-15) December 7-18, 2009
Thanks for reading CBS NEWS.
Create your free account or log in
for more features.