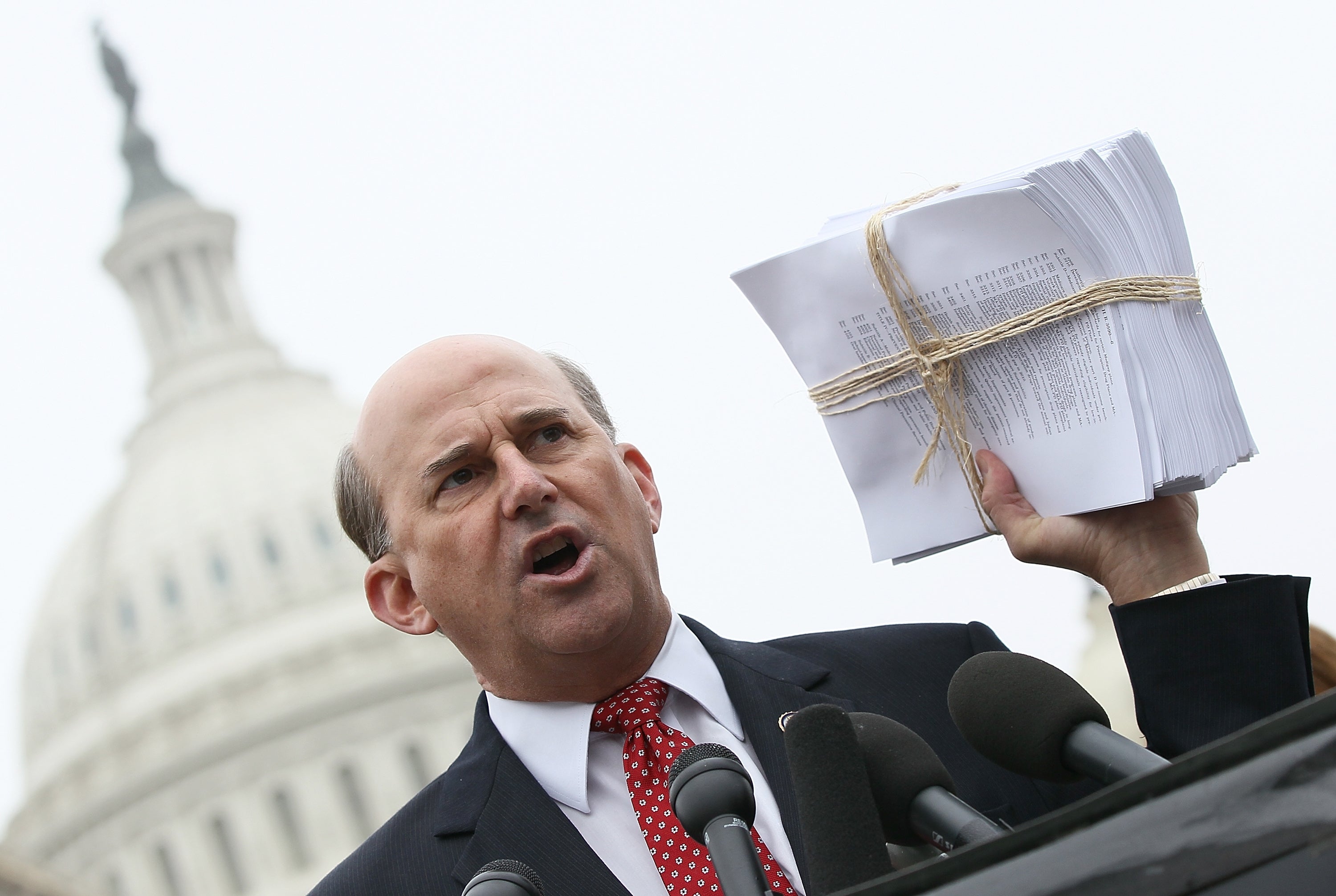 GOP Rep. links shooting to "attacks on Judeo-Christian beliefs"
(CBS News) In a radio interview Friday morning, Republican Rep. Louie Gohmert of Texas associated the Colorado mass shooting that's left at least 12 people dead to "attacks on Judeo-Christian beliefs."

As the Huffington Post first reported, the conservative congressman was asked about the shooting during a radio interview on "Istook Live!", a show produced by the conservative group the Heritage Foundation.

Host Ernest Istook asked Gohmert, "What is your experience with the way that we have too many twisted minds in our society?"

Gohmert responded, "Some of us happen to believe that when our founders talked about guarding our virtue and freedom, that that was important. Whether it's John Adams saying our Constitution was made only for moral and religious people... Ben Franklin, only a virtuous people are capable of freedom, as nations become corrupt and vicious they have more need of masters... We have been at war with the very pillars, the very foundation of this country."

(In an interview with Bob Schieffer for "Face the Nation," NYC Mayor Michael Bloomberg called Gohmert's comments "nonsensical.")

The congressman continued, "And what really gets me as a Christian is to see the ongoing attacks on Judeo-Christian beliefs and then some senseless crazy act of a derelict takes place."

Gohmert lamented that civic organizations like schools have discouraged religious discussions. "What are we doing with God? We told him we don't want him around," he said. "I kind of like his protective hand being present."

The conversation was spurred by the Aurora, Colorado shooting, which took place around 12:30 a.m. Friday morning. A gas mask-wearing gunman opened fire at the Century 16 theaters in Aurora, where the latest Batman movie "The Dark Knight Rises" was playing. The suspected gunman, identified as 24-year-old James Holmes, is in custody.

Obama, Romney statements on Colorado movie theater shooting
Mass shooting prompts Bloomberg to call on Obama, Romney to address gun control
Special report: Colorado Movie Theater Massacre

Gohmert also wondered during the interview, "With all those people in the theater, was there nobody that was carrying a gun that could have stopped this guy more quickly?"

The congressman has in the past vigorously defended gun rights and his Christian beliefs. Last year, he said congressmen should be able to carry guns in the Capitol for self defense. Also last year, he questioned why the FBI is conducting extensive outreach to the Muslim community and not other religious groups.

While Gohmert wondered why there weren't more guns on the scene, others like New York City Mayor Michael Bloomberg on Friday said guns were part of the problem.

In an interview to air on CBS News' "Face the Nation" on Sunday, Bloomberg responded to Gohmert's remarks.

"To arm everybody and have the wild west all the time is one of the more nonsensical things you can say," Bloomberg told Face the Nation host Bob Schieffer. "This person - I don't know what his motives are, I don't know him and I'm not here to impugn him or anyone else. It just does not make any sense."

Bloomberg continued: "The bottom line is if we had fewer guns, we would have a lot fewer murders. And if you go and look, there is no other developed country in the world, Bob, that has as many guns as it has people. Do you really think you'd be safe if anybody in the audience could pull out a gun and start shooting? I don't think so."
Thanks for reading CBS NEWS.
Create your free account or log in
for more features.