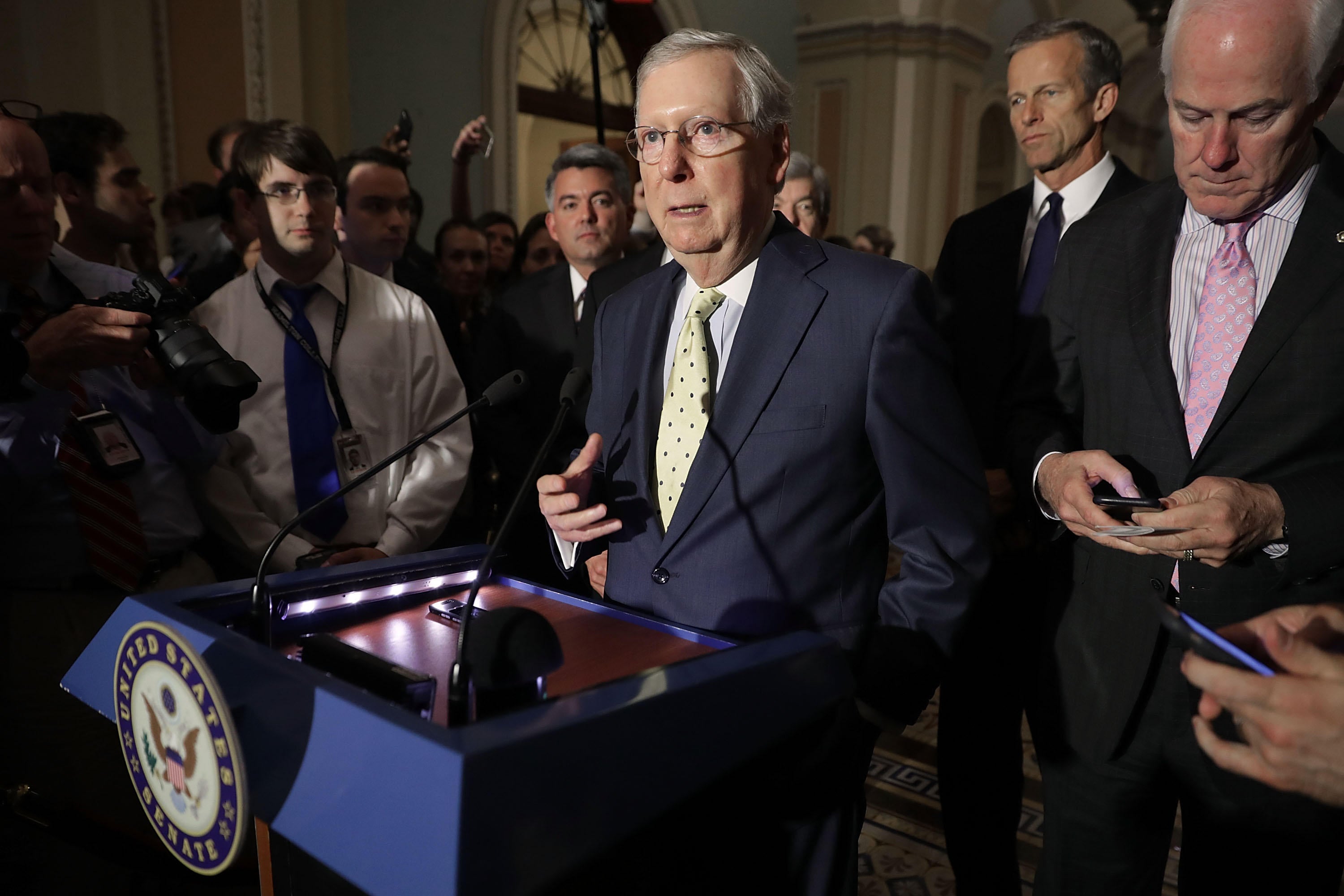 GOP health bill: Senate preps for possible vote next week
Senators may only have seven days to review draft language of a Republican bill to repeal and replace Obamacare before they cast a vote that could affect millions of Americans.
Republicans plan to release a "discussion draft" of their health care bill on Thursday. Senate Majority Leader Mitch McConnell, R-Kentucky, aims to hold a vote on the health care bill before lawmakers leave Washington next week for their week-long July 4 recess.
"I expect to have a discussion draft on Thursday and we will go to the bill obviously once we get a [Congressional Budget Office] score -- likely next week," McConnell told reporters Tuesday.
A working group consisting of 13 Republican men -- and no women -- has been negotiating the legislation's parameters behind closed doors, leaving many of their own GOP colleagues in the dark. Senate Democrats spent Monday night highlighting the secretive process by delivering floor speeches late into the night and requesting hearings so that the bill could be hashed out before the public.
Senate Minority Leader Chuck Schumer, D-New York, lambasted Republicans for their hypocrisy, given that Democrats were accused in 2009 of writing the Affordable Care Act (ACA), known as Obamacare, in private.
"Now that the shoe's on the other foot and Republicans are in charge, all those concerns and criticisms have disappeared. No committee process, no hearings, nothing, quite the opposite of what they called four or five years ago. What gall!" Schumer exclaimed on the Senate floor.
Senate Majority Whip John Cornyn, R-Texas, tweeted in January 2010, "The people have a right to know what is happening behind closed doors with secret HC negotiations."
Some Republicans not involved in the current negotiations are expressing frustration with the tight-knit process.
"I think we should have debated it in open, in committee hearings, have both sides bring in witnesses," said Sen. Rand Paul, R-Kentucky. "I don't think the parties are any different. I would give criticism, equally, to the parties, but what I would say is if you're doing it on one side only, what you're setting yourself up for is for failure."
If the Senate bill contains "greater subsidies than Obamacare," Paul warned it's going to be hard for conservatives to support the measure.
"One of the key things I'll be looking for when it comes out, when I get a copy, is are there more subsidies in our bill than Obamacare? That, to me, really is a nonstarter," he said.
Even one of the working group's members, Sen. Mike Lee, R-Utah, said he hasn't seen text.
"It has become increasingly apparent over the past few days that even though we thought we were going to be in charge of writing this bill within this working group, it's not being written by us," he said in a video post on Facebook. "It's apparently being written by a small handful of staffers for members of the Republican leadership in the Senate. So if you're frustrated by the lack of transparency in this process, I share your frustration wholeheartedly."
Sen. Jerry Moran, R-Kansas, admitted Tuesday that "this is one of the most significant votes that will be cast" but stressed that Republicans need to sell it to the American people in order to be successful.
"Whatever our plan is, those who are for that plan need to be able to explain to the American people why it is a good thing," he said. "You can't just put a plan out there, cast a vote and be done."
While Sen. Bob Corker, R-Tennessee, appeared critical of the process not taking place in an open setting, he said Republicans have had "ample opportunities" to weigh in during meetings that have taken place twice a week. Without knowing the language, he said it's "impossible" to predict whether leadership can secure at least 50 votes in favor of the bill.
President Trump, for his part, may not be fully on board. In a meeting with tech leaders Tuesday, he said that the Senate health care bill "needs more heart." This comes after he called the House version "mean" last week, despite the event he hosted at the White House Rose Garden celebrating its passage.
Nearly three-quarters of Americans said Senate Republicans should discuss their health care plans publicly, according to a CBS News poll released Tuesday. A quarter of the public, by contrast, said it should be developed in private. It also found 57 percent said Obamacare needs some changes, 28 percent said it should be repealed entirely and 12 percent said it should be kept in place.
Republicans are relying on the budget reconciliation process to get the bill passed in the Senate, which only requires a simple majority -- 51 votes -- instead of a supermajority. They may still have to rely on Vice President Mike Pence to cast a tie-breaking vote. The Senate currently has 52 Republicans and 48 Democrats. That means if all Democrats vote against the bill, only three no votes from Republicans can torpedo it. McConnell faces competing interests in his conference that are extremely difficult to reconcile. While hardliners push for a measure that would gut the Medicaid expansion, moderates want to preserve it, or at least see the expansion phased out more slowly. Either faction could kill the bill.
Sen. Susan Collins, R-Maine, was among two Senate Republicans in December 2015 who voted with Democrats, against a bill to repeal Obamacare and defund Planned Parenthood.
In an interview with the Portland Press Herald last Friday, Collins made it clear that she won't vote for any bill until it's been scored by the nonpartisan Congressional Budget Office (CBO). The House narrowly passed its version of the health care bill in a 217-213 vote on May 4, but the CBO didn't release its cost estimate until May 24, which projected that 23 million more people would be without health insurance over the next decade under the bill.
It's unclear if the working group has submitted complete text yet to the budget scorekeeper. A spokeswoman for the CBO did not respond to a request for comment.
Sen. John Thune, R-South Dakota, another member of the working group, suggested the team is already in communication with CBO when he was asked Tuesday about how the tax credits in the Senate bill would differ from the House version.
"I think it will be more income-based, for sure," he said. "We're still talking about how to do the age cohorts. We're looking at different iterations of it and trying to get some feedback from CBO."
The House bill would, among other things, repeal the individual and employer mandates put in place by Obamacare that required people to carry insurance or face a tax penalty. It would also provide refundable tax credits to help people afford coverage, expand health savings accounts and phase out an expansion of Medicaid.
Asked if there's a Medicaid phaseout in the Senate bill, Sen. Pat Toomey, R-Pennsylvania, another working group participant, said "I'm not aware of anyone talking about anything getting phased out. What I'm aware of is a discussion about first of all, keeping the Medicaid expansion, and gradually transitioning to the conventional split between the federal government and the states."
The members of the working group include Republican Sens. Mitch McConnell, Ted Cruz, Rob Portman, Tom Cotton, Pat Toomey, Orrin Hatch, Cory Gardner, John Barrasso, John Cornyn, Mike Enzi, Lamar Alexander, John Thune and Mike Lee.
Thanks for reading CBS NEWS.
Create your free account or log in
for more features.