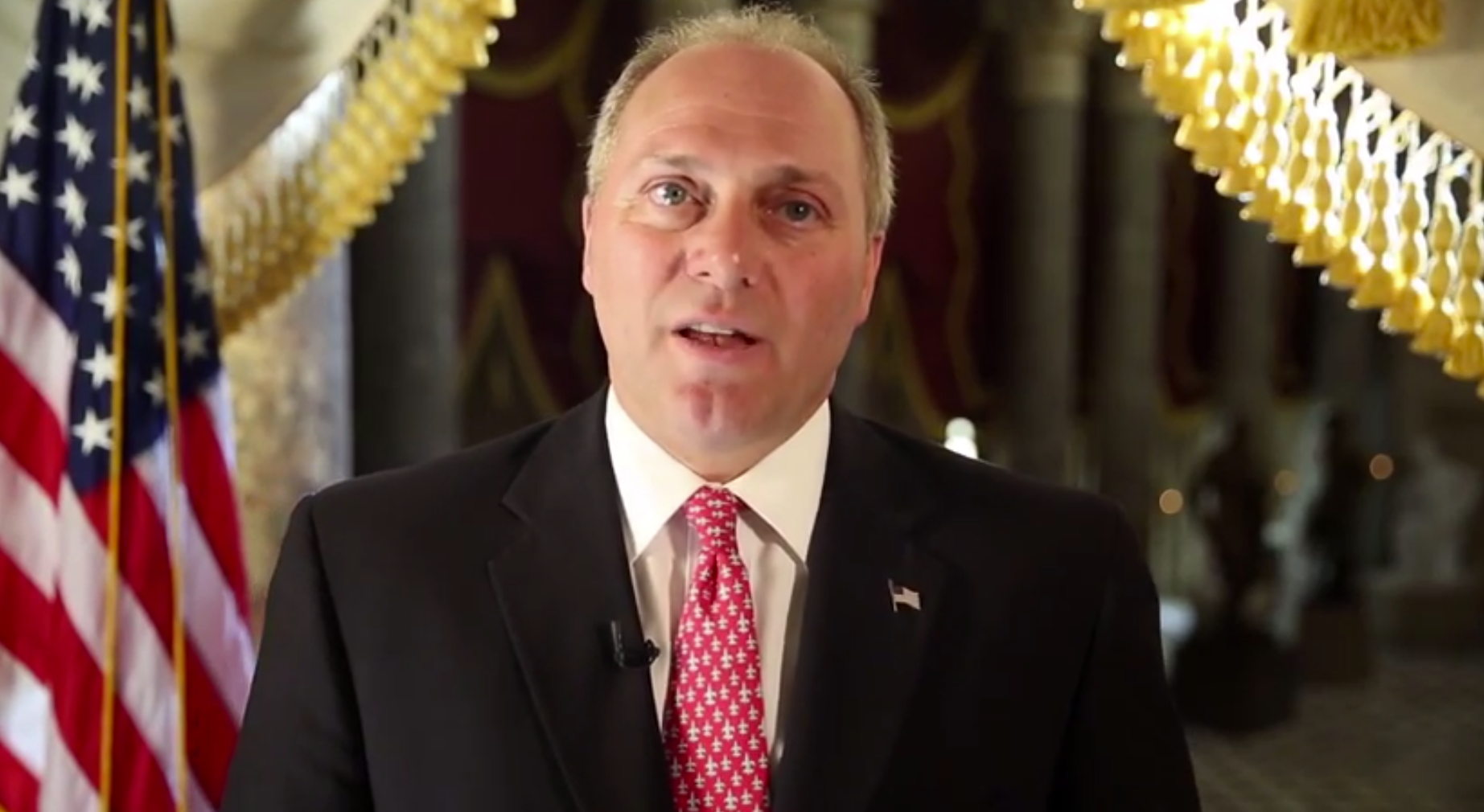 GOP: Democrats "hold our economy hostage" by blocking jobs bills
Expanding domestic energy production is the "best way" to invigorate the American economy, incoming House Majority Whip Steve Scalise, R-La., said Saturday in the weekly Republican address, but the "Democrats running Washington don't seem to get it."
"American energy brings billions into our economy, increases our nation's energy security and helps lower gas prices at the pump," said Scalise, yet Democrats "block bill after bill that would expand energy production, would lower gas prices, and create jobs."
Scalise cited the continued delay of the Keystone XL oil pipeline, which would bring crude oil from Canadian tar sands to refineries along the U.S. Gulf Coast. That project is "something the president's own administration has said would create 40,000 jobs," Scalise said, but it has been stuck in limbo for years amid concerns about its environmental impact.
Some, including President Obama, say the pipeline wouldn't create many permanent jobs after its construction is finished. Other critics worry that it would contribute to climate change by expanding the provision of carbon-based fuels.
The approval process for the pipeline was originally due to conclude in 2011, but the deadline has slipped several times since. In April, the administration again extended the amount of time federal agencies have to review the pipeline, saying a recent decision by a Nebraska judge overturning a state law that approved the pipeline's route through that state showed continued uncertainty about the project.
Every time Democrats "say no" to projects like Keystone, Scalise said Saturday, "they hold our economy hostage, and with it, our chance to make sure our kids will have that same shot at the American Dream."
But despite the gridlock in some areas, the president said in his own address on Saturday, Congress has taken some "good steps" on job training and infrastructure improvements in recent days.
Last week, House Speaker John Boehner, R-Ohio, and House Minority Leader Nancy Pelosi, D-Calif., exchanged a pat on the back at a photo-op marking the passage of the SKILLS Act, which would reorganize federal job training programs. That bill has already passed the Senate, and it's now headed to the president's desk.
And this week, the House approved a short-term extension of funding for the federal Highway Trust Fund, a pool of money used to finance infrastructure projects that was due to run out of money next month. Senate Majority Leader Harry Reid, D-Nev., has said the Senate will vote on the bill before adjourning for its August recess.
Mr. Obama said Thursday that the temporary extension was "good news," but he added ruefully that it was only a "Band-Aid."
"So Congress shouldn't be too proud," he said. "It shouldn't pat itself on the back for kicking the can down the road every few months."
And despite the glimmers of progress in some areas, "we can do so much more for the middle class, and for folks working to join the middle class," the president said Saturday. He urged Congress to raise the minimum wage, strengthen equal pay protections for women, and pass a comprehensive immigration reform bill.
Thanks for reading CBS NEWS.
Create your free account or log in
for more features.