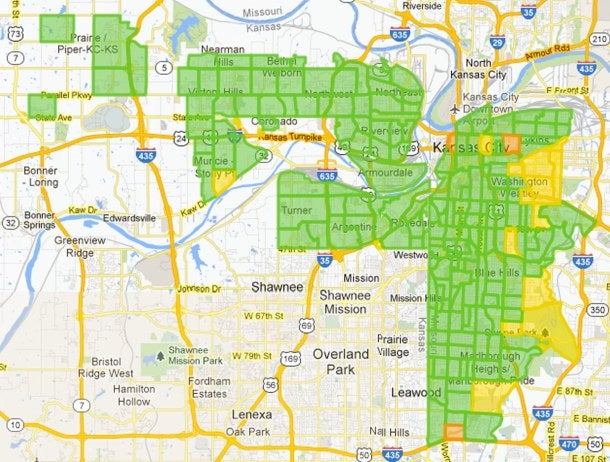 Google Fiber 1 gigabit Internet launches in Kansas City
Google announced Tuesday that it has started connecting people in Kansas City, Kan., to its ultra high-speed fiber-to-the-home Internet service. Acting as guinea pigs of sorts, these locals will be the first people in the world who get to test out Google's new service and decide whether it lives up to the hype.
Google Fiber serves up broadband speeds of 1 gigabits per second. By comparison, a recent report suggests that currently the top Internet speed in the United States is about 28.7 megabits per second.

When Google first announced its nationwide Google Fiber project in 2010, around 1,100 U.S. towns and cities applied to get in on the deal. When Kansas City won out, Google Access General Manager Kevin Lo said, "new high-speed infrastructure will ultimately be carrying Kansas Citians' data at speeds more than 100 times faster than what most Americans have today."
Now, as the service officially kicks off, Google is making sure that its customers know what to expect. The company's representatives are going door-to-door letting people know their service is on the way and how the installation will work.Google Fiber speed test
Here's more from a blog post by Google Fiber's service delivery director Alana Karen:

We've been working in a few homes over the last few weeks to make sure we can deliver a great experience, and along the way we've thought a lot about what "great" might mean. We want it to take the amount of time we (and you!) think it's going to take. We want to be able to explain what we're doing in easy to understand language, so it makes sense to you and it's not just tech jargon! And of course we're aiming for "one and done" -- one visit, everything working when we leave your home.
Google set up a Web site in August where residents interested in the service could pre-register. The company said at the time that it would prioritize construction of the network in neighborhoods -- so-called "fiberhoods" -- in which residents showed the most interest. The response was huge, within six weeks nearly 90 percent of eligible neighborhoods in Kansas City had signed up for the service.
The 1-gigabit-per-second service will cost customers $70 per month. The fast speeds are available for both uploads and downloads and come with 1 terabyte of data storage and a network box to deliver the service. If customers want to include Fiber TV service, the total comes out to $120, which may be a lot cheaper than Google's broadband competitors, such as Time Warner Cable and Comcast.
This article originally appeared on CNET under the headline "Google inaugurates its super-high-speed Internet service."
Thanks for reading CBS NEWS.
Create your free account or log in
for more features.