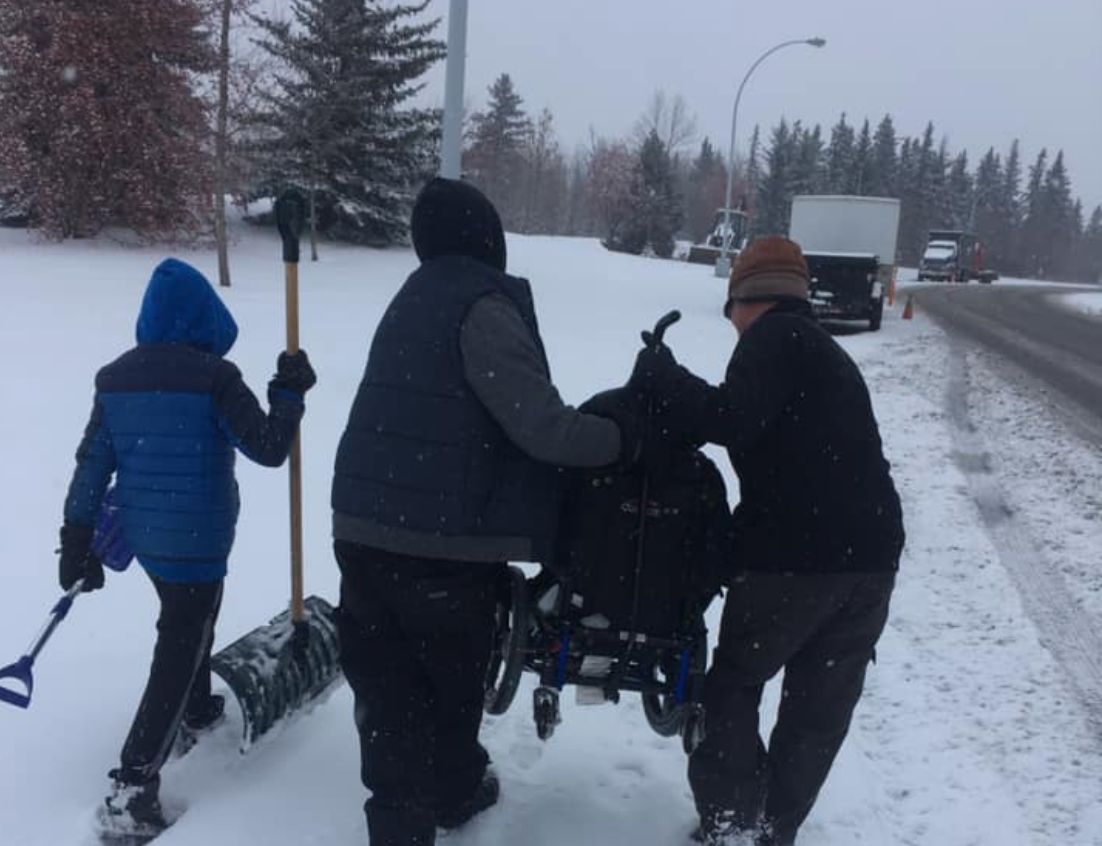 Good Samaritans carry 6-year-old boy's wheelchair in snow
A mom from Canada is praising two good Samaritans for carrying her son's wheelchair all the way home in the snow after it got stuck.
Shannon Ranger says she arrived at her son's school on Friday to walk him home like she does every day. Matthew Gessner, 6, has spina bifida and uses a wheelchair.
The weather was especially bad that day. The Edmonton area got its first heavy snow, Ranger told CBS News. Ranger thought she would be able to push her son home in his wheelchair, but that quickly proved to be very difficult.
"My kids and I had brought some shovels ourselves, but not knowing how bad it was, [the snow] kinda took over us," she said. The mom had her other son and a friend with her as well. She found herself stuck in the snow with three kids, unable to get home. "I tried to call a cab but the taxi company said it would be a 25 minute wait," Ranger said.
Then, realizing what was happening, a man came out of a nearby house with a shovel, Ranger said. "He started to shovel the sidewalk in front of us until another man [came over.]" The other man said he thought it would be easier to pick up the boy in his wheelchair and carry him, rather than try and shovel the thick snow on the sidewalk.
"They ended up carrying him the better part of a kilometer all the way home," Ranger said. "This is a once-in-a-lifetime thing for sure. I've had issues where an elevator is broken down at a train station and I've needed to take stairs and actually had to carry him and the chair. People just walk past us."
"It was very amazing to see such kindness," Ranger said.
Matthew was amazed too, his mom told CBS News. One of the men brought his son along and he kept calling Matthew a king. "He would say, 'Oh, look at you, you're a king,' trying to make the situation better. And he smiled and he laughed and had a great time," Ranger said.
Ranger shared the uplifting story on Facebook. "I wanted to share some positivity," she wrote in the post. "They really showed me that good people are out there! And I couldn't be more thankful today!! Good things will for sure come their way!" She told CBS News she doesn't know who the men are. She believes one is a parent at the school and another lives nearby. She's hoping to reconnect with both.
Ranger said it appears her neighborhood heard about the story on Facebook and local news, and residents have been keeping up with shoveling snow and cleaning their sidewalks.
Thanks for reading CBS NEWS.
Create your free account or log in
for more features.