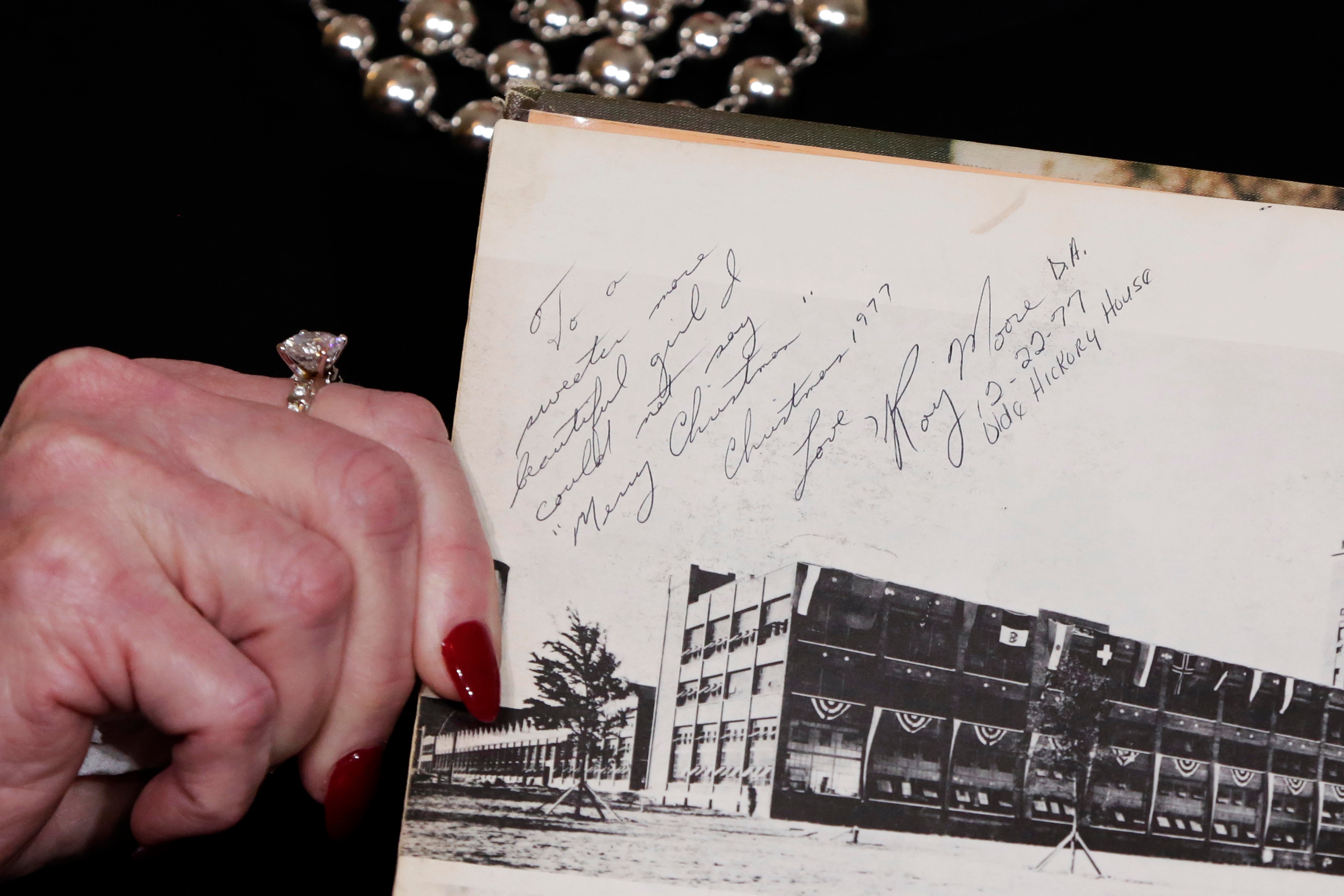 Gloria Allred holds news conference on Roy Moore accuser's yearbook
Gloria Allred held a news conference Friday to defend Beverly Young Nelson amid accusations about the signature in her yearbook, which some Roy Moore defenders have said does not match his handwriting, and she sought the expert opinion of a forensic document expert to weigh in on whether the signature was penned by Moore.
However, the part of the signature that has been questioned is a notation in printing near the Moore's name. The message in question reads: "To a sweeter more beautiful girl I could not say Merry Christmas. Christmas 1977. Love, Roy Moore, D.A. 12-22-77 Olde Hickory House," and it's the last part "D.A. 12 -22-77 Olde Hickory House" that has been questioned. Allred told reporters that she did not ask the expert, Arthur Anthony, to examine the printing because "Beverly indicates she added that to remind herself of who Roy Moore was and where and when Mr. Moore signed her yearbook." Nelson acknowledged in an interview with ABC News that aired Friday that she had added notes to Moore's inscription.
Allred provided reporters with the report provided by Anthony, with his assessment that the signature in the yearbook is Moore's. Included in the sheaf of papers she presented were examples of Moore signature from when he was a deputy district attorney decades ago.
Nelson said she stands by her accusation against Moore that he preyed on her as a teen.
"I refuse to be intimidated into silence or retract anything," Nelson said. "I stand by my previous statement that Roy Moore sex assaulted me."
Nelson, one of several women accusing Alabama Republican Senate candidate Roy Moore of sexual misconduct, told ABC's "Good Morning America" on Friday that she amended notes to what she says is Moore's inscription in her high school yearbook.
Nelson came forward in an appearance alongside her attorney, Gloria Allred, in a press conference last month to accuse Moore of assaulting her when she was a teenager and he was 30. Nelsson claimed that Moore had attempted to force her to perform a sex act on him when she was in high school, and offered what she said was a note Moore left in her yearbook by way of proof.
Allred said after the first news conference she and Nelson held, she sent a letter to the Senate Committee on Ethics requesting a hearing so that Nelson could testify and called on them to call Moore to testify, and she said at such a hearing, they would turn over the yearbook. "We're very transparent," she said.
Thanks for reading CBS NEWS.
Create your free account or log in
for more features.