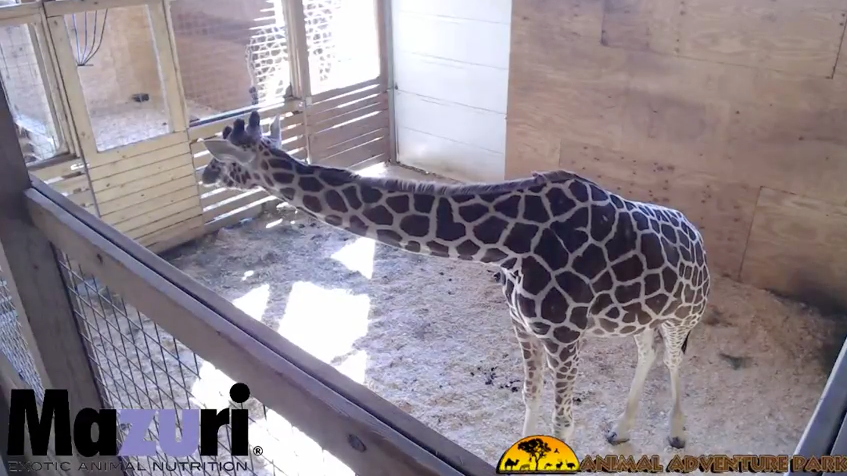 "Giraffe cam" video briefly flagged on YouTube for "nudity and sexual content"
Animal lovers around the world have been glued to their tablets, computers and smartphones as they watch a live stream video of a mother giraffe preparing to give birth at the Animal Adventure Park in Harpursville, New York.
The live stream of the 15-year-old female giraffe, named April, first launched on Feb. 10, and the zoo says she's due to deliver her calf "any minute now." The newborn calf will weigh around 150 pounds and is expected to be about 6 feet tall at birth.
So imagine viewers' disappointment when Animal Adventure Park's YouTube video was suddenly removed for "nudity and sexual content" Thursday morning.
"Unfortunately, with that viral spread that we've gained — that popularity — this is a perfect exampled of why we cannot have nice things," a zoo official said on Facebook Live after the video was abruptly removed. "For the millions of you that have been tuning in to take witness of this educational experience of a live giraffe birth, there's a handful of extremists and animal rights activits that may not agree with us ... that have unfortunately reported our YouTube cam as sexually explicit or nude content."
The Facebook video has received more than 600,000 views and prompted hundreds of responses.
"All the terrible things in this world, this is what they want to complain about? This was bringing joy to all of us," one commenter wrote.
"God you need to put some clothes on your giraffe. Have you people any decency?" another joked.
In the past 12 hours, the live "giraffe cam" YouTube video stream has gotten more than 20 million views, the zoo said.
"What [removing the live stream] has done is pulled an educational tool away from tens of millions of individuals," the zoo employee said on Facebook. "By bringing awareness, we can bring appreciation and eventually conservation to giraffes in the wild."
YouTube confirmed to CBS News on Thursday that the park's giraffe live stream had been removed, but at 10:45 a.m. ET, YouTube stated that the video "is back up now."
Pointing to its Community Guidelines, YouTube said users are able to flag content that they believe violates the rules. However, the company also has an appeals process in place, where users can flag videos they claim were mistakenly removed. YouTube will then review the request and decide whether or not to reinstate it.
Animal Adventure Park urged the public to allow its live stream to continue.
"By kicking our live stream offline you have literally removed an educational tool and you have harmed the species survival more than you have ever recognized," said the zoo official, speaking to those who reported the video as inappropriate on YouTube. "I would hope that YouTube can realize that there was no pornography or nudity on our live giraffe cam."
Thanks for reading CBS NEWS.
Create your free account or log in
for more features.