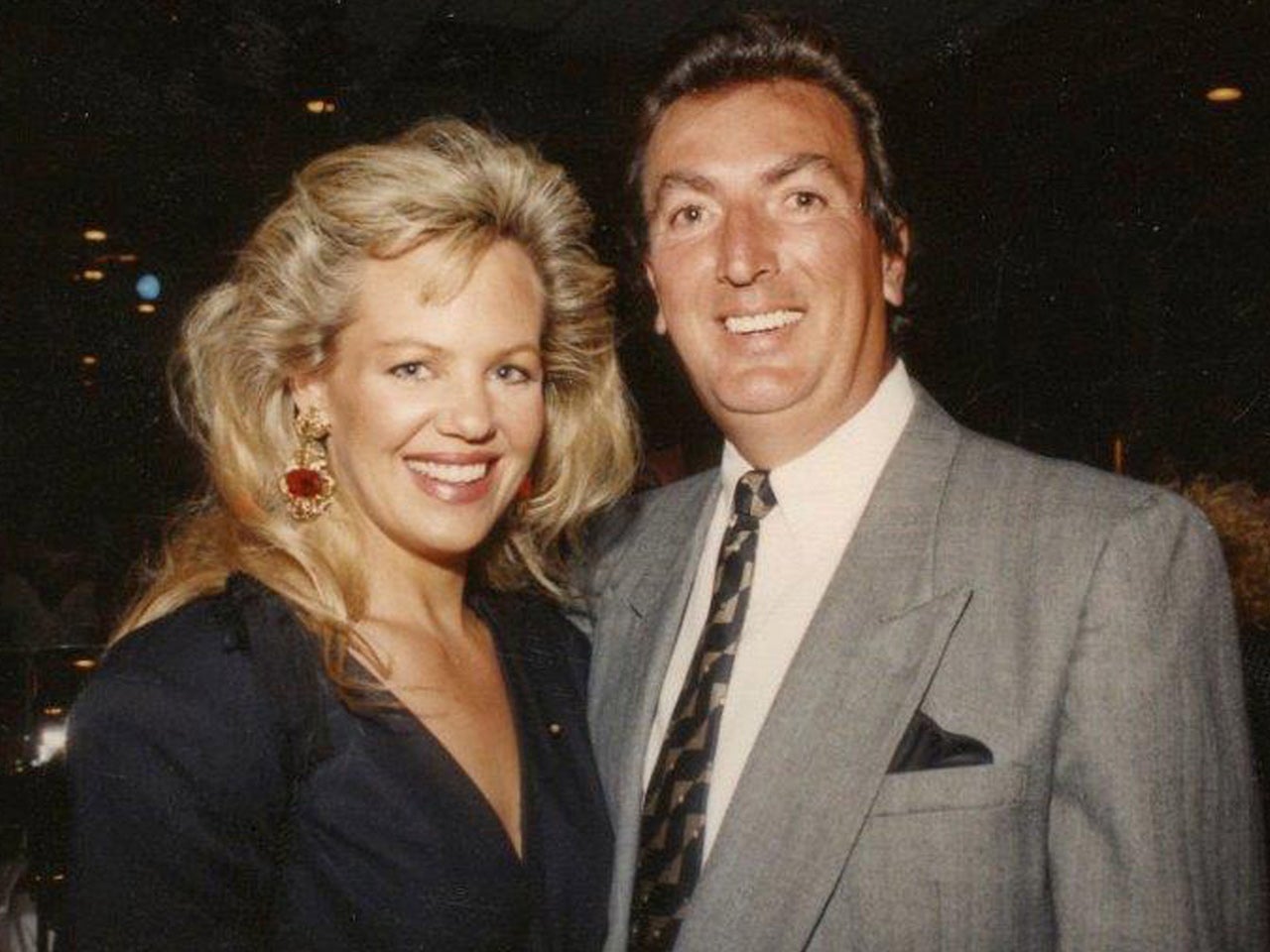 Produced by Chuck Stevenson and Greg Fisher
[This story previously aired on July 11, 2015. It was updated on May 27, 2017.]
It was back in the 1990s and Pam Phillips and her husband, Gary Triano, were living large. In the posh foothills of Tucson, Arizona, they were rich. Gary was a wheeler-dealer, creating businesses, running Indian bingo, playing a lot of golf, and some say, rubbing shoulders with wise guys.
"He was flamboyant in a way that I wouldn't normally fall for..." said Pam Phillips.
She sold commercial real estate.
"I was worth, I think, $1.8, 2 million, in there ... made it totally on my own," Phillips told "48 Hours" correspondent Peter Van Sant in her first network television interview.
They were socialites with connections, like their celebrity pals Donald and Marla Trump.
"Marla, I love. Marla is like an angel ... And Donald, I adore as well. He is one of the funniest people to be around, you can imagine," said Phillips.
Laura Chapman, a friend, was part of the gang.
"Donald and Marla came ... and actually took 'em to a basketball game together," she said of the Trumps. "And we love our [University of Arizona] Wildcats...we're big, huge Wildcat fans.
"It was in the paper the next day, you know, here's Gary and Pam walking down the steps with Donald and Marla," Chapman continued.
Gary and Pam married in 1986. They had two children together and settled into a comfortable life.
"When she and Gary were married ... Pam didn't even work," Chapman said. "She lived a very pampered lifestyle and Gary provided that for her."
"Tell me about going to Vegas with Gary and Pam," Van Sant asked.
"That was a trip ... it was a lot of fun," Chapman recalled. "He had his own plane so he would fly us in."
"What kind of plane?" Van Sant asked.
"It was just a small jet," said Chapman.
"Just a small jet? ... 'Lifestyles of the Rich and Famous,'" Van Sant commented.
"Absolutely," said Chapman.
But all that glitters is not, well, you know the story. After seven years of marriage, things fell apart. Gary Triano was pushed out of Indian bingo and his personal gambling debts skyrocketed.
"Your husband, he owed a casino in Las Vegas several millions dollars, $1.8 million to an ex-wife, $91,000 to an attorney ... hundreds of thousands of dollars to a group of Mexican investors who people said were involved in criminal activity," Van Sant commented to Phillips.
"Probably" she replied.
In 1993, Pam and Gary separated and eventually divorced. She moved to Aspen.
He stayed in Tucson until Nov. 1, 1996 - the day when Triano was murdered in an explosion just five days before his 53rd birthday.
TV Report: The bomb was so powerful, it literally sent debris flying 200 yards into the air. The windshield actually few over these trees and in to the swimming pool area.
Gene Reedy is a Pima County investigator.
"Gary was definitely was a target," Reedy said. "Gary suspected he was being followed ... he told people he was being followed by an individual that was driving a green Jeep-type SUV."
"Was that vehicle seen on the day Gary Triano was murdered?" Van Sant asked.
"There was a similar vehicle or the specific vehicle was seen up at La Paloma resort," Reedy said of where the bombing happened.
At an explosives range in the remote mountains of New Mexico - about 40 miles from where the first atomic bomb was detonated -- Bureau of Alcohol, Tobacco, Firearms agents who worked the Triano bombing came up with some crucial clues.
"This is the exact location where the device was when it detonated," May said, pointing to a duffle bag on the front passenger's seat.
Gary Triano had just finished 18 holes of golf with a pal. He walked to his car.
"When he entered the car, he leaned over and this unknown bag was sitting here, exactly where it's at now," said May.
"And like anybody, he probably reached over and grabbed it, right?" Van Sant asked.
ATF bomb expert Tony May and Special Agent Tom Mangan recreated the pipe bomb at the request of "48 Hours" using the the same weight car, the exact same explosives and packaging. Then the bomb was detonated.
"This is all evidence. From here we have to sort out what is car parts and what is bomb parts," May said, surveying the destruction following the blast.
Asked if the explosion was survivable, May said, "No. Not at all."
"It was quick, it was calculated and it was murder," Mangan said of the bomb that killed Triano.
"There are people who look at this circumstance and say this looks like a classic mob hit," Van Sant noted to Det. James Gamber.
"Right. With the bombing, everybody looked at that and said, 'signature mob hit,'" he replied.
Detective Gamber has been on the case - one of the biggest in Tucson's history -- from day one.
"I was two months into homicide," Gamber said. "We continued to work it for 18 years."
It took so long because it's been an unusually tangled story filled with endless leads and with curious characters -- many with their own theories. Characters like Dr. Lawrence D'Antonio, a Tucson family physician.
"I've known Gary Triano since I was a little boy," he said.
Dr. D'Antonio is also convinced mobsters killed Gary Triano, because, he says, Gary owed them money and wouldn't pay.
"He's a very flamboyant man and he's also very good looking," he explained. "... but he's rotten to the core. ... He was a con man, he was a thief ... and he would rob or steal from anybody, including his own family, his own wife. ...That's the way he was."
Dr. D'Antonio says Triano associated with known criminals, like the infamous Mafia boss Joe Bonnano, who retired in Tucson.
"Gary Triano's first business was financed by Joseph Bonnano," he said.
"Was Gary Triano living in a dangerous lifestyle?" Van Sant asked D'Antonio.
"Oh, absolutely," he replied. "Gary carried a gun all the time."
And D'Antonio says he has even seen proof that Gary Triano was on a "kill list."
"There were a lotta names on this list ... and some names would come and go. But Gary Triano was always at the top," he said.
The minute the doctor heard about the bombing, he was sure who did it.
"I was absolutely sure that Gary Triano had just been murdered by Neil McNeice," said D'Antonio.
THE MOB HIT THEORY
"You're like the old gumshoe. You like to get out, talk one-on-one to people," Peter Van Sant commented to investigator Gene Reedy.
"I'm old style. I blend in, I fit in, I try and make people comfortable," he said.
Investigator Reedy was trying to help Pam Phillips finger the man who he believed killed her ex.
"I'll tell you what I think happened. I think Gary really burned someone really good and somebody was really upset and someone was gonna kill him," he said.
Reedy's got a pretty good idea of who that someone was.
"This man here is the man that orchestrated this," he said pointing to a photo.
Like Dr. D'Antonio, Reedy thinks the killer is a man named Neil McNeice.
"When Neil McNeice was on drugs, he was a completely psychotic, insane guy," said Reedy.
"All I ever met in his world, his entourage, was drug dealers, drug addicts, strippers ... prostitutes and bad guys. He had a lot of bad guys that worked for him," said D'Antonio.
McNeice was a rich kid who'd inherited millions from his family's uranium mining fortune. He also owned a piece of an Indy race car team.
But D'Antonio, who once was McNeice's personal physician, says his patient slipped into an even faster lane.
"He was heavily on drugs, and his drugs were cocaine and heroin," he said.
And that's when the trouble started. According to D'Antonio, the beef between McNeice and Gary Triano was over a huge diamond ring.
"A gorgeous diamond wedding ring," he told Van Sant. "This thing was magnificent, and Gary pitched it as a quarter-of-a-million dollar ring."
As the doctor tells it, Triano needed cash. So he offered up his wife's $250,000 wedding ring to McNeice as collateral for a loan. But there was a problem. The diamond was a fake, and when McNeice realized he'd been scammed, all hell broke loose.
"And Neil went absolutely crazy," D'Antonio said. "And he started to tell me, 'I'm gonna kill him. ... I'm gonna kill him,' and he said, 'and when I kill Gary Triano, it will be spectacular. The whole world will know I killed him.'"
"Gary Triano owed him a debt. And I believe that's why Gary Triano was killed," said Reedy.
Investigator Reedy says he's got it all figured out and took "48 Hours" to the workshop where he believes the bomb was built.
"This place looks like a movie set, thousands of parts, heavy machinery," Van Sant noted.
"He has everything here that could be used to build the bomb," Reedy said. "We found at least six pieces of the puzzle within this drawer right here. We found the shotgun shells, we found bearings ... the same type of powder that was used in the bomb ... we found the RadioShack receipts ... That linked all this together."
Reedy says the man who built the bomb in that shop was a model airplane hobbiest named Jerry Capuano.
Reedy's theory of the crime is this: the bad boy millionaire, McNeice, put together a whole "hit team" to go after Gary Triano. It was a bunch of lowlifes.
"This is his bodyguard who orchestrated and got the hit crew together with these two guys. And these two guys have a past criminal history, they're complete thugs," Reedy said, pointing to photos of men on a wall.
McNeice and his bodyguard also had a criminal history -- they were convicted of extortion for threatening another man who owed McNeice money.
Reedy says he has found a witness who saw that hit team in the parking lot of the country club the day Triano was killed.
"Directly next to Gary Triano when the bomb went off, there was an individual in a vehicle who was sitting there reading a magazine," Reedy explained to Van Sant, as they drove through that same parking lot. "He was looking in his mirror and he saw an individual back by the bushes. He also saw another individual straight up ahead on this knoll directly in front of us that we're pulling around to."
"And you believe that person was doing what?" Van Sant asked.
"I believe those two people were involved in the bombing," Reedy replied.
To sum up this tangled story so far, millionaire businessman Gary Triano gets in big trouble with mobsters and they kill him. Case closed, right? Not really. That's just the opening scene of this mystery.
It turns out lead detective James Gamber doesn't buy Reedy's mob hit theory.
"They were all looked at and discounted," said Gamber.
Police didn't believe the whole diamond ring story, they didn't buy the bomb factory or the hit team and they didn't believe any of the other mob hit theories, either.
"...the Mexican group, the financial group, discounted. Just a bad business deal," Gamber continued. "We went and talked with the casinos and they said, 'Yeah ... we lose money all the time. We don't go out and kill people for the money."
But the Tucson detective had another lead. In December 1996, just weeks after Gary Triano's murder, his ex-wife, Pam Phillips, filed a life insurance claim -- a big one.
"There was a $2 million insurance policy," said Gamber.
That amount was more than enough reason for Det. Gamber to travel to Aspen, where he spoke to Phillips face to face.
"The money would go to Pam as the trustee. She's the only person, when you follow the money ... that benefitted at all," said Gamber.
"There's nothing about me, nothing about me that would ever harm a person ever, ever," Phillips told Van Sant. "There was no money motive. There was no insurance motive."
Gamber questioned Phillips. She told him she divorced Gary Triano, escaped from Tucson and fled to Aspen all because she was terrified.
"There was things happening with him that I couldn't understand," Phillips explained. "He was off the wall. Off the wall."
"And you moved because?" Van Sant asked.
"Because our lives were threatened. I mean, our lives were threatened," Phillips replied. "Gary feared everything. Gary was totally in fear, goin' around with a gun."
"He had life threats, I had life threats, the children had life threats," she continued. "We're talking about Mexican mafia people you don't cross. There was serious, serious things going on."
But Phillips' friend, Laura Chapman has a different take.
"Why did things go wrong in their marriage?" Van Sant asked.
"When things started to go downward and the money was not gonna be there anymore and that rich and famous lifestyle was gonna be evaporating, I think she saw the writing on the wall and said, you know, I don't think I want to be in this relationship anymore," Chapman replied.
"Pam tells this story with such conviction ... that she'd reached a point where ... she had to leave Gary because of the people he was dealing with, the threats to her family ... everyone was scared and she had to move to Aspen to save her children," Van Sant said.
"That's absolutely ridiculous. That is not why she moved to Aspen," said Chapman.
So why did Pam Phillips move? According to Chapman, "She was looking for her next ATM, her next bank. ...She was looking for somebody to provide that lifestyle again."
AN INTRIGUING LEAD
After her divorce, Pam Phillips' old friend, Laura Chapman, says Phillips was in the mood for love in Aspen.
"Once she got to Colorado, what was Pam looking for in a man?" Van Sant asked Chapman.
"The only thing she was looking for is to make sure he had had basically a net worth of at least $10 million or more," she said laughing.
"That was the aphrodisiac? That was the attraction?" Van Sant asked.
"Yeah, absolutely, and it didn't really matter what they looked like, just as long as they had a lot of money," Chapman replied.
Phillips, as usual, gravitated to her people -- the rich and famous. She became a successful real estate agent and resumed her life as a socialite.
But she had one friend who didn't seem to fit the mold. His name was Ron Young.
"I met him at a party next door, the duplex next door to me," Phillips told Van Sant. "...very tall -- the guy is like a skyscraper. ...He was a business manager to people that were at this barbeque ... and I could use some help with my business and so ... that's kinda what ended up happening."
Phillips says Young helped her with her business interests and she paid him cash. Pam owned an online company called StarBabies, making astrology charts for infants.
"I hand wrote all the different planetary aspects ... to understand our children and be better a parent," she explained.
"What was your relationship with Ron?" Van Sant asked.
"Strictly business, pretty much ... doing business plans," Phillips explained. "He helped on pretty much everything. ... You know, he helped a lot."
But Phillips' nanny in Aspen told police that her relationship with Ron Young soon moved from the office to the bedroom.
"Now, you're here to tell me the truth, right?" Van Sant asked Phillips.
"I'm here to tell you the truth," she replied.
"Did your business relationship with Ron turn into a romantic relationship?"
"No, not really."
"'Cause it's been alleged you were lovers," Van Sant pressed. "Were you?"
"No," she replied."No, we were not lovers."
"Oh, God, this is like embarrassing," Phillips continued, laughing. "Could we have crashed out having wine fully clothed ... on a couch or on a bed? That might have happened once or twice ... we were not lovers, no."
In the summer of 1996, Pam Phillips suddenly turned on her partner, accusing Ron Young of fraud -- using her credit cards. When she called the cops, Young disappeared.
Several months later, in November 1996, Gary Triano was blown up in his car.
And in Aspen, a cop who dealt with Phillips in the fraud case saw the bombing story on TV and called Tucson. Detective James Gamber took the call.
"We get a call from Detective Crowley of the Aspen Police Department and he says, 'Hey, I have a suspect in a fraud case up in Aspen. His name is Ron Young," said Gamber.
It turned out that Ron Young had a criminal record. This was a new, intriguing lead -- a link between Pam and a small-time crook.
"Where it becomes more interesting is when we actually interview Pamela Phillips and we ask her. We say, 'Who's Ron Young?' and she basically minimizes his relationship to her. 'Oh, he's somebody who did some financial work for me.' She doesn't talk about the fraud and she is basically shaken by the question -- I mean visibly shaken by the question," said Gamber.
"It's a bad movie. It's a nightmare. ... I would never kill Gary, the father of my children. It's just -- I can't even stand it, I'm not even going to go there. It's just not real," Phillips told Van Sant in tears.
Phillips may have been shaken and detectives suspicious, but they didn't yet have a case. What's worse, Ron Young was nowhere to be found.
For nine years the case languished. Then, in 2005, it heated up. Bomb expert Tony May and Agent Tom Mangan of the ATF were reviewing cold cases and took another look at murder of Gary Triano.
"Tell me what this bomb tells you about a potential suspect," Van Sant asked May.
"Well, it tells me quite a bit actually. From the size of the battery to the fact a remote control system was used, this is somebody that was familiar with model boats, model airplanes," he explained.
But they determined the bomb builder was an amateur.
"You have sloppy solder points," Mangan pointed out. "In this case the the solder points were globbed on."
May says the 17-inch pipe bomb was detonated using a remote control firing system that can be purchased at a hobby shop.
"... and when he sees Mr. Triano get into the vehicle and get in close proximity to the bomb, he initiates the device," May explained. "And boom."
The experts were now sure, because of the sloppy workmanship, the bomb was probably not the work of a mob hit man. As far as the cops were concerned, that took the gangster theory of the crime off the table for good.
As he studied the files, Tucson detective James Gamber became more and more convinced that the key to the case would be the relationship between Pam Phillips and the vanished con man, Ron Young. Then, in 2005, a break: Young was arrested in Florida on fraud and gun charges.
When police searched his apartment, they discovered something amazing: Ron Young was an obsessive record keeper. Gamber learned that during the '90s, Young had received significant cash payments from a woman in Colorado.
"Usually between $1,800 and $2,000," said Gamber.
The woman sent hundreds of thousands of dollars. Her name: Pam Phillips.
"Why did she pay Ron Young $400,000?" Gamber asked.
"You tell me," said Van Sant.
"Because she was paying him for the murder ... of Gary Triano," said Gamber.
Pam Phillips says this has nothing to do with her.
"My children have to know this has nothing to do with me. I had nothing to do with the death of their father. Absolutely nothing. Absolutely nothing," she said.
"But investigators have said you had two million reasons," Van Sant commented.
"Like what?" Phillips asked.
"Two million dollars in life insurance money," said Van Sant.
"I didn't even know that I had that," she replied.
For Gamber, the insurance money's the motive of this crime.
"She needed money and she wanted to get Gary out of her life so she reaches out to Ron Young and basically ... if you look at all the evidence collectively, says 'If Gary dies, I get $2 million. ... If you kill him I'll give you $400,000,'"he explained.
Ron Young didn't just keep extensive financial records. He also recorded dozens of hours of telephone conversations. Here, Ron Young is talking to Pam Phillips:
Ron Young audio: "If I ever found out that you compromised me for your benefit that would be really unfortunate for you...because there's just plenty of stuff that I could literally dig out of the ground and ... you're a fried duck."
Then investigators discovered a startling piece of audio tape:
Ron Young audio: "Well I'll tell you... you're going to be very serious when you sit in a women's prison for murder."
"I only know of one murder that Pam Phillips is associated with," Gamber told Van Sant. "That's Gary Triano. So what murder could they be talking about?"
For Detective Gamber, this case was becoming one of sex, lies and audiotape. But it all came together when an obscure police report from 1996 turned up - that was the same year Gary Triano was blown up.
Back then, a rented van was found abandoned in Southern California. No one knew it at the time, but that van would contain some important circumstantial evidence. The van was rented by Ron Young.
"They find, basically, a map of Tucson ... as far as we know Ron Young has no relationship to Tucson," Gamber explained. "There were several notes -- one that lists out ... people that are very close to Gary Triano. We find a receipt for a local hotel ... we find where he stayed there for 18 days under the name of Phillip Desmond. ... Then we find some of the divorce paperwork from Pam and Gary's divorce."
With this new evidence that Young was in Tucson prior to the bombing stalking Triano, Gamber now believed he had a case. In October 2008, 12 years after the bombing, Ron Young was charged with Gary Triano's murder. And Pam Phillips was next in Gamber's sights.
CLOSING IN
By 2008, Pam Phillips had moved to Europe, Switzerland mostly, to be with her daughter who was a student there.
Then, there was a revelation.
"It all came flooding back to me. It was like, 'Oh my gosh, she really did do it," said Laura Chapman.
Chapman, Phillips' old pal from Tucson, came forward to tell police a story she says, she was too frightened to tell for 15 years.
"Were you scared," Van Sant asked Chapman.
"Yeah, I was --scared," she replied.
Chapman says that back in 1993, shortly after the Trianos separated, Phillips said Gary Triano was acting crazy one night, threatening her and waving a gun.
"She called me and she called another woman ... to come over to her home ... and she said, 'you know, I should just hire someone and have him taken out and you know, then I can collect on the insurance policy," said Chapman.
And for cops--Chapman's story was the last piece of the puzzle. In October 2008, Pam Phillips and Ron Young were indicted on the same day for conspiracy and murder.
It would take a year before Phillips was tracked down in Europe -- now in Austria -- and arrested. It would be another year before she was extradited to the United States in 2010.
As all this was happening, Pam's partner, Ron Young, stood trial. He denied everything, and never implicated Phillips. But in the end, those records and audio tapes did him in. A jury found him guilty of first-degree murder.
Now back in Arizona, it was Pam Phillips' turn. But then, there was a major delay. Her lawyers claimed she was mentally unfit to stand trial.
"Pam, is it true that you once believed that you have some sort of computer chip or brain implants put in that was controlling your thoughts and actions?" Van Sant asked.
"I'll just put it this way. I was a mess. I was a mess. I was a mess," Phillips replied.
"And today do you believe there are implants in your brain?"
"I believe our technology is amazing -- what it can do. But I think -- I hope to not have any implants in my brain," she replied with a laugh.
Finally, on Feb. 19, 2014 - 17 years after Gary Triano's murder - Tucson's trial of the century began.
"It is time to hold Pamela Phillips responsible for her crimes. It is time to find Pamela Phillips guilty," Prosecutor Rick Unklesbay told the court.
The prosecution's case was straightforward. Phillips was portrayed as a financially desperate woman willing to kill her husband for that $2 million life insurance policy.
"The only person who stood to gain any benefit from Gary Triano's death was Pamela Phillips," prosecutor Nicol Green addressed the court.
The prosecution's star witness was Laura Chapman, who told that damning story of Pam wanting to hire someone to "take out" her husband.
"Is Pam looking at you while you're testifying?" Van Sant asked Chapman.
"I don't know Peter, because I never ever looked at her," she replied.
Phillips was outraged by Chapman's story.
"That she should just hire a hit man and have him taken out," Chapman testified.
"No. No. Those words would not come out of my mouth ever. Ever. Ever. Ever," an adamant Phillips told Van Sant.
And there's one more thing Phillips wants people to know about Laura Chapman - that she had a medical condition that affected her memory.
"Poor gal she had a brain tumor, something happened to her medically," Phillips told Van Sant.
"That is so ridiculous. First of all, I didn't have a brain tumor when she told me this. That happened many years later. It would be nine years this month. And it does not affect my memory one bit. My memory is perfect," said Chapman.
Phillips' defense was simple: someone else did it.
Asked who killed Gary Triano, her attorney, Paul Eckerstrom, told Van Sant, "Neil McNeice, I believe."
Eckerstrom says the angry millionaire had the motive and the ability. He says that makes a lot more sense than the notion that Ron Young built the bomb.
"Ron Young couldn't even fix a flashlight or screw in a light bulb as far as I can tell," he said. "We found out who did this. And we've got strong, strong evidence of who did this and it wasn't Pam and it wasn't Ronald Young. It was people that were involved with organized crime."
But the tapes recorded by Ron Young himself haunted the defense:
Ron Young audio: "Well, I'll tell you, you're gonna be very serious when you sit in a women's prison for murder."
"The problem with these tapes is that they are spliced and diced, we believe. They were never authenticated by any expert," Eckerstrom told Van Sant.
The defense argues that if you listen to the entire audio tape, it's obvious that Ron Young is talking about his own medical problems and that if Pam didn't give him money for treatment, she'd be murdering him.
Ron Young audio: "I'm the one who's f---ing dying. I have a need. You have my principle. I want a little bit of it so I can proceed."
Eckerstrom says the true story behind most of the tapes was extortion. Ron Young was just trying get money out of Pam.
"What he had on Pam was the fact that she had a reputation in Aspen to protect. It was a small town, she was a real estate agent, she needed her reputation," he said.
According to the defense, Phillips was afraid that Young would spread the news that she was being investigated in the death of her ex-husband. If Phillips paid him, Young would keep his mouth shut.
"You're talking about a guy who's an extortionist. This is what he does," said Eckerstrom.
"He's squeezing Pam, is what you're saying," said Van Sant.
"Yeah, he's squeezing Pam," Eckerstrom replied.
Finally, Phillips' defense presented what they were convinced would be a knockout blow -- something discovered among the bomb fragments.
"We found DNA on the bomb," said Eckerstrom.
DNA -- The "CSI" moment. Would it work?
A JURY DECIDES
In the end, the bomb which killed Gary Triano came back to center stage.
"I thought once we had this we won the case," said Pam Phillips' defense attorney Paul Eckerstrom.
The defense claimed they'd discovered dramatic new DNA evidence.
"This is one of the places we found it ... embedded in the wood," Eckerstrom said of a piece of debris from the bombing.
"We excluded Ronald Young as the bomb maker," he told Van Sant.
And if Ron Young didn't do it, then Phillips is innocent.
"So this is a 'CSI' moment as far as you're concerned, right?" Van Sant asked Eckerstrom.
"Yeah ... And you know, we don't have to prove beyond a reasonable doubt that Pam's innocent," he replied. "All we need to do is create reasonable doubt."
After eight weeks of trial, the defense had bottom lined their case: Pam didn't do the crime, someone else did. And that man was the drug-crazed millionaire who thought Triano cheated him -- Neil McNeice.
"The defense has a pretty simple theory Neil McNeice is the killer. What do you say?" Van Sant asked Det. James Gamber.
"They don't have any foundation or solid factual basis to make that allegation," he replied.
"They claim McNeice had underworld ties. He had a kill list and Gary Triano was on top of that list," Van Sant noted.
"Correct. And do they have that list? No," said Gamber.
They also didn't have McNeice, who died in 2002 of a drug overdose. And they didn't have the alleged bomb maker, Jerry Capuano. He's dead too.
"It's rather convenient, yes. It's always nice to accuse someone who can't defend themselves," said Gamber.
As for star witness Laura Chapman and her story that Pam Phillips once talked about hiring someone to kill Triano, the defense says it never happened.
"There's a problem with your story in that the woman that was with you and Pam that day in the bedroom ... says she doesn't remember Pam saying this," Van Sant noted to Chapman.
"That is not true, that is not true," she said. "I think she perjured herself. I think she knows exactly what was said."
Of course, all of this was left up to the jury. And after 13 hours of deliberation, the jury found Phillips guilty of conspiracy to commit first-degree murder.
"When you heard the words 'guilty,'" Van Sant said to Phillips of her reaction, "... guilty of conspiracy, guilty of first-degree murder ."
"It's a complete frame," she said. "Here I sit. And I am innocent. And the people that killed Gary Triano are out walkin' around."
One month later, back in court, Pam Phillips is sentenced to life in prison with no chance of parole.
"I just want everyone to know that I am innocent. I am innocent. I am innocent," Phillips addressed the court, stressing her point.
"I'm not that person that they're --" Phillips told Van Sant.
"You're not that evil ... greedy, money grubbing person... who would even kill for money," said Van Sant.
"No," Phillips replied. "No, I would never harm anybody."
"It's gut-wrenching for me because I don't just think she's innocent, I know she is," her lawyer, Paul Eckerstrom said.
"Two juries have heard this evidence and two juries have convicted Ron Young and Pam Phillips," Van Sant pointed out. "Aren't you the one who's wrong here?"
"No. You know why they were convicted?" said Eckerstrom. "Juries believe that you're probably guilty these days, 'cause the state would never have brought the case otherwise. That's the way they think."
Eckerstrom also blames the media. He says because of pre-trial publicity and what he calls inaccurate media reports, he thinks the jury probably made up its mind before trial.
"Pam didn't have a chance goin' in," he said.
As for Det. James Gamber, the man who spent 18 years trying to crack this case, it all came down to the hit man with an obessive need to keep records of everything.
"Do you think there would have been a conviction without those audio tapes?" Van Sant asked Gamber.
"No," he said.
"So Ron the con man did himself in?"
"He convicted both of 'em," Gamber replied.
"This is a travesty of our whole judicial system. This could happen to anybody," Phillips told Van Sant
"You feel like you've been railroaded," he noted.
"Totally. Totally," she said. "I'm innocent. I am very, very, very innocent."
"Is it weird to you, the person you socialized with, hung out with celebrities ... Donald Trump, the travel, the fun, the parties, the balls, the fancy dress, the lifestyle -- is now a convicted murderer?" Van Sant asked Chapman.
"Yeah, it's hard to believe somebody could stoop so low," she said.
In the end, Pam Phillips will sit alone in a cell. Her grown children didn't even come to her trial. There will be no more ski trips with the Trumps or golf getaways or Vegas weekends. There is just the prospect of life in prison, alone with her belief that the system is rigged and that she is the innocent victim.
Gary Triano`s family sued Pam Phillips and Ron Young for wrongful death and were awarded $10 million. The family has received far less than that.
Thanks for reading CBS NEWS.
Create your free account or log in
for more features.