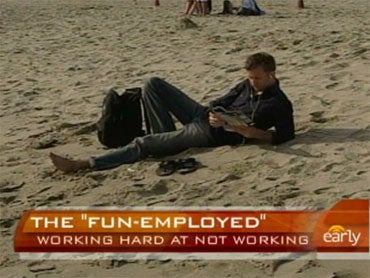 "Fun-Employed" Live it Up While Jobless
For most people, the loss of a job can be a crushing blow, but a growing number of young, suddenly out-of-work Americans aren't reacting as you might expect. They're not sulking, they're not sad. They're actually enjoying themselves.
CBS News correspondent John Blackstone shared this phenomenon, called "fun-employment" with Early Show co-anchor Maggie Rodriguez.
If the economy is so dismal, why are victims of the recession smiling?
Alexis Mansinne, who came up with the term fun-employment, was a San Francisco marketing executive. She had a good job with good pay.
"I definitely thought I was indispensable and thought that my job was safe," Mansinne said.
It wasn't. Despite a stellar resume, weeks of job searching went nowhere.
Mansinne admits that she went into "total panic mode" and was "really bummed," but then she just "got over it."
She decided she would be fun-employed and started a blog.
"Just the word unemployed conjures up these images of sad people in long trench coats and fedoras waiting for their bread ration," Mansinne said. "That's what somebody is when they're unemployed. But when you're fun-employed..."
When you're fun-employed, you can relate to Mike Van Gorkom, laid off last year from Yahoo, totally laid back today.
"I am loving this," Van Gorkom admitted.
What he's doing now is hitting the beach and hitting golf balls.
Niki Shelley is using the time to be a starving artist. She gave up her high pay, high stress New York advertising job and moved to San Francisco. Now her typical day includes no stress.
"Hang out in the park, have coffee with friends, garden in the backyard. A lot more personal time now," Shelley said.
In general, the fun-employed are young and single, no kids, no mortgage.
"Employment will be a concern down the line definitely. But I also feel like this time right now is in some ways priceless," Van Gorkom added.
Still, there are adjustments.
Mansinne is considering going back to Starbucks.
When she told her mother, she asked Starbucks - corporate? Mansinne told her "no, back in the store," making coffee again.
And she's brewing ideas for a new direction.
"I plan to go back to school and get a masters in counseling and become a high school guidance counselor," Mansinne said.
So it is for the fun-employed. Yes, they will search for that elusive job that provides reward and meaning to their lives but not quite yet.
Thanks for reading CBS NEWS.
Create your free account or log in
for more features.