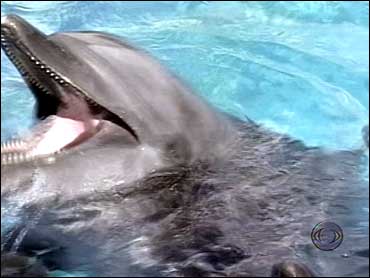 Fuji The Dolphin's Rubber Tail
Her name is Fuji and to
For decades, she delighted children visiting an aquarium in Okinawa until a mysterious disease began eating away her tail fin. To save her life, almost all her tail fin had to be amputated.
A dolphin's tail fin is its engine. Without it, dolphins can't swim, jump or dive. They suffer a fate even they must find hard to comprehend. They are dead in the water.
But, as CBS News Correspondent Barry Petersen reports, the Bridgestone tire company -- specialists in using rubber to make things go -- stepped in with a team of researchers who vowed this would not be Fuji's fate.
The first design didn't work. It was too heavy, and Fuji hated it, so it was back to the drawing board. They produced design after design until they believed they had it.
They took it to a special lab at the University of Tokyo where it was tested for speed and strength. Could man somehow match what it took nature millions of years to perfect?
When they tried the new fin they got their answer.
It's not that Fuji can tell us how she feels, but the noises she's now making sure seem like the sound of happiness.
Today, Fuji has her groove back -- man's technology married to one of nature's marvels. And for Fuji, a new life of swimming and jumping again with a dolphin's pure joy.

Thanks for reading CBS NEWS.
Create your free account or log in
for more features.