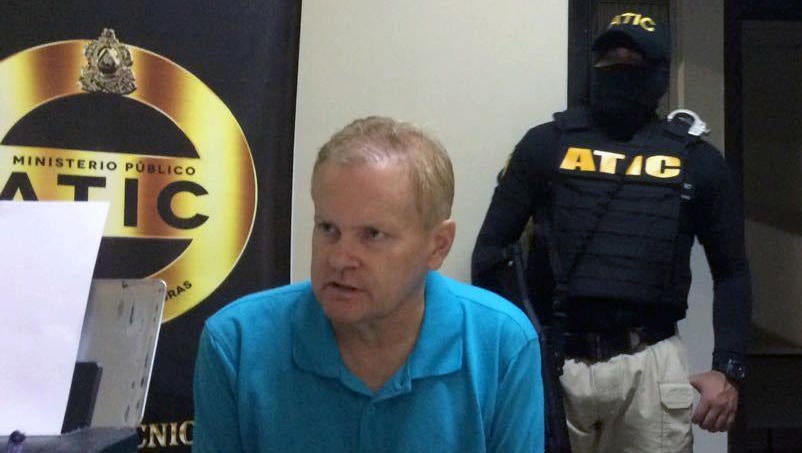 Fugitive Kentucky lawyer behind $550M Social Security fraud captured in Honduras
A Kentucky lawyer who disappeared after his conviction in a massive Social Security fraud case is in a Honduran jail. Eric Conn escaped house arrest in Lexington six months ago before heading to New Mexico. He then reportedly traveled to Mexico and Guatemala, and spent the last three months in Honduras.
Conn pleaded guilty in March to stealing from the federal government and bribing a judge in a $550 million Social Security fraud case, reports CBS News correspondent Vladimir Duthiers. But before he could be sentenced, authorities say he cut off his ankle monitor and ran.
The FBI confirmed Conn's capture at a Tuesday afternoon press conference in Louisville. FBI Special Agent in Charge Amy Hess said at the press conference that Conn was captured while eating at a Pizza Hut in the coastal city of La Ceiba. Police were reportedly alerted to his location after he connected to the restaurant's Wi-Fi.
The agency also released a photo of Conn taken during his arrest at the Pizza Hut.
Conn was well-known in Lexington from TV commercials and billboards touting him as "Mr. Social Security." Conn faced a maximum sentence of 12 years for bribing a doctor and judge to approve disability claims based on fake medical evidence. The fraud reached into the hundreds of millions of dollars, mostly affecting his clients in impoverished parts of Kentucky and West Virginia, who then had to fight to try to keep their disability checks. A lawyer representing some of the 1,500 clients spoke with CBS News by phone.
"And we've always been convinced that he hoarded, you know, lots of cash. Millions of dollars. And hopefully his capture now will give us an opportunity to try to recover some of that money," attorney Ned Pillersdorf said.
Conn had been under investigation for years. In 2013 he took the Fifth when appearing before a Senate committee looking into disability fraud.
"I respectfully assert my Constitutional right not to testify here today, sir," Conn said.
Conn is set to be brought back to the U.S. Tuesday. While he was on the run, the judge did give Conn the maximum sentence of 12 years. Now he faces the prospect of much more time behind bars.
Thanks for reading CBS NEWS.
Create your free account or log in
for more features.