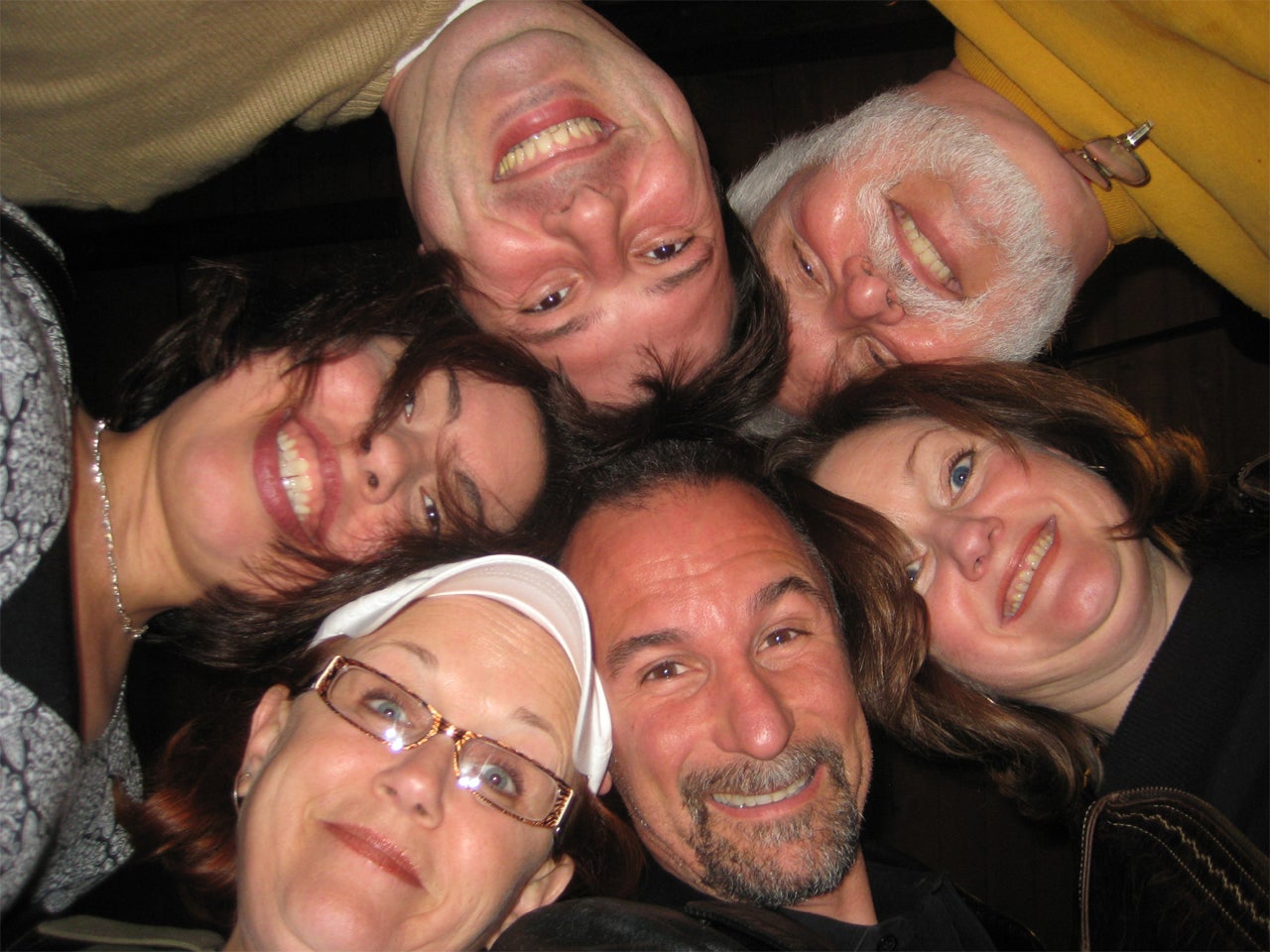 Friendship: Close ties that enhance, extend life
(CBS News) Does the saying "A friend in need is a friend indeed" mean that a person who stands by you when you need them is a true friend? Or, does it mean that someone who needs your help is eager to prove their friendship? Either way, the latest science proves friends are very good to have, as Rita Braver reports now in our Cover Story:
If you have any doubts about the value of friendship, meet "The Girls," as they call themselves.
"It stands for 'Gee, I Really Love Shopping," laughs Barb.
These seven friends, pouring over scrapbooks of treasured memories, all grew up and still live around Dale, Wis. They've been hanging out three or four times a month for more than a dozen years.
"We all accept each other for who we are," said Molly. "We just get along. You don't find that often that this many people, you know can get along so well."
There's Molly Tews, Barb Nieland, Mary Fieser, Jane Thiel, Chris Schuelke, Dori Krueger and Kathy Peters.
What do they talk about? "Oh, lots," said Kathy. "They're a good venting group when you need to vent about work or your husband, or your children who are adults but, . . . and we love to talk about our grandkids, too."
"Do you feel safe telling these people your deepest personal secrets and know that it's not going to be all over town?" asked Braver.
"Oh absolutely," said Barb. "Sometimes when you complain to them, they're going to go, 'Really, you're complaining about that?'"
Friends can help you shoulder burdens, literally. At the University of Virginia, psychology professor Dennis Proffitt and a team of graduate students demonstrated how they've been asking students -- either alone, or with a friend standing by -- to put on a heavy backpack and estimate the steepness of a hill: on paper, by looking at a pie chart, and by using a tilting device. The overall results are unequivocal:
"They find the hill to be steeper if they're alone, and less steep when they're with friends," said Proffitt. "Moreover, if you look at the strength of their friendship, the more time they spend together with their friend, the shallower the hill appears."
"You're made stronger by having a friend with you?" asked Braver.
"Or, 'I'm less strong if I'm alone,'" he said.
In fact, many studies have shown that people with a circle of friends tend to be healthier and live longer.
But scientists still don't understand exactly why.
"One of the big questions that we're interested in, in our lab, is how the brain takes social relationships and translates that into better health outcomes," said James Coan, associate professor of clinical psychology at the University of Virginia.
He put Braver through the same test he's been doing on a series of subjects, telling her that while getting an MRI she would be given a series of mild electric shocks, but would not know when.
"It's what we call anticipatory anxiety," said Coan, "and that is our interest, because that's the kind of anxiety we're interested in generalizing to our everyday lives. For most of us, the stuff that we worry about is uncertain."
Braver went through one series of shocks alone, and another holding the hand of a good friend, "Sunday Morning" producer Kay Lim. And like all of the other subjects, the parts of my brain that sense danger were less -- much less -- active when she was holding her friend's hand. "I would say it was a bigger difference even than we had predicted," said Coan, examining Braver's scans.
So what does the test tell about what it means to have a friend?
"The burden of coping with life's many stresses, when you have to deal with them all by yourself, it not only feels more exhausting, it literally creates more wear on your body," said Coan.
In fact, a recent CBS News poll conducted for "Sunday Morning" finds that more than 90 percent of Americans say it's important to have close friends. (62 percent said "very," and 29 percent said "somewhat," versus 8 percent who responded "not at all").
But what happens when people have trouble with their friends?
"When there is a relationship like that, you either need to resolve the ambivalence, or else make the decision that the friendship isn't worth keeping," said psychologist Irene Levine, who has become kind of the "Dear Abby" of friendship. She wrote a book about breaking up with friends, and now has a friendship blog that has drawn questions from some 200 countries, such as:
"My friend at work dumped me . . . should S keep hanging on to hope?"
"It's very hard when you have to face someone in the office every day, and you've been friends and you're no longer friends," said Levine. "You know, just like you need to work on a marriage, you need to work on a friendship."
As for whether men and women can be friends without a sexual relationship, our poll finds that 84 percent of Americans say the answer is yes. But what about differences between how men see friendships with their guy pals, versus how women view their female friends?
"I hate to put people into boxes," said Levine. "However, in general women have more intimate relationships with their friends, so they're more intense, they're more important to them."
But things are different just outside of Dallas, where Scott Prentice, John Groll, Ron Nevelow and Willie Baronet may do the usual guy things, like "trash-talking."
"It means making fun of his abilities, 'cause he can't play basketball," said Willie. "John can't play poker. Scott can't out-fish me, those sorts of things."
"I've got pictures to prove otherwise, that's all I can say," Scott retorted.
You get the point, especially when they join other friends for a game of whirlyball -- kind of a mash-up of lacrosse and basketball, played in bumper cars.
But they say that the friendship they've developed over more than 15 years is far different than the stereotypical friendship most people think of between a bunch of sports-loving, poker-playing guys.
"I've never found a group that's so understood me, accepted me, loved me, and honored me as this group does," said Scott.
"We are willing to share deeply with each other what our fears are, what's not working well, and I think most men yearn for that connection, but don't feel comfortable going after it," said Willie.
"You're all married, or in relationships; what do the women in your lives think about these friendships?" asked Braver.
"I guarantee you, without these guys, I wouldn't be married," said Scott. "I had, you know, a fear of commitment. They helped me walk through what it was that was keeping me from being able to have a wife."
Like most friends, these men have been through good times and bad, which brings us back to our women in Wisconsin. Among other activities, they make special blankets for cancer patients. So it was a sad irony when first Barbara, and then Dori were diagnosed with cancer in the past few years.
"And we talked and we cried and we laughed, and we knew we're all going to get through this," said Barb. "And they have totally been there for me every inch of the way."
"It's just overwhelming, you know, the strength that they give you and the love and the support," said Dori. "They're just there."
Dori is in remission now, while Barb is still getting treatment. And so it seems, whether it's women or men, those who have friends they can count on know how lucky they are.
"Life without quality friends to me is a Christmas tree with no decorations," said John Groll. "I mean, it's just a tree. And if I don't have connections -- I happen to believe in God -- and if I don't have connections with the rest of God's kids, then, you know, what's the point?"
For more info:
Thanks for reading CBS NEWS.
Create your free account or log in
for more features.