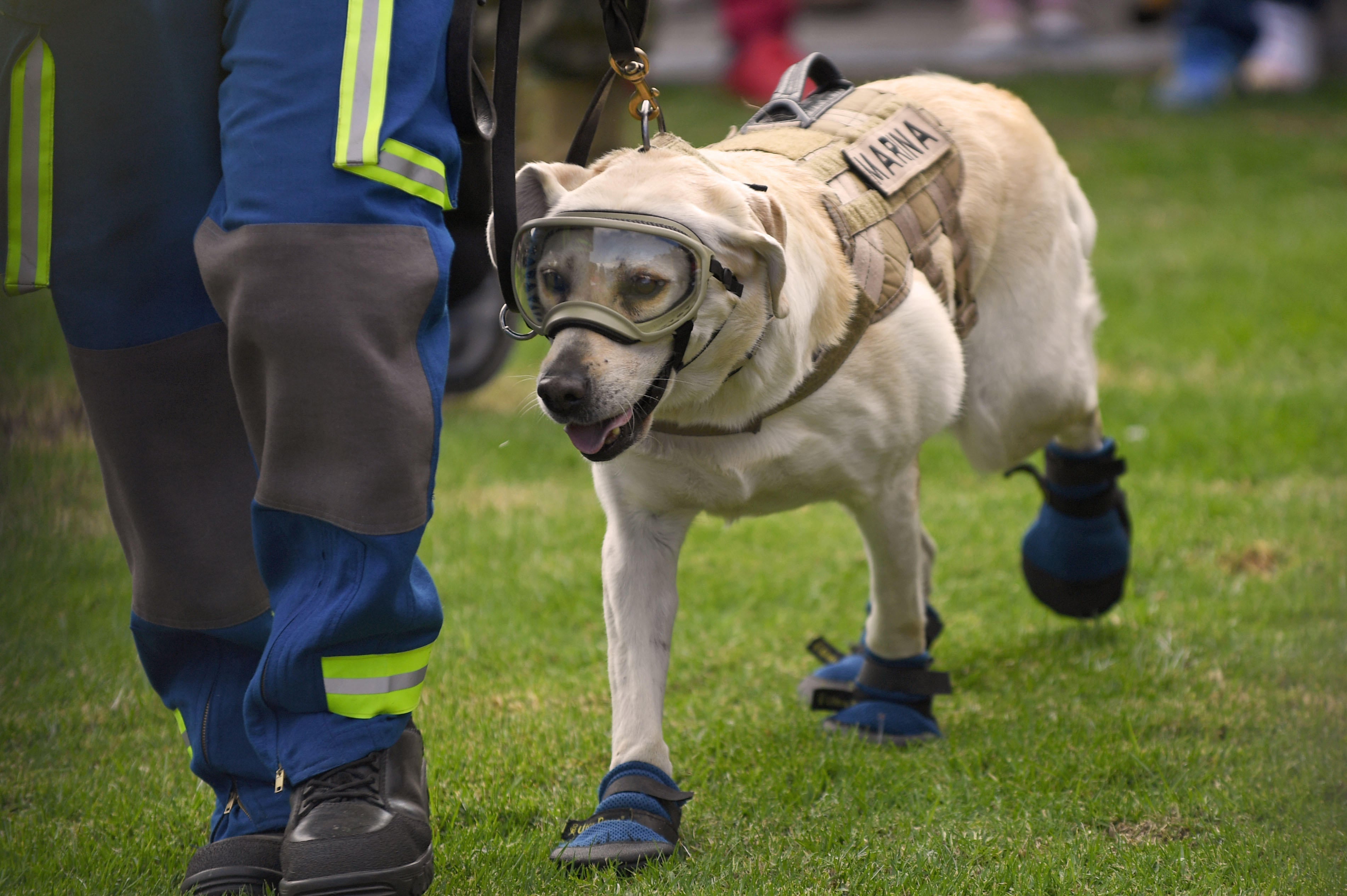 Frida the hero dog gets her own statue for saving people in wake of Mexico earthquake
A hero rescue dog who helped rescue people following last year's deadly earthquake in Mexico City got to see a new statue this week erected in her honor, CBS Los Angeles reports.
Frida the Labrador retriever -- wearing her protective googles, blue booties and vest -- pressed her nose against the nose of her bronze likeness during a ceremony at an ecological park in Puebla City, Remezcla reported. Next to her statue is one of her trainer, Israel Arauz.
A plaque in front of the duo reads: "Memorable symbols of the strength Mexicans can have when we decide to come together for great causes."
Frida and her trainer were deployed in the wake of the magnitude 7.1 earthquake that rocked Mexico City and its surrounding areas on September 19. Nearly 400 people died in the temblor and its aftershocks. Of those deaths, 228 were in the capital city.
The 8-year-old pup, who works as a sniffer with the Mexican navy's canine unit, is credited with saving at least 12 lives as she searched the rubble following the quake, according to CBS Los Angeles.
Fifteen dogs were deployed in the search, according to the Los Angeles Times, but Frida was by far the most popular on social media. Even actor Chris Evans tweeted about her.
The new statue is not the only public work celebrating Frida's heroic actions. Shortly after the quake, a colorful mural of the pup popped up in Mexico City.
Throughout her career, Frida has been deployed to natural disaster areas across the world, helping save 52 lives in various natural disasters, according to the Mexican office of the presidency. She even detected the body of a police officer after an earthquake hit the Mexican state of Oaxaca barely two weeks before the temblor in Mexico City, the L.A. Times reports.
As Frida ages, the Associated Press reported, she could step down from her role in searches and become a mentor for younger dogs. But for now, she is still capable of donning her goggles and sniffing out those in need.
Thanks for reading CBS NEWS.
Create your free account or log in
for more features.