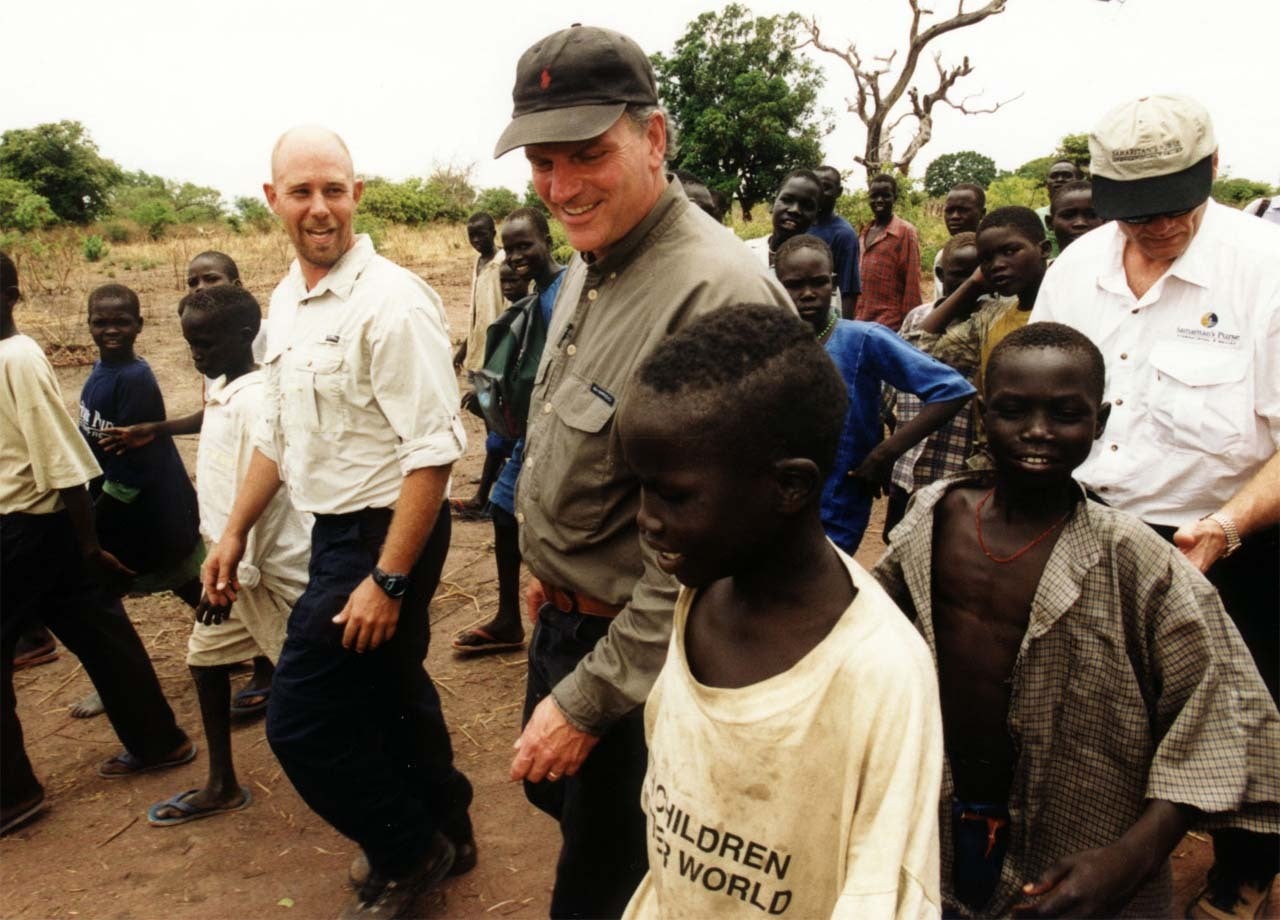 Franklin Graham: The hell-raising evangelist's son
(CBS News) Billy Graham preached the Gospel of faith and family to millions around the globe. These days, he has passed the torch to his son Franklin Graham, who recently sat down with our CBS News colleague Byron Pitts of "60 Minutes":
In his prime, when Billy Graham preached, it was as if Heaven could hear him. It was old-time fire and brimstone, in the cool New Age of television . . . and the world embraced him.
But the world has changed. Dr. Graham is 93 and made his last public appearance two years ago. His legacy is set - the brand name and the business now belong to his son, Franklin.
And by his own admission, William Franklin Graham III is no Billy Graham.
"I think some people in the secular world may see me as some kind of right-wing zealot," Graham told Pitts. "Maybe many in the church would see me as maybe somebody who's trying to hang onto the faith, and who is faithful to the Gospel of Jesus Christ."
"Which are you?" Pitts asked.
"I hope I'm one that's faithful to the following of Jesus Christ!" he laughed.
Over the years, Franklin Graham has had a habit of letting his expressions of faith land him in hot water.
There was the presidential inauguration in 2001, when he made a point of invoking Jesus' name, in what is usually a non-denominational affair.
Or just after 9/11, when he labeled Islam "a very evil and wicked religion"; or this year, when he seemed to question President Obama's faith.
Graham hit a nerve again early this year, when the subject was President Obama's religion.
"You were asked whether you thought the president was a Christian - why didn't you just say, 'I believe that he is'?" Pitts asked.
"Well, because only God knows a person's heart," Franklin said. "God is the one who knows. God is the judge. And so he says he's a Christian and I accept that."
"But it sounds like, to me, people, sounds like, you know, less like kissing your cousin, that wasn't a full endorsement of his faith," Pitts said.
"No, but I've been asked that about others. And I don't know the heart of politicians. President Obama is the one who's talking about his Christianity."
But if the way Franklin Graham articulates his faith has made him enemies, the way he executes it has won him praise. He runs a missionary relief organization called Samaritan's Purse," which brings medical supplies, food and other help to more than 100 countries, from Bosnia, Somalia and Haiti, to disaster relief here in the U.S.
What his father accomplished on stage, Franklin Graham is accomplishing in places beyond the spotlight. The father preferred suits; the son is a cowboy-boots-and-blue-jeans man, who says just what he thinks.
"I certainly don't mean to offend anybody," he said.
"Sure, you do, I think, sometimes. Don't you?" Pitts said.
"No."
"Sometimes?"
"No. I'm not trying to pick a fight with anybody," Franklin said. "I just want to tell the truth."
"But it's in your DNA. You've been picking fights since you were in high school!"
"No, I've been fighting, defending myself" he laughed. "When you grow up as a preacher's boy, you have to learn to take care of yourself."
The "preacher's boy" grew up in the mountains of North Carolina. But being the son of the era's foremost evangelist didn't impress him much.
As a youngster, Franklin said, he was attracted not to the gospel, but to guns and motorcycles, cigarettes and alcohol. He says he tried marijuana (just once). He was thrown out of high school and college.
"I wanted to be a hell raiser that lived my own life," he said. "And if it made people mad, tough. If it disappointed people, tough. It's my life, I'm going to live it the way I want to live it, and if you don't like it, get out of my way. That was kind of my attitude."
"That's, like, poster child preacher kid attitude," said Pitts.
"Well, it was just my attitude - and it was rebellion against God," he said. "I wanted to be free and I wanted to have fun."
Finally, at age 22, his father gave him a choice: "He looked at me, and he said, 'Franklin, your mother and I sense that there is a struggle for the soul of your life. And there's no halfway. Either you're going to have to accept Jesus Christ and what he says and obey him and follow him, or you'll have to reject him. There's no middle ground."
He accepted Christ . . . got married, started a family, and soon embraced the family business. Today there's the charity work, the Billy Graham Library, and the Billy Graham Evangelistic Association, all still based in North Carolina.
Family is everywhere. Just down a serene path from the library is a burial plot, where Franklin's mother is buried, and where his father will one day join her.
"She had a sense of humor," Franklin said, pointing out his mother's headstone inscription: "June 10, 1920 - June 14, 2007, end of construction. Thank you for your patience."
And in Billy's childhood home, visitors are greeted by one of Franklin's cousins, Cathie Bowers. "It truly is a continuing crusade," she said. "You know, the gospel continues to go forth, day after day. People meet the Lord here for the first time. And that's what we're about."
"Why is it that every time I meet a member of your family, they start preaching to me?" Pitts laughed.
"Well, that's just the way we are," Franklin said.
His office in Boone, N.C., reflects the passions of a man who has never left the Blue Ridge Mountains.
"I've been in the offices of a few preachers," Pitts remarked, "certainly none with this many guns in it. They say that every person's office says something about them. What does your office say about you?"
"I like the outdoors," Franklin replied. "I like the freedom of the out-of-doors. These old guns, I've always enjoyed guns. I've lost a good part of my hearing because of guns and not protecting my ears like I should have. But it's just, you know, I grew up with guns. As a boy, you know, we hunted. And so it's just been part of my life."
If Billy Graham delivered his message from grand halls and stadiums around the world, Franklin spreads his from this sprawling campus of office buildings and warehouses. Behind every incubator, behind every Christmas gift (they collect about nine million gifts in the course of three and a half weeks), is a higher purpose.
When asked if his work through his charity is having the same kind of impact that his father's work had, Franklin said, "It's different. I think the work here at Samaritan's Purse no question is different. But is it impacting the lives of people? No question, absolutely. The greatest work that I can do is not how many hospital beds I can send or how much medical equipment I could give away; it's how many people's lives I can impact with the Gospel."
Now 59, Graham believes he's mellowed some with age. Mellowed, not softened. He insists the theology of the father is the same for the son: There is only one path to salvation.
For Franklin Graham, the times may have changed, but the Word never will.
"Christ died for the whole world," he said. "And if a Muslim wants to come to God, he has to come through Christ. If a Buddhist wants to come to God, he has to come to God through Jesus Christ. There is no other way to God."
"Is there any place in your mind where you think, 'Maybe I'm wrong, maybe as I evolve more as a man I'll come to a new realization about that?'" Pitts asked.
"No!" he laughed. "The Bible is the word of God and every word is true, cover to cover."
For more info:
Thanks for reading CBS NEWS.
Create your free account or log in
for more features.