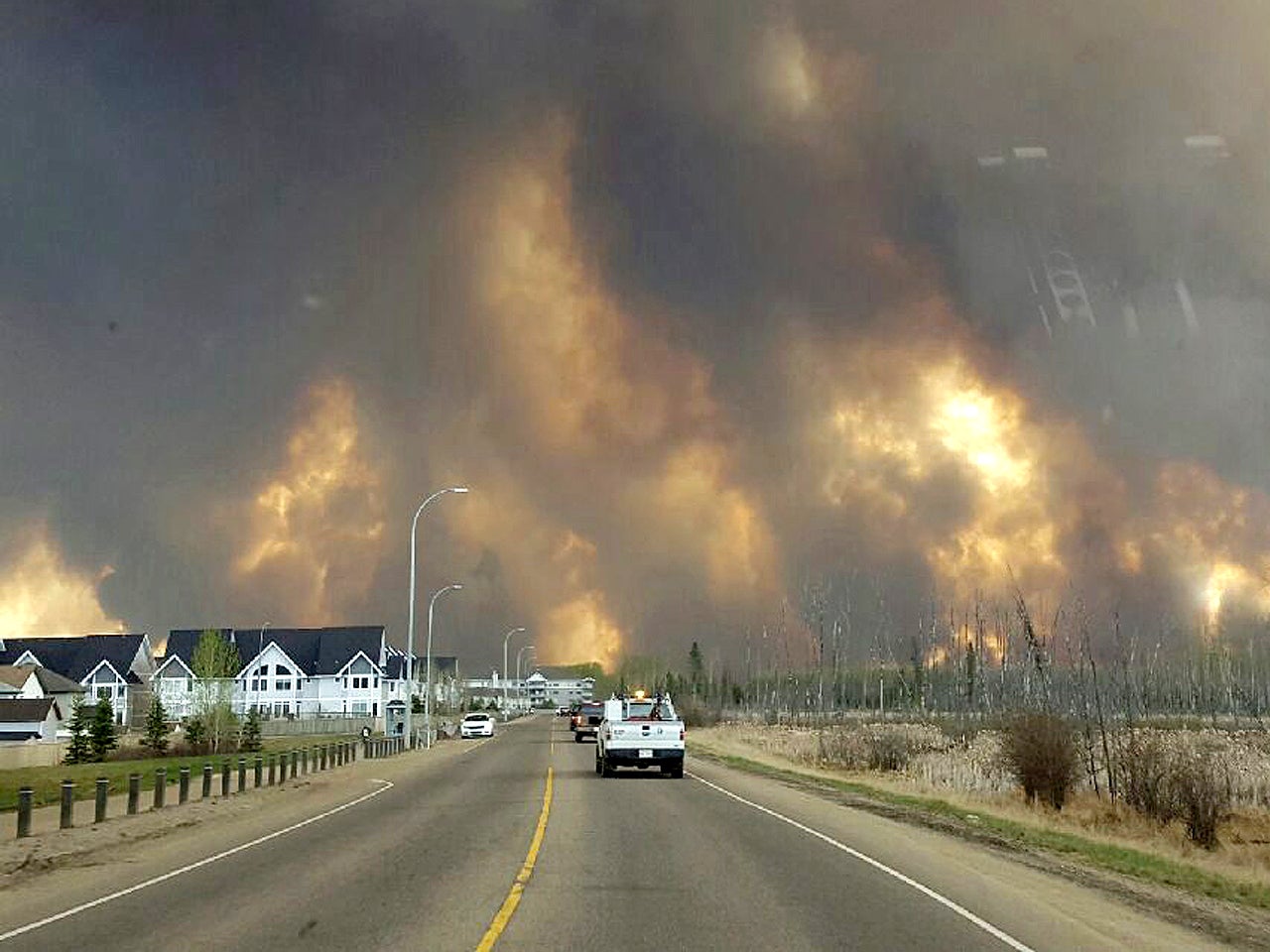 Canadians describe escape from wildfire "apocalypse"
FORT MCMURRAY, Alberta -- A raging wildfire emptied Canada's main oil sands city, destroying entire neighborhoods of Fort McMurray, Alberta, where officials warned Wednesday that all efforts to suppress the fire have failed.
About 88,000 residents successfully evacuated as flames moved into the city surrounded by wilderness in the heart of Canada's oil sands.
The Reuters news agency reported that local gasoline shortages delayed some people from being able to escape.
"When you leave ... it's an overwhelming feeling to think that you'll never see your house again," said resident Carol Christian, who drove to an evacuation center with her son and their cat.
"I'm terrified," resident Kaybre Peats said. "I'm very scared and very nervous because I don't know if I'll have a home to come back to."
Alberta Premier Rachel Notley said all 105 patients at the local hospital had been safely airlifted to other care centers. She said, so far, the fire had destroyed or damaged an estimated 1,600 structures.
Unseasonably hot temperatures combined with dry conditions have transformed the boreal forest in much of Alberta into a tinder box.
Danielle Larivee, Alberta's Minister of Municipal Affairs, said the province has declared a state of emergency and said the fire is actively burning in residential areas. Over 200 firefighters are battling the blaze.
Fatalities have been reported from a collision on a nearby highway but Larivee was unaware if it was related to the evacuation.
"This is a nasty, dirty fire. There are certainly areas of the city that have not been burned, but this fire will look for them and it will find them and it will want to take them," said Fort McMurray Fire Chief Darby Allen.
"It's been the worst day of my career," Allen said. "The people here are devastated, everyone's devastated, the community is devastated. This is gonna go on -- This is going to take us a while to come back from."
Officials estimated the fire at 18,500 acres and said they expect it to worsen Wednesday as strong winds and high temperatures "create explosive conditions."
Firefighters were working to protect critical infrastructure, including the only bridge across the Athabasca River and Highway 63, the only major route to the city in or out. All commercial flights in and out of Fort McMurray have been suspended. Flames are being kept from the downtown area thanks to the "herculean'" efforts of firefighters, said Scott Long of the Alberta Emergency Management Agency.
"It's a possibility that we may lose a large portion of the town," Long said.
Notley called it the biggest evacuation in the history of the province. Federal Public Safety Minister Ralph Goodale called it one of the largest fire evacuations in Canadian history, if not the largest. "It's a community of 88,000 people that's been totally evacuated," Goodale said. "This is going to take a while to recover."
Canadian Prime Minister Justin Trudeau said while the full extent of the damage isn't yet known he called it "absolutely devastating" and said there's a loss on a scale that's hard to imagine. Trudeau said he's offered the province his government's full support. He encouraged Canadians to support friends and donate to the Red Cross.
"We will be there for them," Trudeau said, adding that military aircraft are being mobilized to help fight the blaze.
Trudeau noted climate change is contributing to an increase in extreme weather and fires but said it's difficult to establish a direct link.
The Alberta oil sands are the third largest reserves of oil in the world behind Saudi Arabia and Venezuela.
Most oil sands projects are well north of the community, while the worst of the flames were on the city's south side. Allen said he's not aware of any threat to oil facilities but called the fire a "moving animal."
The Regional Municipality of Wood earlier said evacuees who are north of Fort McMurray should stay north because they are safe. Notley said about 10,000 evacuees moved north where oil sands work camps were being pressed into service to house evacuees.
Shell said it has shut down production at its Shell Albian Sands mining operations - about 60 miles north of the city - so they can focus on getting families out of the region. Suncor, the largest oil sands operator, said it is reducing production at its regional facility - about 15 miles north of the city.
Chelsie Klassen, a spokeswoman for The Canadian Association of Petroleum Producers, said all large oil sands facilities have emergency crews and plans for forest fires, noting all personnel would be evacuated and facilities would be properly shut-in to minimize the damage.
She noted 80 percent of the oil sands is located deep underground and can only be extracted through a drilling process. The remaining 20 percent is minable from the surface and predominantly located north of Fort McMurray. She said it can burn under certain circumstances, however oil sands would burn at a much slower pace considering its composition with sand.
Robin Smith with the Regional Municipality of Wood Buffalo, which includes the city, said it was believed everyone was out of the city. Resident Breanna Schmidt said evacuating almost felt like "an apocalypse."
"We had to literally drive through smoke and fire, vehicles littered all over the sides of the road, and we had to drive as fast as we could and breathe as little as we could because the smoke was so intense and we could feel the heat from inside the vehicle," she said.
Former National Hockey League player Doug Sulliman said he could see from his apartment balcony that both sides of the highway to the south were engulfed in flames and estimated hundreds of homes in Beacon Hill over the hill were destroyed. "You could hear the pop, pop, pop because of the propane tanks. The fire was just consuming these houses. It just destroyed the whole community," he said.
He decided the best place to stay was the apartment, but he was forced out three hours later.
"I woke up just in time," he said in a phone interview. "Smoke had come into the apartment, but not bad. When I opened the door to the hallway it was burning my eyes and when I went outside it was burning my throat."
He said the highway opened and it was bumper to bumper and there were many cars on the side of the road because service stations were out of fuel. He said RV campsites were destroyed.
"There was a Shell gas station that blew up and a Denny's next door. There was nothing but the foundation and it was still smoldering in flames," he said.
The blaze had burned since Sunday and seemed on its way to being neutralized Tuesday morning, but it overwhelmed firefighters when winds shifted quickly and drastically mid-afternoon Tuesday. Pictures and video on social media depicted a hellish scene of fire jumping roads and burning debris pitched into the paths of cars as frantic residents, lined up bumper to bumper, scrambled and fumbled to find their way through the thick gray haze.
Thanks for reading CBS NEWS.
Create your free account or log in
for more features.