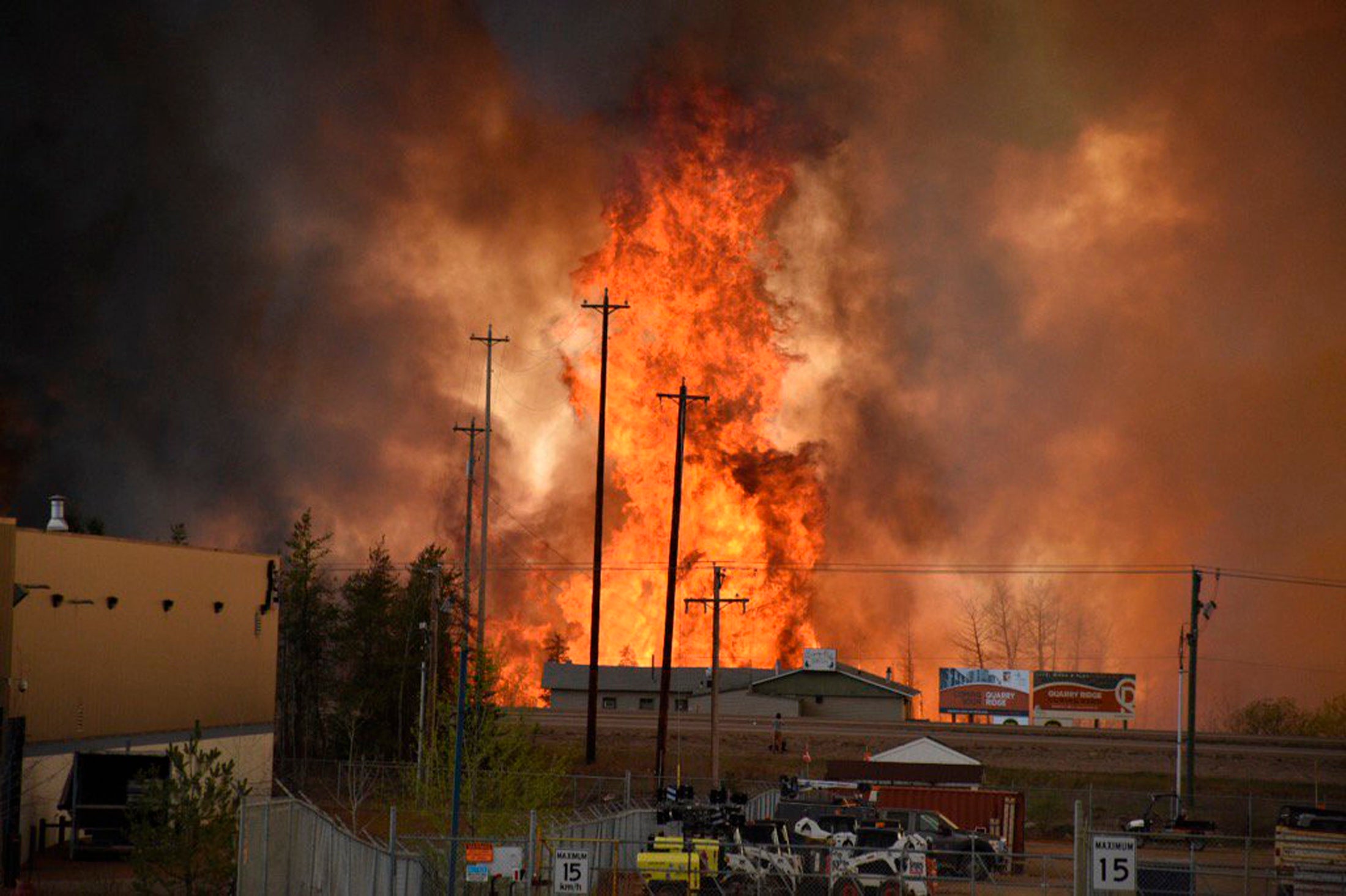 Massive wildfire forces evacuation of Canadian city
FORT MCMURRAY, Alberta -- The entire population of the Canadian oil sands city of Fort McMurray, Alberta, has been ordered to evacuate as a wildfire whipped by winds engulfed homes and sent ash raining down on residents.
More than 80,000 residents have been ordered to flee after an earlier order that had applied to almost 30,000 people, mostly on the city's south side, was extended to tens of thousands more as flames continued to make their way into the city Tuesday. Residents were panicked. Highway 63 is the only road out of the city and flames jumped the road.
The wildfire, whipped by unpredictable winds on a day of high temperatures, worsened dramatically in a short time and many residents had little notice to flee.
Alberta Premier Rachel Notley said officials were doing all they could to ensure everyone's safety and said they were looking into the possibility of an airlift for residents with medical issues.
Scott Long of Alberta Emergency Management said the flames had burned a number of structures, but couldn't say how many.
"It became chaotic with vehicles trying to swerve and pull out into the ditch," said resident Jordan Stuffco.
Air tankers and helicopters buzzed overhead.
"(With) the heat from the oncoming smoke and the flames, you could see mini-tornadoes forming near the road. It was something out of an apocalyptic movie," Stuffco said.
Carol Christian's home was in one of the neighborhoods under the order to leave. She said it was scary as she drove to an evacuation center with her son and cat.
"When you leave... it's an overwhelming feeling to think that you'll never see your house again," she said, her voice breaking.
"It was absolutely horrifying when we were sitting there in traffic. You look up and then you watch all the trees candle-topping... up the hills where you live and you're thinking, 'Oh my God. We got out just in time.'"
The main road into Fort McMurray, was closed at the southern entrance to the city after flames jumped the road. Pictures posted on Twitter showed long lines of traffic and skies darkened by thick smoke as flames licked the edges of roads.
Fort McMurray is the capital of Alberta's oil sands region. The Alberta oil sands are the third largest reserves of oil in the world behind Saudi Arabia and Venezuela.
Canadian Prime Minister Justin Trudeau tweeted that he spoke with Notley and said the federal government stands ready to help. He urged residents to follow evacuation orders.
Oil sands work camps were being pressed into service to house evacuees as the raging wildfire emptied the city. Most oil sands projects are well north of the community, while the worst of the flames were on the city's south side.
Officials were also evacuating non-essential staff at Suncor's base plant. It is 18 miles away and one of the closest facilities to the city. Spokesman Paul Newmarch said evacuees were moving into the plant's work camps.
Will Gibson, a spokesman for Syncrude, which also has a plant north of the town, was himself one of the evacuees heading north away from the flames.
Gibson said he had to flee his neighborhood via a grass embankment because the fire had already cut off the road at both ends.
"I left my neighborhood and there were houses on fire," he said. "I don't know if and when I'll be going back."
The large work camps can normally accommodate thousands of workers.
A local radio reporter said a trailer park that had been evacuated on Monday was on fire and flames were advancing toward businesses.
"It's chaos on the roads. People are panicking. It's gridlock on the roads. Flames are right next to a gas station," said Carina Van Heerde with radio station KAOS.
Crews had seemed to be making progress controlling the blaze, burning since the weekend, but the situation worsened quickly on Tuesday. By mid-afternoon people from three neighborhoods were told to leave immediately.
Unseasonably hot temperatures combined with dry conditions have transformed the boreal forest in much of Alberta into a tinder box. The wildfire threat ranged from very high to extreme in different areas.
The Alberta government banned all open fires except in designated camping sites in forested areas due to the threat. There were about 30 fires burning in the province.
The province was calling in more reinforcements to Fort McMurray, including 100 more firefighters and a giant helicopter that can dump more than 500 gallons of water at a time.
Thanks for reading CBS NEWS.
Create your free account or log in
for more features.