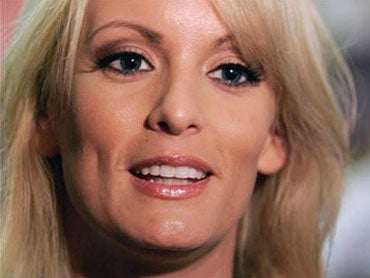 Former Porn Star Stormy Daniels: I'm a Republican
The former pornographic film star Stormy Daniels announced today that, after learning about the Republican National Committee's recent reimbursement of an outing at a topless, bondage-themed nightclub, she could launch a bid for the Senate as a Republican.
The Baton-Rouge-born entertainer has been mulling over a bid for Sen. David Vitter (R-La.)'s Senate seat and is expected to make her candidacy official on April 15th -- a date selected to highlight her push for tax reform. Daniels' campaign began as a grassroots movement after Vitter's connections to a prostitution ring were revealed.
The RNC has been in hot water since it was reported last week that it reimbursed nearly $2,000 in expenses from a trip some of the committee's donors took to a club called Voyeur, a racy nightclub in Los Angeles. Daniels said in a statement today that the incident illustrated why she should proudly identify as a Republican.
"As I have said for well over a year, it is time that our government and our tax policy begin rewarding entrepreneurship and creativity again," Daniels said. "It is time again to inspire positive risks and out-of-the-box thinking in the interest of growing a strong economy and a strong America. For me, this spirit can be summed up in the RNC's investment of donor funds at Voyeur."
She added, "As someone who has worked extensively in both the club and film side of the Adult Entertainment Industry, I know from experience that a mere $1900 outlay at a club with the reputation of Voyeur is a clear indication of a frugal investment with a keen eye toward maximum return."
Daniels said she has been a registered Democrat throughout her life. "But now I cannot help but recognize that over time my libertarian values regarding both money and sex and the legal use of one for the other is now best espoused by the Republican Party," she said.
The RNC has continued to suffer from the fallout of its nightclub reimbursement, losing fundraisers as well as the support of high-profile conservatives who saw the incident as a sign of poor leadership.
Most recently, New Hampshire RNC member Sean Mahoney resigned his post, National Journal reports -- although he may have resigned in order to pursue his own congressional bid. Nevertheless, Mahoney blasted RNC Chair Michael Steele for the committee's behavior when he announced his resignation.
"Not only has the out-of-touch, free-spending culture of Washington come to completely dominate the United States Congress, but I have watched with growing unease as the same mentality has seeped into our own national party," Mahoney said in a letter to Steele.
Thanks for reading CBS NEWS.
Create your free account or log in
for more features.