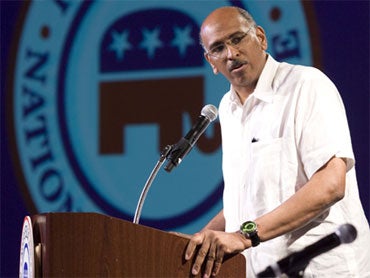 GOP Committee Investigating $2K Trip to Topless Bondage-Themed Club
Updated at 5:40 p.m. ET
The Republican party is hitting back against a report revealing that nearly $2,000 in party funds were spent to reimburse a trip to a topless nightclub.
Federal Election Commission filings show that the Republican National Committee in February spent about $1,946 at Voyeur West Hollywood, the Daily Caller first reported, describing the location as a "bondage-themed nightclub featuring topless women dancers imitating lesbian sex."
The RNC told CBS News that the committee is investigating the expenditure -- but that the expense did not belong to RNC Chairman Michael Steele, as the article suggests.
"This was a reimbursement made to a non-committee staffer," a RNC spokesperson told CBS News. "The Chairman was never at the location in question, he had no knowledge of the expenditure, nor does he find the use of committee funds at such a location at all acceptable."
The committee has requested for the money to be returned and is requesting that the Daily Caller run a correction to clarify that Steele did not spend the money at the nightclub.
Citing two unnamed sources, the Daily Caller also reports that Steele had considered using party money to buy a private jet for his travels.
"I don't know what somebody might have discussed or might not have discussed," Steele spokesman Doug Heye responded, according to the Daily Caller.
Update: The reimbursement went to Erik Brown of Orange, Calif., a businessman who has donated about $10,000 to GOP candidates, the Washington Post reports. The RNC would not comment on Brown or his connection to the party committee, according to the Post.
The RNC has received some harsh criticism for Brown's reimbursement. The Democratic National Committee issued a release Monday entitled "RNC: Risque National Committee," while the conservative public policy group Concerned Women for America blasted the RNC for the incident.
"This kind of behavior is not appropriate for national leaders that our children should be able to look up to as role models, and that our daughters could be working for," CWA CEO Penny Nance said in a statement.
Thanks for reading CBS NEWS.
Create your free account or log in
for more features.