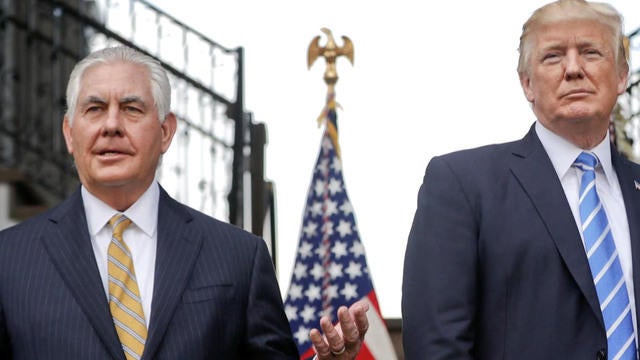 Diplomats weigh in on Trump-Tillerson tensions, key State Department vacancies
Secretary of State Rex Tillerson will be by President Trump's side to help navigate the high-stakes diplomacy of his trip to Asia, but once again the president is undercutting his authority.
The president told Fox News in an interview Thursday evening that he's not sure if Tillerson will stay through his term in office. The two have had a complicated relationship over the past nine months.
Last month, Mr. Trump said Tillerson was wasting his time seeking diplomatic solutions with North Korea, and then the secretary made an extraordinary public statement denying he planned to resign following reports that he'd called the president a "moron." This divide could undercut America's negotiating power, reports CBS News correspondent Margaret Brennan.
His unusual undermining of his secretary of state has left diplomats around the world scratching their heads. Mr. Trump has been willing to break with his predecessor's commitments, and his dismissiveness of diplomacy has at times hamstrung his top diplomat. Many experienced diplomats have headed for the exits.

"I think something's gotta change – for him to be effective again, or to try to be effective, something's gotta change," David Rank said.
After nearly 30 years of service, Rank quit his job as the acting ambassador to China when president Trump pulled out of the Paris climate accord against Tillerson's advice.
"Certainly President Trump is capable of making it impossible for Secretary Tillerson to be successful in his job," Rank said of whether he thinks Tillerson can stand up to the president.
Tillerson's aloof management style and cost-saving plan to slash around 2,000 State Department positions has led to questions about whether he's pushing back against his boss.
But when it comes to the people Tillerson does want to hire for senior positions, like the head of Asia policy, the White House has blocked his choices. Three hundred of the most senior positions at the State Department sit unfilled, and 48 of the 188 ambassador posts are vacant – most significantly, in South Korea.
"If you don't have an ambassador, it's kind of like you have the U.S. government but without a president," said Ambassador William Brownfield.
He and former ambassador Kristie Kenney – who have served both Republicans and Democrats – said rising tensions on the Korean peninsula make it particularly vital to have a team in place.
"It doesn't take a rocket scientist, forgive the term, to realize that this is a very delicate issue and staying in super close touch with our South Korean, Japanese partners and the Chinese is critical," said Kenney, who stepped down in April from the high-ranking post of Counselor of the Department.
Skeleton staffing has left American allies without anyone to explain the often contradictory statements from the Twitter-wielding president.
"If I'm going to be honest, I have to say that the tweets haven't stopped and there's still some pretty weird stuff that comes out of there," said former U.K. Ambassador Peter Westmacott.

Westmacott found the recent spat between Mr. Trump and Tennessee Republican Senator Bob Corker alarming.
"You've got one saying, 'Well, I think we're heading for World War III with this president' from his own party, then people do get a little bit nervous about where are we going," Westmacott said.
The 8 percent cut in staff and vacancies in key jobs prompted a question in that Fox News interview about whether the lack of staff makes it hard to implement President Trump's foreign policy vision. The president dismissed the question, saying it saves money and at the end of the day, he's the only one that matters.
Thanks for reading CBS NEWS.
Create your free account or log in
for more features.