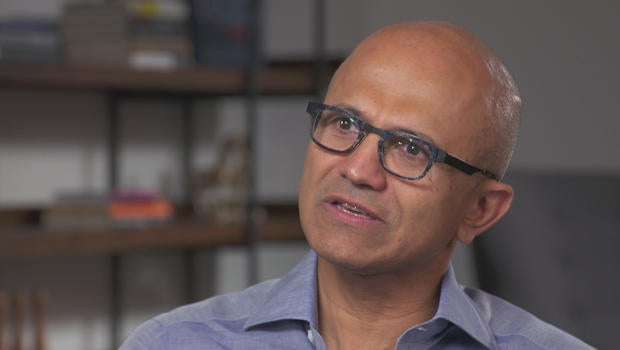 For Microsoft CEO Satya Nadella, business is personal
From time to time, we like like to catch up with the leaders of some of America's biggest companies. This morning, David Pogue talks shop with the head of a high-tech giant:
Microsoft has never been what you'd call a subtle company. Almost 23 years ago, to promote its new Windows 95 operating system, the company hired Jay Leno as host, and made an ad starring Jennifer Aniston.
Under CEO Bill Gates, and his successor, Steve Ballmer, Microsoft dominated the PC market, and became one of the most valuable companies on Earth.
But by 2014, things had changed. Smartphones had taken over the world, running software from Apple and Google. People wondered if Microsoft's best days were behind it.
"It's nice to have a business that's growing at 20%. The question is, what happens after?" said Satya Nadella.
In 2014, Nadella became the third CEO in Microsoft's history. In his recent book "Hit Refresh" (HarperBusiness), Nadella writes about his effort to change the company's culture.
"My primary instinct was to be able to tell the story of change and transformation while going through it," he said.
"One thing you talk a lot about in the book is empathy and compassion," said Pogue. "Bill Gates and Steve Ballmer during their tenures here had terrific strengths as leaders. But I'm not sure, you know, compassion would be the word that jumped out about a young Bill Gates, or Steve. Am I mistaken about that?"
"In their own way, I feel that they have a lot of that, you know, very deep in what they did and what they're doing today," Nadella replied. "But when I think about empathy, or compassion, I think it's a business essential.
"We are in the business of basically meeting unmet, unarticulated needs of customers," Nadella laughed. "And there's no way you're going to be able to get that consistently right if you don't have that deep sense of empathy, or being able to see what others are seeing."
Nadella grew up in India; he moved to the U.S. in 1988 to study computer science at college. And then, in 1992, during a visit back home, he ran into Anu Venugopal, an old family friend he'd known since elementary school, and he realized she was The One.
"I've known Satya all my life," she told Pogue. "So when he asked me to marry him, it felt like I was marrying my best friend."
Anu and Satya Nadella are both American citizens now. But immigration laws at the time forced them to spend the first year-and-a-half of their marriage apart. There were letters, and long phone calls.
"I think most of Sataya's paycheck went towards phone calls!" said Anu.
The couple knows all too well the value of empathy. Their son, Zain, who's 21 now, suffers from cerebral palsy: "To be able to see the world through his eyes and then recognize my responsibility towards him, that I think has shaped a lot of who I am today."
The new, more inclusive Microsoft has been opening up its technology to disabled people. Microsoft product manager Angela Mills, who is legally blind, showed Pogue Microsoft's new Seeing AI app. It helps her read text, recognize objects, and even identify people.
By the way: that Microsoft app is running on an Apple iPhone. That sentence would have been unthinkable before Nadella came along. "A bunch of passionate people came together at a hackathon and said, 'What can we do with these amazing breakthroughs we're having in computer vision? What's the app we should build at Microsoft that can uniquely help empower people?'" he said.
Kinder and gentler seems to be working. Since Nadella became CEO, Microsoft's stock has more than doubled; it's now at an all-time high. And for the first time in a long time, people are calling Microsoft innovative.
The Microsoft HoloLens is a prime example. It's an augmented reality headset that superimposes graphics on the world around you.
Recently, Microsoft has been in the news for more than its new technologies. Nadella says he's had "good" conversations with President Trump. But he has forcefully denounced the administration's immigration policies. He's even promised to provide lawyers for any of the so-called "Dreamers" at Microsoft who are now threatened with deportation.
For this immigrant and unlikely CEO, that's more than just a business decision -- it's personal.
"I always say that I'm a product of two amazingly unique American things," he said. "One is American technology reaching me where I was growing up and making it possible for me to dream; and the enlightened American immigration policy allowing me to come and live that dream. And so that's what I think makes America, and American companies, unique.

For more info:
"Hit Refresh: The Quest to Rediscover Microsoft's Soul and Imagine a Better Future for Everyone" by Satya Nadella (HarperCollins); Available via Amazon

Thanks for reading CBS NEWS.
Create your free account or log in
for more features.