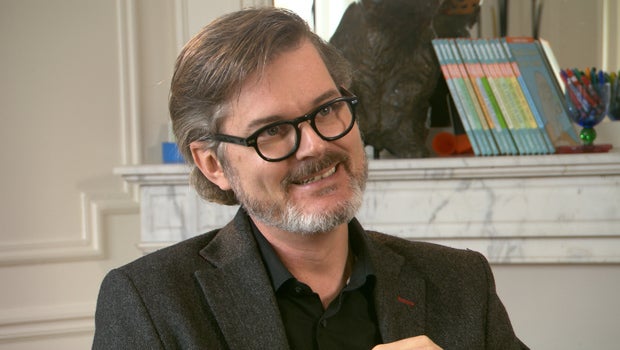 For kids' book author Mo Willems, childhood is an awful time
Knuffle Bunny is one of the creations of Mo Willems, a best-selling author and illustrator for children, and as Rita Braver discovered, very much a man of the world:
Ah, Paris, Mecca for American writers from Henry James to Ernest Hemingway . . . to Mo Willems.
Who's Mo Willems? Well, if you know a young child, then the name and the work may be very familiar. Willems has written and illustrated a string of bestselling children's books.
But why is he in Paris?
"Writers for years and years came to France because they somehow decided it was a place to think deep thoughts," said Braver. "A children's book writer needs to think deep thoughts, too?"
"You have to think the deep thoughts because that's the philosophical age," Willems replied. "A five-year-old is asking questions: Why are people mean? What is death? Can I drive a bus? I mean, these really deep, deep thoughts."

In fact, one of Willems' most popular characters is a pigeon who wants to drive a bus. The pigeon makes the same kind of preposterous demands that children know they themselves make. ("I'll tell you what: I'll just steer ...!")

"My goal is to write 49 percent of the book, and then to let my audience create the 51 percent," Willems said. "They are my collaborators more than they are my audience."

"You've said that part of the reason that you write these books is that there's no such thing as a good childhood -- what did you mean by that?" Braver asked.

"It's a terrible time, a terrible time" Willems said. "We're born into a world where none of the furniture matches you. You walk into a room and the room is saying, 'You, you're nobody,' right?

"Let's say we're having a good time, right? Imagine if a giant hand came down, plucked you out of the room and said, 'No, now we're doing something else.' And if you complained it was your fault for getting fussy, for being angry about the hand dragging you out of the room."

As for Willems' own childhood, he grew up in New Orleans, the son of Dutch immigrants, and started cartooning at a young age:

"In second grade the class bully would not tease me or bully me if I had a gag," Willems said. "So I had a daily strip in second grade. Just come up with a little gag, and I'd show it to him. And if he laughed, then I was off the hook for the day."

After college, he tried stand-up comedy: "I did things that large groups of people thought weren't funny, by and large," he laughed. "Sketches like the guy who announces all the subway trains trying to order food (makes static-y noises), that kind of thing."

At just 24 he was asked to do one of his comedy bits as an audition to become a writer on "Sesame Street."

"I think I did one about the characters from Doublemint commercials going on a double date to meet Boutros Boutros-Ghali," he said.

He got the job, and spent nine years there, winning six Emmys, finally leaving to work on cartoon shows, like "Sheep in the Big City."

But Willems decided he was ready to move on:

"What made you say, 'Okay, I am going to write books for children?" asked Braver.

"It was a confluence of a lot of things," Willems said. "First of all, I said I want to write books for children, and it took many years for publishers to say, 'Okay.' Just saying it doesn't make it necessarily happen."

But his first published book about that pesky pigeon, "Don't Let the Pigeon Drive the Bus!," was a sensation, winning the prestigious Caldecott Honor in 2004 for "most distinguished American picture book for children."
Willems was still working on a cartoon show: "I told my boss, 'Hey, I won a Caldecott Honor!' He said, 'Great. Story meeting in 10 minutes.'" Willems laughed. "Unbelievably lucky enough, the next year I got a Caldecott Honor, and so I had a better sense of what it was. So I said, 'Hey, boss, I got a Caldecott Honor. I quit!'"

That second Caldecott Honor, and a third, came for his books about Knuffle Bunny ("Knuffle Bunny: A Cautionary Tale"), roughly based on his daughter Trixie's beloved toy, which once got left at the laundromat.

Willems' genius, said Nick Clark, chief curator at the Eric Carle Museum of Picture Book Art in Amherst, Mass., is giving expression to inanimate objects. "Look at the ear [of Knuffle Bunny], and these little pinpoint eyes -- I mean, this is a helpless victim," he said.


The museum just hosted an exhibit of Willems' work, including drawings of Elephant and Piggie, best friends who grapple with important issues of jealousy, friendship, and how to have fun.

"He just knows how to make us laugh," said Clark.

Elephant and Piggie made their stage debut at the Kennedy Center last fall, in "Elephant & Piggie's 'We Are In a Play!'" Willems wrote the book and lyrics.


And yes, there is something of a resemblance to the author in the character of Elephant. When Willems went backstage to visit with the cast and crew, he couldn't help breaking into a little dance.

But mainly, he was thrilled by the delight of the children, who lined up for autographs after the show.

Then it was back to Paris, for long walks with his wife Cher, and hours spent sketching at a sidewalk cafe -- making pictures of real people, instead of book characters.

"Here's a guy who does not seem to be the happiest guy in the world," he said of one passer-by.
But never fear: Willems has not totally lost himself in the pleasures of Paris. He's just out with a new Pigeon book ("The Pigeon Needs a Bath"), and wherever Mo Willems goes, he plans to take the rest of us along.
"I want to continue to make my life an adventure," he said. "And I would love for people to enjoy watching the results of the adventure that I am on."
For more info:
Thanks for reading CBS NEWS.
Create your free account or log in
for more features.