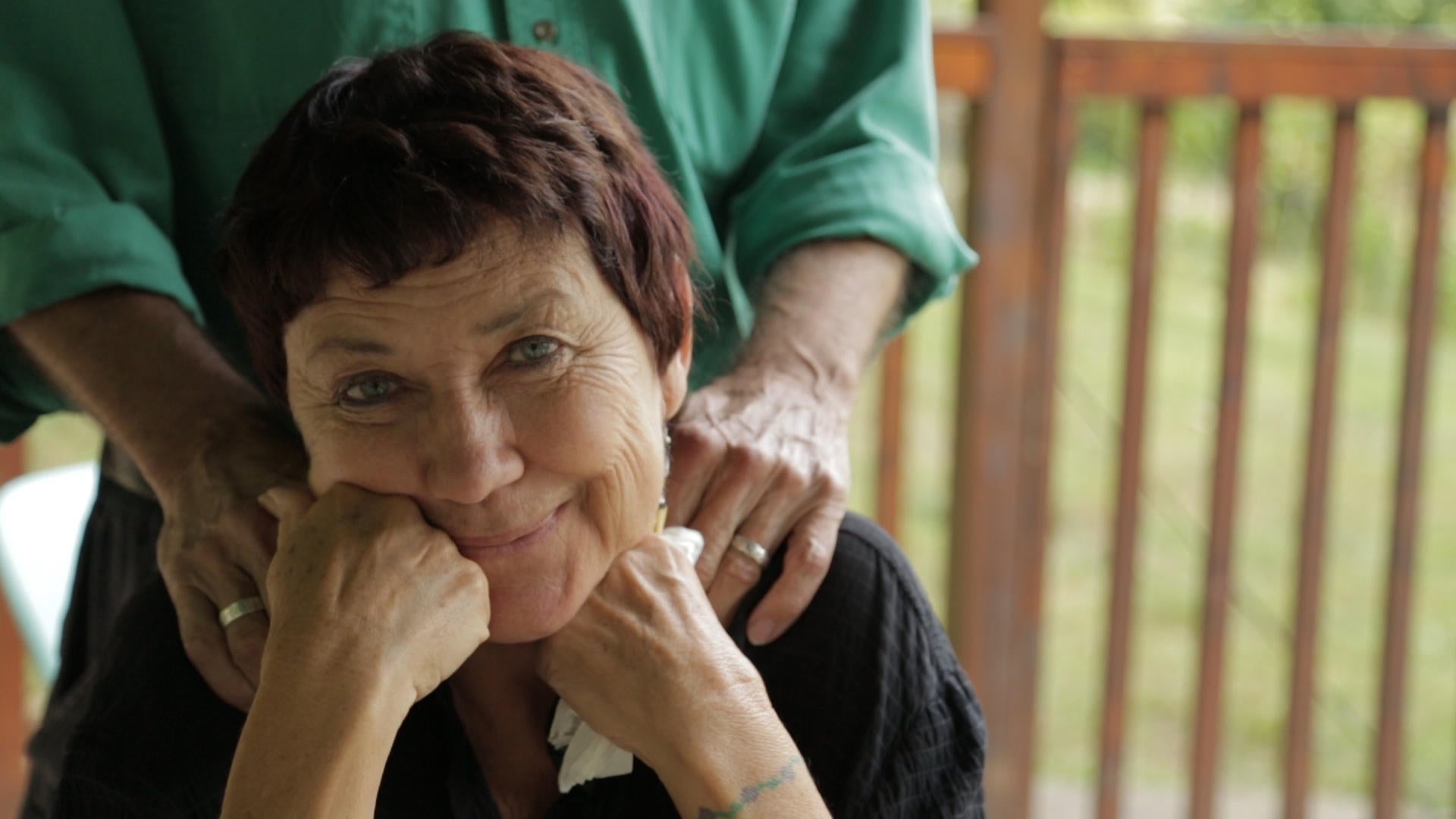 Alzheimer's patients test deep brain stimulation to help boost memory
TORONTO, CANADA Norma-Jean McLaren has been living with two electrodes implanted into her brain for almost a year.
"You can feel them, they're like bumps," said McLaren on a recent fall morning as she touched the top of her skull. She traced her hand down her neck, where there is a wire connecting the electrodes to a battery-powered neurostimulator in her chest. This device provides a steady stream of electrical impulses to a part of her brain that regulates memory.
McLaren's husband of 35 years, Nathan Edelson, described the device as a "brain pacemaker."
"The most important thing is the voltage, they check it every three months, and do objective memory testing," Edelson explained, referring to a specialized medical team at Toronto Western Hospital and Johns Hopkins University, in Baltimore, that has been conducting a clinical trial across Canada and the U.S. Their main focus is the effect of deep brain stimulation on the progression of memory loss in Alzheimer's disease.
Early research published in 2010 indicated that deep brain stimulation, which is routinely used to treat the symptoms of Parkinson's disease, could slow down or even halt cognitive decline in Alzheimer's patients.
Following the recent publication of a new round of results in the trial, the team at Toronto Western is hopeful the technique could help people like McLaren retain, or perhaps even regain, their faculties of memory.
McLaren, 69, was diagnosed with Alzheimer's two years ago. She had been seeing a neurologist for five years prior to that, since the disease runs in her family.
"I saw it coming," said McLaren. "I think my grandfather had Alzheimer's. My father definitely had it, and my sister has it now."
When Edelson heard about the trial at Toronto Western in early 2015, he said McLaren immediately wanted to sign up, despite the requirement of undergoing brain surgery to implant the electrodes into her brain. Patients remain awake through the procedure so they can communicate with the surgeons. The doctors ask memory questions while they operate to make sure they're targeting the right area.
It may seem like an extreme step, but McLaren didn't hesitate. "She didn't need to be hearing lots of evidence of risks, she just knew the risk of not doing it was further decline," said Edelson. "She wanted to do whatever was available to slow it down – for the kids too."
The couple's children, who are 49 and 38 years old, have not shown any signs of the disease so far.
More than 5.4 million Americans live with Alzheimer's, a disease that involves an abnormal build-up of proteins in the brain's memory circuits. One in three seniors will die with Alzheimer's or another dementia. Once diagnosed, most people live another six to nine years, during which time the disease causes the function of their brain circuits to deteriorate irreversibly.
"Imagine taking a picture of the U.S. at night, and the lights are on in certain areas, but New York State is completely blacked out," said Dr. Andres Lozano, the head of neurosurgery at Toronto Western Hospital, who is leading the clinical trial that McLaren is part of. "Alzheimer's is like that. Lights are out in certain areas of the brain, and what we set out to do five, six years ago, is figure out whether these lights would stay out forever, or whether we can use deep brain stimulation to turn them back on."
Edelson believes the trial has helped improve his wife's quality life.
"A year ago, before the operation, if we had people over for dinner, Norma-Jean would sit quietly and sometimes with anxiety. And now if we have people over she'll participate actively in the conversation," said Edelson, adding that McLaren also keeps her body and mind active by going for daily walks with friends and former students. The couple both taught at the University of British Columbia, in Vancouver, for over two decades, before McLaren gave up her position at the School of Community and Regional Planning.
"She's capable of doing more than she thinks she is. Like, I make dinner but she usually makes her own breakfast and lunch," he said.
"And I clean the house!" McLaren interjected playfully.
But the disease has taken a toll. "I think I have to rely on him more," said McLaren, turning to face her husband. "I think we were always close. But I have to rely on you more."
"In some ways it's just a different kind of relationship," said Edelson. "We don't have much of the same conversations we used to, but we have other conversations, and we're both hopeful that this can be reversed."
The clinical trial is now transitioning into its third and final phase, which will take an additional three to five years to complete, according to Lozano. Phase III will involve about 100 patients.
The results from Phase II, involving 42 patients with mild Alzheimer's disease, were published in September 2016 in the Journal of Alzheimer's Disease. Half of the 42 patients who underwent the surgery were administered electrical currents through the electrodes, while the other half acted as a control group and did not receive electrical currents.
Over a 12-month period, those age 65 and over who received the deep brain stimulation saw "a trend toward ... benefit on clinical outcomes," the study said, concluding that "there may be slowing of cognitive decline." (Younger patients did not benefit from the treatment and may have actually worsened; the researchers aren't sure why.)
"We discovered that, yes we can – in a specific group of patients in particular – we can turn those lights back on," said Lozano. "We think we're making great progress. It's totally different and novel to other, drug approaches, and some people in the Alzheimer's community may think it's wacky – but we need to be bold with a disease like Alzheimer's."
Alzheimer's is currently the sixth-leading cause of death in the U.S., and the numbers are growing as the population ages. According to the Alzheimer's Association, Alzheimer's and other dementia will cost the nation about $236 billion this year alone.
"We have to admire the courage of patients in this trial," said Lozano. "They aren't willing to accept this [deterioration], but they allow us to go directly into the brain and stimulate the circuits that decline as Alzheimer's progresses."
Memory testing
On a recent sunny morning, McLaren and Edelson entered the same, modest doctor's office at Toronto Western Hospital for the fourth time in nine months. McLaren squeezed her husband's hand as she sat down and confessed to the neuropsychologist sitting opposite her that she felt "anxious."
"Well, hopefully we won't do anything too stressful for you today," Dr. Mary Pat McAndrews, one of the researchers overseeing the trial alongside Lozano, responded with a smile. "We just want to do a little bit of work looking at things like memory, OK?" She laughed lightly as McLaren grimaced, and commenced a routine memory test, which involved showing a series of objects to McLaren – a wristwatch, a stethoscope, a pair of scissors – and asking her to name them.
"She does well with tests like the objects. But some tests, like when we ask her to read a series of words and then immediately after recall them, she has difficulty," sad McAndrews. "I know both Nathan and Norma-Jean feel there is an improvement, that she is more present in conversation – but in terms of cognitive outcome, throughout the trial her condition has remained stable."
Asked whether this trial could help discover a cure for Alzheimer's, McAndrews warned that the disease was too complicated to think in terms of a single "cure."
"Alzheimer's isn't just one thing, isn't caused by one thing, and probably isn't going to be cured by any one strategy," said McAndrews.
She said it's crucial for researchers to utilize big data and collaborate across different research and medical centers, "so that once there is a cure that can actually stop Alzheimer's in its tracks, we can rescue or revive memory abilities."
"What we believe that this stimulation is going to be able to do – what we've seen so far its able to do – is to actually influence, impact or up-regulate those memory circuits," she said.
While both Lozano and McAndrews appeared optimistic about the potential of deep brain stimulation for reducing memory loss in Alzheimer's patients, proving whether it works will not be easy. The next phase of the clinical trial will require 100 participants, and so far they only have three.
"The challenge that this clinical trial is having is that people don't know they have it [Alzheimer's] or they're in denial," said Edelson. "It's in the early stages right now that there's the best chance for recovery."
For their family, the need for medical progress is urgent and personal. "[It] isn't whether there will be a cure in our lifetime, but whether there will be one over the next couple of years while Norma-Jean can still benefit from it. As long as she can keep healthy and active, something will come along."
McLaren finds that having the electrodes and the prospect of being included in the next phase of the trial help quell her fears of future deterioration.
"I think I don't wake up every day criticizing myself, or going into the loss," said McLaren. "I think I'm better than I was, and the trial here has given me hope for sure.
"I don't want my kids to go through what I'm going through. I'm hoping they never have to."
Thanks for reading CBS NEWS.
Create your free account or log in
for more features.