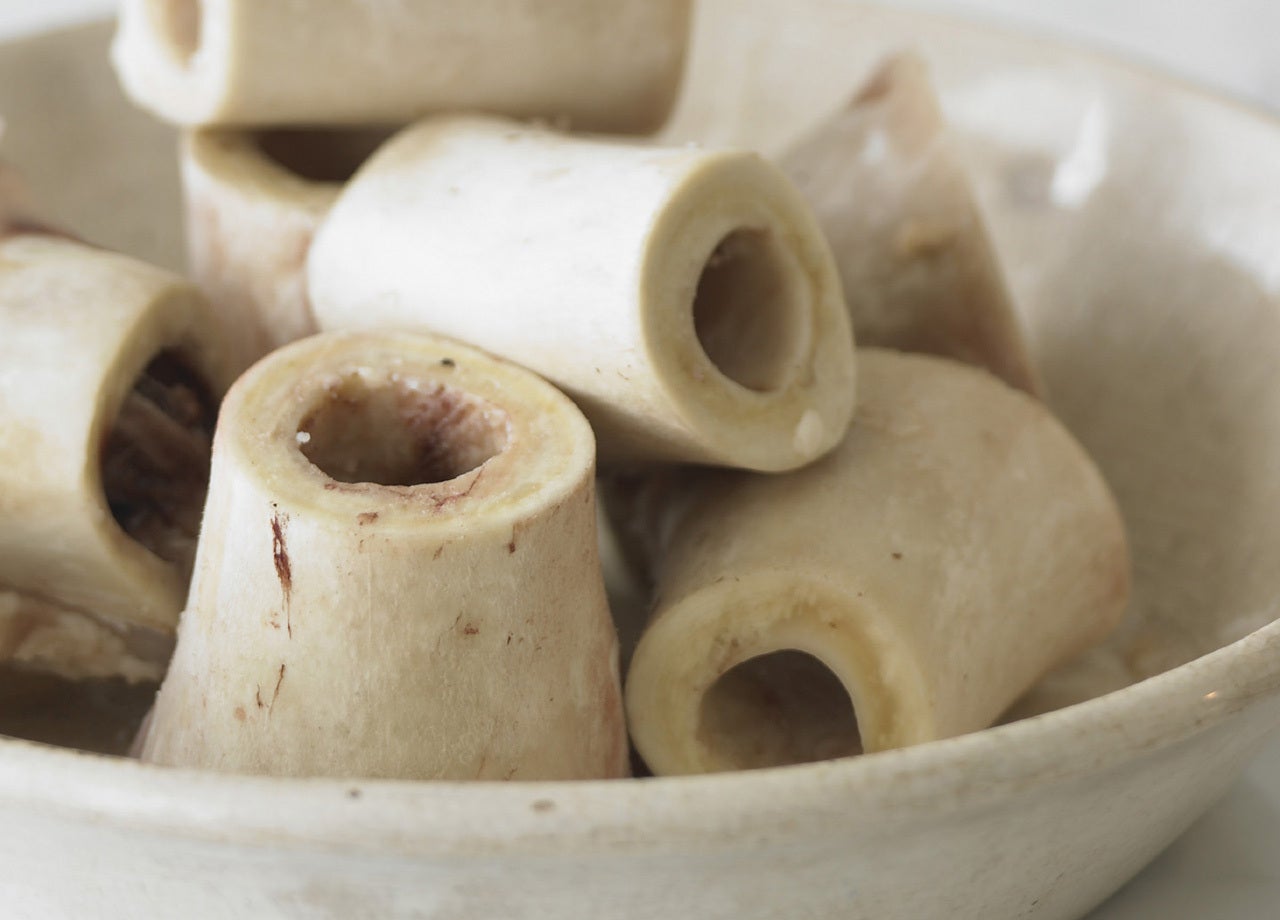 Food Issue: Roasted marrow bones
This recipe is courtesy of chef Jennifer McLagen, author of "Fat: An Appreciation of a Misunderstood Ingredient, With Recipes" (Ten Speed Press).
Roasted Marrow Bones
Serves 4 as an appetizer
Ingredients:
1 lemon
1/2 cup (11/2 ounces) fine fresh bread crumbs
1 Tbsp. chopped fresh flat-leaf parsley
1 tsp. dried mustard
Freshly ground black pepper
1/2 tsp. fine sea salt
4 veal or beef marrow bones, each about 8 inches, split in half lengthwise and presoaked (see "Preparing Marrow" below)
Instructions:
Preheat the oven to 425 degrees F.
Finely grate the zest from the lemon and combine it in a bowl with the bread crumbs, parsley, and mustard. Squeeze 2 tablespoons of juice from the lemon. Add the juice to the bread crumb mixture with lots of pepper and the salt. The bread crumbs should just hold together when squeezed; if not, add a little more lemon juice.
Drain the marrow bones and pat dry.
Place the bones cut side up in a roasting pan and top evenly with the bread crumb mixture. Roast until the marrow is warm in the center, 15 to 25 minutes. To test, insert a metal skewer into the center of the marrow and touch it to your wrist to see if it is hot. There should be no resistance when the skewer is inserted, and a little of the marrow should have melted and started to leak from the bones. Serve the marrow bones hot.
Preparing Marrow
Ask your butcher to cut marrow bones from the center of the leg, where the ratio of marrow to bone is highest. Marrow bones must be soaked for 12 to 24 hours in salted water to remove the blood. Place the bones in a large dish of ice water to cover, add 2 tablespoons of coarse sea salt, and refrigerate for 12 to 24 hours, changing the water 4 to 6 times and adding 2 more tablespoons of salt to the water each time. Use the bones immediately after soaking, or freeze them for up to 2 months.
Reprinted with permission from "Fat: An Appreciation of a Misunderstood Ingredient, With Recipes" by Jennifer McLagan, copyright 2008. Published by Ten Speed Press, a division of Random House.
For more info:
For more recipes from this year's "Food Issue" click here!
Thanks for reading CBS NEWS.
Create your free account or log in
for more features.