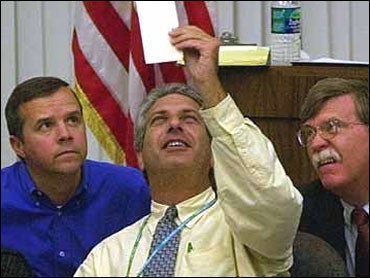 Florida Election Files Feared Lost
The only computerized record of how Palm Beach County voted in the contested presidential election may have been destroyed, raising fears that the pivotal data may never be re-examined.
County officials said files which recorded the way counting machines viewed the punched ballots on Election Day were overwritten when the county prepared for a new round of elections in May.
The county's actual punch card ballots were not destroyed.
Election supervisor Theresa LePore said there may be an archived copy of the computer record but she won't know until her information technology manager returns from vacation next week.
"I can't swear we don't have a backup somewhere," LePore said Wednesday. "Generally, as a rule, we don't because it's never been an issue."
Meanwhile, a group of computer data analysts hired by Florida news organizations began examining four computers used in Secretary of State Katherine Harris' office to see if any files pertaining to her role in the 2000 presidential election were erased.
Palm Beach County was among those in the spotlight during the five-week recount. Al Gore won Palm Beach County by 116,000 votes over George W. Bush, who eventually captured Florida and the White House.
Similar files were used in 13 other Florida counties that used punch card ballots during the election. Backup files were created in seven of 10 counties reached for comment by The Associated Press. Other counties did not return phone messages.
The Chicago Tribune reported Wednesday that the erasure potentially violated state public records law but LePore said counties are not required to submit a copy of the files to the secretary of state.
Jeff Darter, the county's information technology manager, couldn't be reached for comment. But he told the Tribune after it requested the computer files: "We have no problem giving them to you. They're just not there. If we had realized someone might have wanted to have them, we would have backed them up."
Any violation of the public records law would be determined by the state attorney's office in Palm Beach County but at this point no investigation is planned.
"In general, the damage or destruction of a public record, if done unintentionally, does not rise to the level of a criminal act," said Mike Edmonson, a spokesman for the office.
Alison Steele, a lawyer specializing in media issues, told the newspaper that it's irrelevant whether officials violated the law.
"This is terribly foolhardy. This was certainly the closest election in modern history. It's important for historians to study it, and for us to study it and find out what went wrong," Steele said.
A group consisting of The Associated Press, The New York Times, The Washington Post, CNN, The Palm Beach Post, St. Petersburg Times, The Wall Street Journal and Tribune Publishing, is analyzing all uncounted presidential ballots cast in the Florida election.
In Tallahassee, a computer data analyst hired by the secreary of state said he thinks that no files pertaining to Harris' role in the presidential election were erased from computer hard drives in her office.
That expert made a mirror image of the hard drive, but hasn't finished analyzing the results.
The computer data analysts hired by the Florida news organizations began looking Wednesday at four computers used in Harris' office during the recount to see if they agree.
In question was whether Harris originally said ballots needed to be postmarked by Election Day. Later, as Republicans tried to count as many overseas ballots as possible, Harris said that wasn't required.
©MMI The Associated Press. All Rights Reserved. This material may not be published, broadcast, rewritten, or redistributed
Thanks for reading CBS NEWS.
Create your free account or log in
for more features.