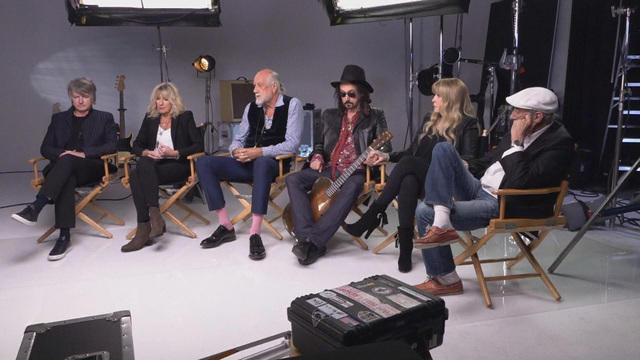 Fleetwood Mac reveals why Lindsey Buckingham was ousted
Fleetwood Mac, which has sold more than 100 million records, is announcing a new tour today that kicks off in October. But lead guitarist Lindsey Buckingham won't be on it.
In its more than 50 years as a band, Fleetwood Mac has become famous for its dysfunction and turmoil. But the announcement this month that Buckingham was ousted from the band still came as a shock. For the first time, band members tell CBS News what happened.
This week the new lineup was still getting to know each other, reports CBS News correspondent Anthony Mason.
The first photo session for the new Fleetwood Mac included Mike Campbell, former lead guitarist for Tom Petty and the Heartbreakers, and Neil Finn, frontman for Crowded House. New members, but hardly novices.
"Both these gentlemen have a legacy of their own. They don't need to have a calling card. They are who they are in their own right," drummer Mick Fleetwood said.
With them, Fleetwood said, Fleetwood Mac has been reborn.
"So it's effectively a new band?" Mason said.
"This is absolutely a new band," Fleetwood responded. "This is the new lineup of Fleetwood Mac."
Neither Campbell or Finn are thinking of this as a temporary gig.
"I'm making this my priority until whenever, you know. We'll see what happens," Campbell said.
They will replace Buckingham, who joined the group back in 1974, helped re-shape their sound and wrote some of the group's biggest hits.
"Mick, when did you decide that you had to make this change?" Mason asked.
"It happened after we played in New York at the MusiCares event, which you were there," Fleetwood said.
It was the band's last performance in late January when they were honored at the MusiCares benefit on Grammy weekend. All five members of the classic lineup appeared together. But tensions were building, Fleetwood said, because Buckingham would not sign off on a new tour they'd been planning for a year and a half.
"It became just a huge impasse and hit a brick wall, where we decided that we had to part company," Fleetwood said.
"Was Lindsey effectively fired?" Mason asked.
"Well, we don't use that word because I think it's ugly. And it's not a question that Lindsey has huge amounts of respect and kudos to what he's done within the ranks of Fleetwood Mac and always will," Fleetwood said. "But it's like a marriage that came to an end and there are reasons why. … But as a band we needed to move on and we have and that's --"
"Because people who saw you in New York would've thought everything was OK. But it wasn't?" Mason asked.
"No, it was not," Fleetwood said.
Stevie Nicks supported the decision to part ways.
"This team wanted to get out on the road. And one of the members did not want to get out on the road for a year," Nicks said. "We just couldn't agree. And you know, when you're in a band, it's a team. I mean I have a solo career, and I love my solo career, and I'm the boss. Absolutely. But I'm not the boss in this band."
So just six days after the MusiCares performance, Campbell got a phone call from Fleetwood. "It was my birthday. And I was sitting in my backyard," Campbell recounted. He said he was wondering what he was going to do. He had a few things in the works, "but nothing quite as big as this," he said with a laugh.
Campbell was in as lead guitarist. But the band still needed another singer.
"We sat around a table and we just started listening to everybody we could think of," Nicks said. "Anywhere between, you know, 27 and 65. It was like -- it was crazy!"
"I just made it," Finn joked.
Finn, who turns 60 next month, was in his hometown, Auckland, New Zealand, when he got the call.
"I just had this kind of big grin on my face 'cause it's a call you never expect to get," Finn said.
They all met up at a theater in Maui on March 21. Nicks said they played together for two days.
"And it did sound really good and I have film to prove it," Nicks said.
We saw the cellphone footage of that first session. They ran through 10 songs in those two days. Christine McVie also liked what she heard.
"The essence of the band was great, and fun, and the three voices sound really good together," McVie said. "I'm really happy."
"It already feels like a band when we've only played once or twice. But with a little rehearsal, I think it's just gonna be incredible," Campbell said.
For him, it's a new beginning after losing Tom Petty last fall.
"It changed me and Mike for sure, in that you know, we need to take everyday that we have until we're gone and make it the best day we can because if that could happen to Tom, then it could happen to anybody," Nicks said. "And I'm gonna have the most fun I can and I'm gonna stop complaining. And I'm gonna throw myself into all these projects because you just never know."
Nicks, Campbell and Petty go way back. They co-wrote her first solo hit, "Stop Draggin' My Heart Around."
If all goes well, the band says they hope to record. They also said they did audition one other singer in Maui, but they won't reveal who that was.
Thanks for reading CBS NEWS.
Create your free account or log in
for more features.